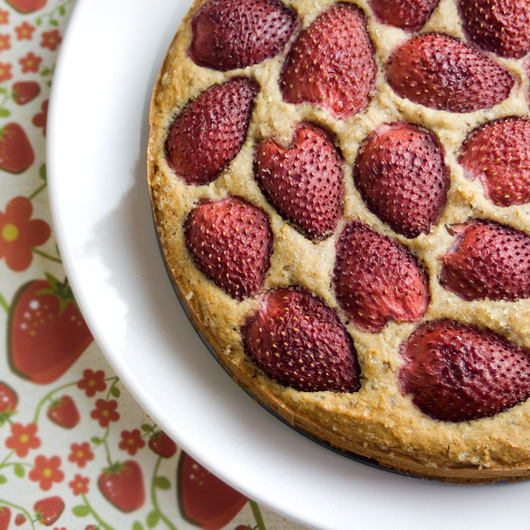 Poor Kam, he's always missing out on cake. There's been a couple of birthdays at work lately and two dinner parties that I've baked for; I see the look on his face when I inform him the smell wafting form the oven isn't for him – it's not a happy one.
Promising him his favourites of flourless peanut butter cookies, lemon poppyseed slice or mini beef pies doesn't work. I can't blame him though, I've made this particular cake twice times in one month lately (and now again for Kam) and it's just perfection. Making it again and again means I've sorted out my favourite gluten-free flour mix for cake baking (yay) – it's moist, with a lovely crumb and hearty with nutty buckwheat and quinoa flour. It also means I've had the perfect excuse to buy punnet loads of fresh strawberries.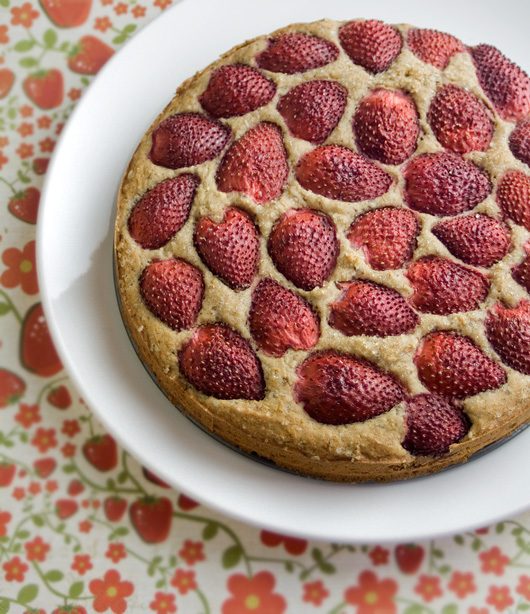 I love using whole pieces of fruit in baking recipes, it's so classically rustic and always feels so charming to serve up. Strawberries are also plentiful (and ridiculously cheap) at the moment so it's a great excuse to bake a pretty cake. I'm told the strawberry farmers are letting them sit in the fields instead of paying pickers because there are too many berries. While my strawberry patch gives me enough to be happy, I'd be a fool not to bake, freeze, can or dehydrate as many as I can get my hands on so I keep buying them. You never know when the strawberry cravings will rear up!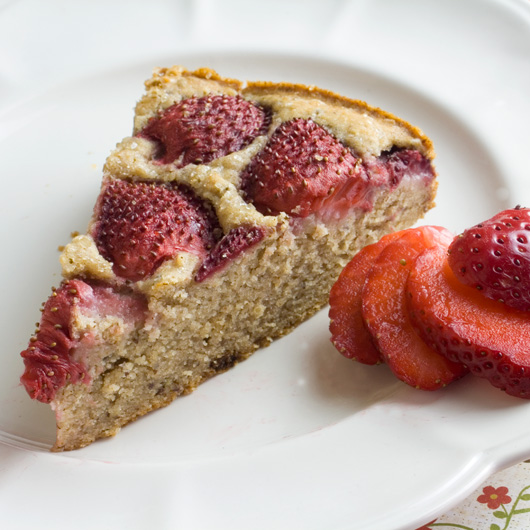 Rustic Fresh Strawberry Cake
A truly special cake for summer made with fresh strawberries, cinnamon and vanilla.
Author:
Alison Murray @ Om Nom Ally
Recipe type:
Baking, Cakes
Cuisine:
Dairy-free, egg-free, gluten-free, soy-free, vegan
Ingredients
250g strawberriems, hulled and halved
½ cup quinoa flour
½ buckwheat flour
½ cup brown rice flour
½ cup tapioca starch
1tsp baking powder
½ tsp salt
1 tsp cinnamon
2 flax eggs (2 tbsp flax meal mixed with 6 tbsp boiling water and refrigerate for 5min)
½ cup coconut oil
½ cup coconut or rapadura sugar
⅓ cup almond milk (or other milk/non-dairy milk)
1½ tsp vanilla extract
1 tbsp demerara sugar
Instructions
Preheat oven to 180C. Grease and line a 20cm round cake tine,
Combine flours, baking powder, salt and cinnamon and put aside.
Beat coconut butter and sugar in the bowl of an electric mixer or a large bowl until pale and fluffy. Mix in flax eggs, milk, and vanilla and then gently fold in flour mixture.
Pour mixture into cake tin, arrange strawberries cut side down on top of cake, placing as close together as possible. Do not push strawberries into batter.
Bake for 1 hour or until cake is golden brown and a skewer inserted in the centre comes out clean. Let cool for 5min in the cake tin and then transfer to wire rack.