Dinner needn't be difficult. Or time consuming.
There are time when I feel like putting some effort into weeknight dining. I arrange little dinner parties for two some nights with nibbly entrees before a filling main and a bowl of home-made ice-cream or whatever I've been baking. Other times, I wish to wave my hand and someone throw me a bowl of something spectacular while I veg out on the couch. Being the cook in the house, that just never happens though.
Luckily all it takes to make a tasty pumpkin soup is 5 ingredients, 1 saucepan, 1 blender and 15 minutes. Preparing pumpkin soup really is as easy (or as difficult) as you feel like making it; this recipe even cheats a little by having a Tuscan herb mix as one of ingredients. You can even further pare this down to 4 ingredients if you use liquid stock (instead of water + powdered stock).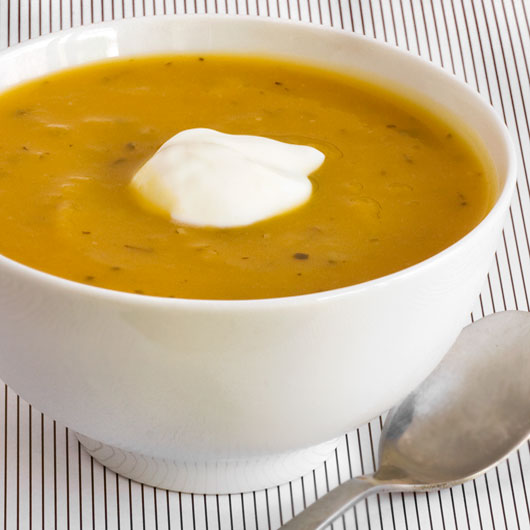 [fb-like-button]
So get cooking – in 15 minutes you too could be enjoying a creamy pumpkin soup seasoned with aromatic garlic, rosemary, thyme and sage!
5 Ingredient Tuscan Pumpkin Soup
(egg-free, gluten-free, vegan; dairy-free, nut-free or soy-free depending on milk choice)
Author:
Alison Murray @ Om Nom Ally.com
Ingredients
500g butternut pumpkin, peeled and cut into 5cm cubes
2 cups water + 2 tsp stock powder (or 2 cups liquid stock)
2 tsp Tuscan herb seasoning
½ cup milk (see notes)
Instructions
Add water and pumpkin to a medium sized saucepan. Bring to the boil and then reduce to a simmer.
Cook, with lid on for 8 minutes or until pumpkin is tender.
Take saucepan off heat, add milk and stir well. Pour into blender and process until smooth.
Notes
Serve with a dollop of Greek style yoghurt, sour cream or vegan sour cream. <strong>Milk</strong>: I used almond milk for a creamy soup, you could also use rice milk OR full or skim dairy milk for a vegetarian option. <strong>Stock</strong>: Use animal product free (like Massel brand) for vegetarian and vegan recipe.