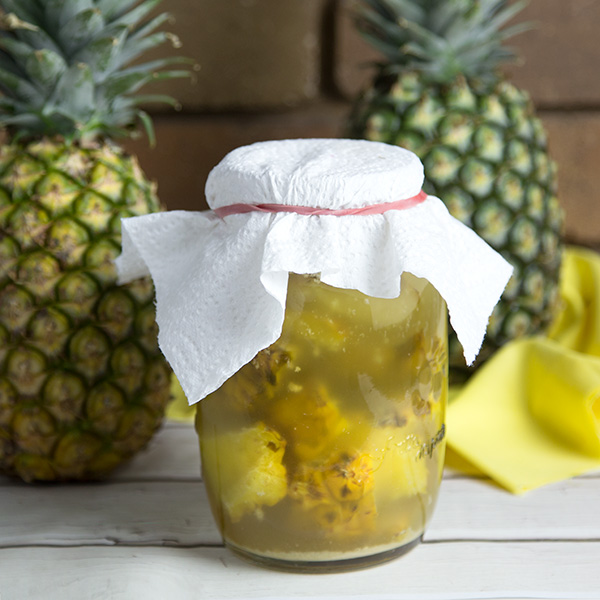 I have apple cider vinegar every morning in water to help with appetite and proper digestion, but it's always a treat to make this vinegar with left-over pineapple scraps. It's a great way to use the entire fruit after you've eaten the delicious flesh and a fantastic means to get more probiotic-rich fermented foods into your diet.
It should be no surprise that pineapple vinegar has all of the same fantastic health benefits of eating fresh pineapple, after all it's made from pineapple flesh (and rind). Pineapple is rich in bromelain, well known for it's anti-inflammatory actions and protein digestion-promoting effects and when fermented as pineapple vinegar adds a wallop of probiotic superpowers too. Drink one teaspoon of pineapple vinegar in water daily (or thirty minutes before meals) for the digestive and anti-inflammatory benefits or you can also use it instead of other types of vinegar in salad dressings or other recipes (try this Chilli-Lime Corn Relish and an Anti-inflammatory Kiwi Juice Tonic!).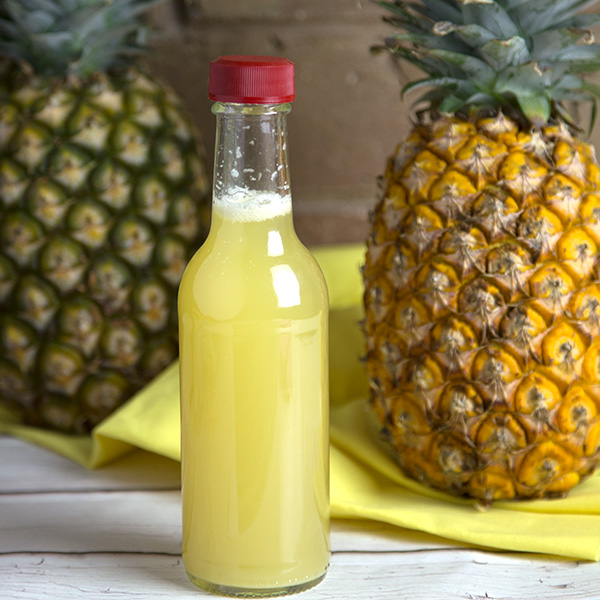 While it's extremely easy to make, be sure to always thoroughly wash and clean the rind of your pineapple with a vegetable brush before you start cutting it up for any pineapple recipes. That rough, spiky skin can be a harbour for dirt and bacteria. Also make sure to wash and sterilise your jars and utensils before you get started with this recipe. We don't want any unwanted bacteria to start growing in our pineapple vinegar – just the good stuff!
As you do want some good bacteria and yeast to thrive and turn your pineapple/sugar water into vinegar don't cap your jar tightly like you would with other food stuffs. Instead affix some thin material or paper towel over the top of the jar with a rubber band. This allow the friendly bacteria on your pineapple rind and natural air-borne yeasts to breathe and work harder to make you the most flavourful vinegar you'll ever taste. Theis light cover will also keep bugs out – my pineapple vinegar ferment tends to draw ants… ick! Stirring the jar gently everyday for 2-3 weeks will help to further aerate the mixture and encourage healthy fermentation.
After two – three weeks of fermentation you can taste you vinegar for tartness, then strain out the leftover pineapple and pour your finished product in bottles. You might even be lucky and be rewarded with your own pineapple vinegar mother (similar to a kombucha scoby) that can be used as a starter for a new batch of vinegar. This looks like a white 'skin' at the top, or the bottom of the jar. You can an example of pineapple vinegar mother sitting at the bottom of my fermenting jar above (top photo). Using the mother can cut back your next pineapple ferment to little over a week. For now though, let's dive into making our first batch of homemade pineapple vinegar!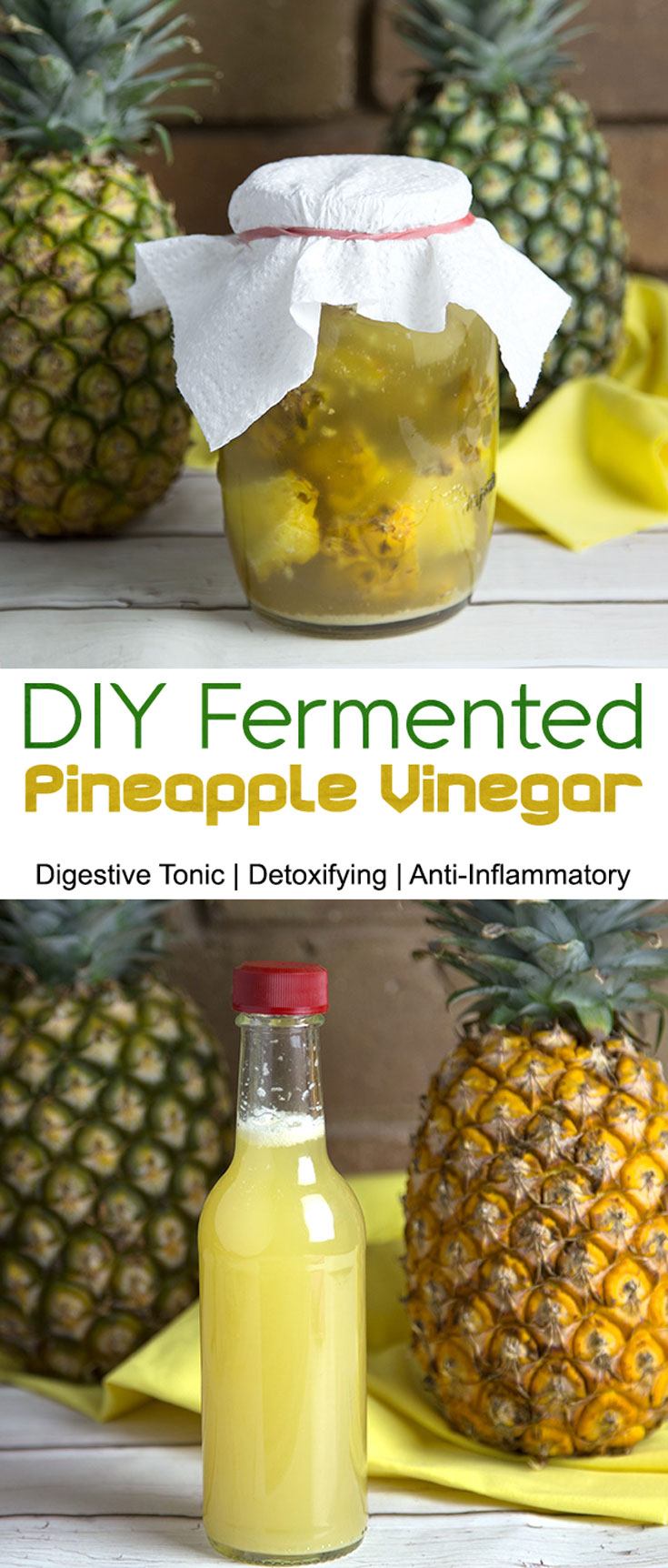 Homemade Fermented Pineapple Vinegar
Author:
Alison Murray @ Om Nom Ally
Recipe type:
Fermentation, Home Remedy
Cuisine:
Dairy-free, egg-free, gluten-free, grain-free, nut-free, soy-free, wheat-free, raw, vegan.
Ingredients
1 litre glass jar, sterilised
3 cups warm spring or filtered water
¼ cup sugar (consider coconut, rapadura or panela sugar)
Scraps and rind of 1 organic pineapple (see notes)
1 square of paper towel, cheesecloth, muslin or light fabric (big enough to fit over mouth of jar)
1 rubber band
Instructions
Dissolve sugar in water in glass jar. Add pineapple scraps and rind until jar has 1cm headroom and secure covering material over mouth of jar with rubber band.
Place in a dark cupboard or pantry at and allow to ferment for 2-3 weeks, opening container to stir contents daily for aeration.
After fermenting time has elapsed, strain contents through a nut milk bag or cheesecloth into sterilised bottles and seal. Vinegar is ready for consumption now, or may be fermented for another week or so or until to desired taste. Store final product in the refrigerator - at room temperature it will continue fermenting.