Before buying my Optimum 9200 blender a couple of months ago, I don't think I've ever owned an appliance that I've consistently used daily. The food processor probably comes closest at 4-5 times a week with all the chopping, grinding and slicing I do for meal prep but with the blender it's been pumping out daily smoothies as well as raw balls, soups, salad dressings and even grinding flour for baking. It's my new favourite kitchen tool! Want to know something about my Froothie Optimum 9200 blender that really has me fabulously excited though? It used to take me well over 5 minutes to get all the lumps out my of cottage cheese. How long does it take me now to make creamy, smooth cottage cheese? 10 seconds – no joke.
It's lucky too, because I find myself making more and more of these mousse-y desserts after dinner when a sweet craving sets in. It really hits the spot when I don't feel like making yet another smoothie and this particular variation is loaded with plump medjool dates to sate my sweet tooth.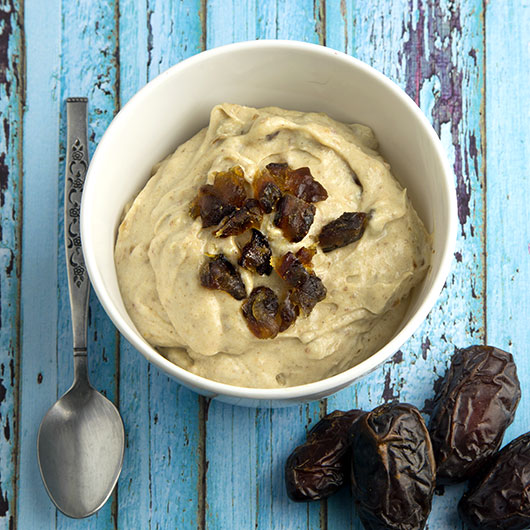 Yes, this sticky date mousse recipe is a bit higher in sugar that either my High-Protein Berry Mousse or High Protein Orange & Passionfruit Mousse. You could definitely do worse than date-derived sugar though as medjool dates are loaded with vitamins and minerals while also being extremely high in fibre. This is a real cheater's way to enjoy sticky date pudding or mousse as there's no cooking, no flour or grains, and no refined sugar. What's left is a rich and complex, toffee-like taste of dates, cinnamon and vanilla paired with the mild taste and acidity of cottage cheese.
High-Protein Sticky Date Mousse
Author:
Alison Murray @ Om Nom Ally
Ingredients
250g cottage cheese or quark
1 medium banana, peeled and chopped
1 tbsp water or milk
6-8 medjool dates, pitted (depending on desired level of sweetness)
1 tsp cinnamon
1 tsp vanilla extract
Instructions
Add all ingredients to the bowl of a food processor or blender and blend until mixture is smooth and creamy.
Spoon into two bowls and eat immediately or refrigerate for 30min before serving.
Linked to: Mostly Homemade Mondays,
My Meatless Mondays
, The Gathering Spot,
Fat Tuesday
,
Simply Indulgent Tuesdays
,
Tasteful Tuesdays
,
Traditional Tuesdays
,
Fresh Foods Wednesday
, Healthy 2Day Wednesdays, Real Food Wednesday,
Waste Not Want Not Wednesdays
,
Tasty Traditions
,
Wildcrafting Wednesday
,
Full Plate Thursday
,
Thank Your Body Thursday
,
Pennywise Platter Thursday
,
Fight Back Friday
, Wellness Weekend,
Let's Get Real Friday
, Whole Food Fridays.