While I certainly believe that breakfast is the most important meal of the day, it's often quite predictable what I'll serve. It's mostly bowls of oats or superfood smoothies on weekdays; maybe leftover pancakes or waffles if I've got a stack in the fridge or freezer.  I'm loving Bob's Red Mill 10 Grain Hot Cereal with a dash of maple syrup and some almond butter lately, but I'm also always up for a plate of eggs, grilled tomato and some fresh, dense sourdough bread. It seems like Sundays, out of all the days, is when I feel like being adventurous with the morning meal and this time around it's all because of cherry tomatoes.
I've always preferred the smaller tomato varieties for eating (and roma for sauce making). They've usually got a punchier flavour and are more convenient for throwing in my favourite salad recipes. My seed collection holds packets of seeds for 7 different varieties of mini, cherry and grape tomatoes, though there's unfortunately nothing spectacular growing in my plot this season. Argh, possums (I'm assuming). I've only had a fairly small amount of cherry tomatoes this month off the two bushes left in tact, with about a quarter of the tomatoes in this photo being home-grown, and the rest from my local farmer's market.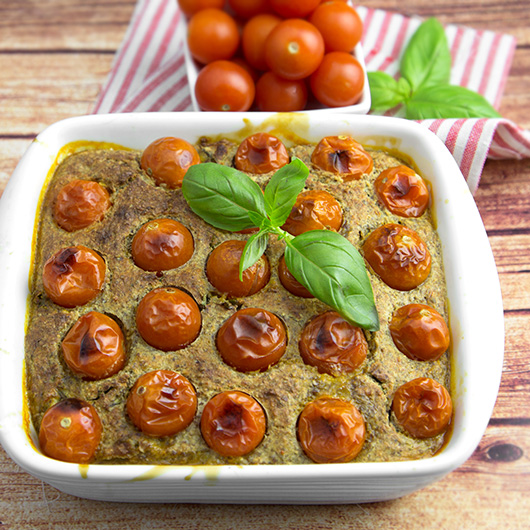 Home-grown or not, these tomatoes burst in your mouth with every bite of this savoury clafoutis. Eat this hot out of the oven so the tomatoes really 'pop' with juicy explosions in your mouth!
A baked breakfast is a true pleasure on chilly mornings and this batter can be thrown together in the morning in minutes to bake while you get ready for work or potter around in pajamas on the weekend. With eggs, buckwheat flour, almond meal and chia seeds, this comforting cherry tomato clafoutis is high in protein and fibre to rev you up all day long!
Grain-free Cherry Tomato Clafoutis
Author:
Alison Murray @ Om Nom Ally
Cuisine:
Gluten-free, Grain-free, Soy-free, Wheat-free, Vegetarian. Dairy-free with ingredient substitution.
Ingredients
¼ cup buckwheat flour
¼ cup chia seeds
¼ cup almond meal
2 tbsp grated parmesan cheese (or savory yeast flakes)
1 tsp chilli powder
¼ tsp salt
¼ cup roughly chopped fresh basil leaves
2 organic, free range eggs
1 cup raw, organic or A2 milk (or other non-dairy milk of choice)
100g cherry tomatoes
Instructions
Preheat oven to 180C. Lightly grease a medium sized, shallow baking dish.
Combine buckwheat flour, chia seeds, almond and flax meal, parmesan cheese, chilli powder and salt in a medium bowl. Gently stir through basil leaves to distribute well.
Whisk eggs and milk together and then pour into flour mixture, stirring well to combine. Let mixture sit for 5 minutes to thicken.
Spoon mixture into a shallow baking dish, leveling out the top. Push cherry tomatoes partially into the clafoutis mixture and bake for 30 minutes or until clafouris is puffed and golden. Turn oven onto grill setting and bake for a further 10 minutes or until tomatoes are softened. Serve with garden salad.
This post is linked to
Meatless Mondays
, Natural Living Mondays,
Recipe Sharing Monday
, Mostly Homemade Mondays, The Gathering Spot,
Fat Tuesday
,
Simply Indulgent Tuesdays
,
Tasteful Tuesdays
,
Fresh Foods Wednesday
, Healthy 2Day Wednesdays, Real Food Wednesday,
Waste Not Want Not Wednesdays
,
Tasty Traditions
,
Wildcrafting Wednesday
,
Full Plate Thursday
,
Thank Your Body Thursday
,
Pennywise Platter Thursday
,
Fight Back Friday
, Wellness Weekend,
Let's Get Real Friday
, Whole Food Fridays.