Until recently I wasn't sure why we referred to granola as 'toasted muesli' here in Australia. I assumed 'toasted muesli' was simply our most logical description for the process of baking a raw muesli mix, only to find out that granola is a trademarked term in Australia and New Zealand by Sanitarium (check out the story here and here). Another example of big business taking away our food naming fun!
I'm a huge muesli fan – raw or toasted – and love to add it to yoghurt and milk kefir, or mix it into my stovetop or overnight oats. Toasted muesli has started to become my preferred option as it's delightfully crispy and crunchy when tossed and baked with some coconut oil and a little sweetener. It's a brilliant treat on it's own as a snack and I've recently found it's fantastic sprinkled over a summer fruit salad. This crunch-factor also makes toasted muesli a great addition for a batch of protein cookies.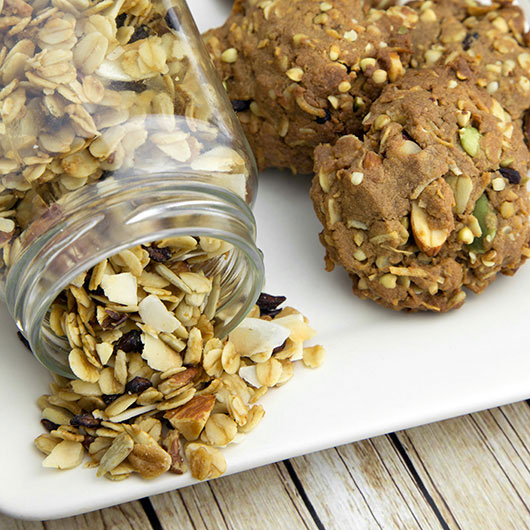 With a delicious mix of nuts, seeds, coconut flakes and oats these protein cookies are loaded with extra flavour and texture. While you can simply cream the butter and sugar in a stand mixer, I like to melt them both in a saucepan to get a really crispy cookie. This also preferred when using an unrefined sugar such as coconut sugar; apparently the granules don't melt as easily during baking as more refined sugars. Have you ever had this experience using unrefined sugars in baking recipes?
Whether you cream the sugar and butter for a soft + crunchy cookie experience, or melt them both for a crispy delight, these cookies are a great make-ahead snack. Bake this big batch of 20 cookies to enjoy 2 or 3 each day; with lots of protein and energy fuelling ingredients they are perfect after a workout or when you're just craving a high-protein snack.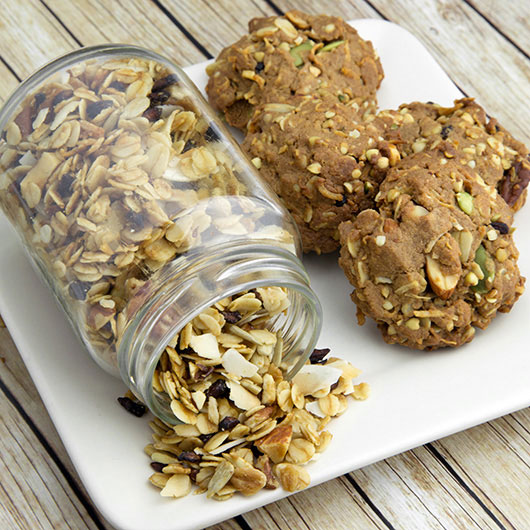 Maple Almond Toasted Muesli
A delicious combo of toasted almonds and sunflower seeds, this granola is bursting with tart flavour when you add in the optional fresh or dehydrated pomegranate arils.
Author:
Alison Murray @ Om Nom Ally
Cuisine:
Dairy-free, Egg-free, Gluten-free, Soy-free, Vegan.
Ingredients
2 cups rolled oats
1/ 3 cup chopped almonds
¼ cup sunflower seeds
1/ 4 cup maple syrup
1/ 4 cup coconut oil, melted
1 tsp vanilla extract
½ tablespoon ground cinnamon
½ tsp ground nutmeg
1/ 4 teaspoon salt
1/ 3 cup shaved coconut
¼ cup dried pomegranate arils (optional - you can dehydrate fresh arils overnight at a low temperature until dried, dark in colour and 'tacky')
Instructions
Preheat oven to 150C/300F and line a shallow baking tray with baking paper. Mix all ingredients except for coconut shavings in a large bowl.
Pour muesli mixture onto prepared tray and spread out into an even, thin layer. Bake for 30minutes, stirring the mixture every 10 minutes to prevent burning. During the last 10 minutes add the coconut shavings.
Remove tray from oven when coconut shavings are slightly browned but not blackened. Allow to cool, mix through pomegranate arils (if using) and pack into a large sterilised glass jar for storage.
Toasted Muesli Protein Cookies
With a delicious mix of nuts, seeds, coconut flakes and oats these protein cookies are loaded with extra flavour and crunch. Try adding some of the optional extras for lots of delicious variations!
Author:
Alison Murray @ Om Nom Ally
Recipe type:
Baking, Cookies, Protein Snack
Cuisine:
Soy-free, Wheat-free, Vegetarian. Dairy-free, Egg-free and Vegan with substitution.
Ingredients
100g organic butter (or coconut oil/butter)
⅓ cup coconut sugar (or other unrefined sugar)
2 tbsp maple syrup
1 organic, free range egg, lightly beaten (or 1 chia egg/flax egg)
1 tsp baking soda
½ cup wholemeal spelt flour
½ cup almond meal
½ cup protein powder of choice
¼ cup pepitas
¼ cup raw buckwheat kernels
1½ cups Maple Almond Toasted Muesli (see recipe above)
Optional extras: cacao nibs, raisins or cranberries.
Instructions
Preheat oven the 180C and line baking trays with baking paper. Mix flours, muesli, pepitas and buckwheat in a large bowl. Set aside.
Melt butter, coconut sugar and maple syrup in a medium saucepan over a low heat. Mix bicarb soda in a little water, remove saucepan from heat and add bicarb soda mixture stirring mixture as it foams and expands. Allow to cool for a few minutes.
Add flour mixture and beaten egg to saucepan, stir well to combine. Place ½ tablespoon amounts of mixture on prepared baking trays with 5cm space for spreading. Cook for 12-15min or until golden then transfer to a wire rack to cool.
Nutrition Information
Serving size:
38g
Calories:
157
Fat:
8.9g
Saturated fat:
3.8g
Carbohydrates:
12.8g
Sugar:
7.2g
Fiber:
1.2g
Protein:
7.6g