One of the great things about working at a health food store is that I'm always finding out about fabulous new products as they become available. Lately it's all been about new Bob's Red Mill products available in Australia, with an assortment of new gluten-free products being stocked at Sunnybrook and now Tofutti's new Better Than Ricotta as well. While I'm not one for "fake" or "alternative" products, we have a lot of people with allergies and intolerances at work. Vegan ricotta plus a work birthday you say? I guess I had better make a cheesecake!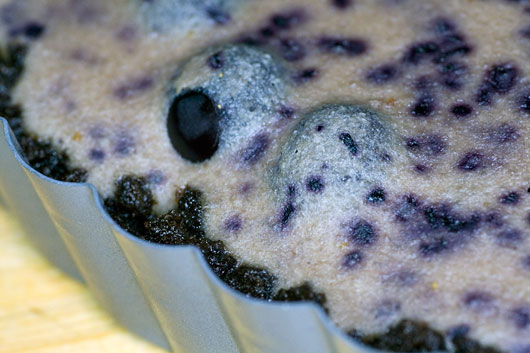 It's a sweet and tangy dessert, a delightfully golden dessert dotted with lilac and purple berries. I need is some better photos; these are quite trashy and taken last minute before serving. They really don't do it justice. I could have easily added even more blueberries and a little more sweetener (I've adjusted the recipe below); I'm told by some that making Tofutti products taste good is a feat in itself but I had no complaints. All plates were left clean.
While this recipe is vegan due to the ingredients I used,  hopefully the vegans out there don't yell at me for tagging a ricotta recipe as 'vegan', I'm aware it wouldn't normally be.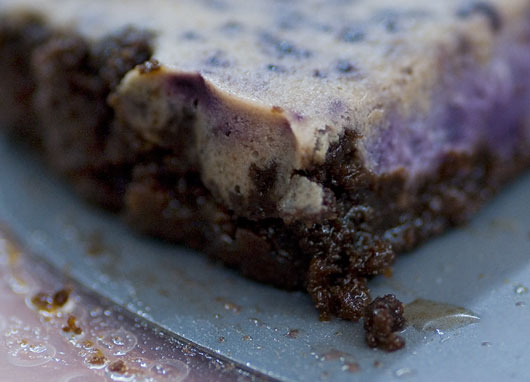 Blueberry Ricotta Cheesecake: Cookie Base
(dairy-free, gluten-free, egg-free, vegan; vegetarian only if using standard ricotta)
Author:
Alison Murray @ Om Nom Ally
Cuisine:
Suitability will depend on cookies used: Dairy-free, gluten-free, egg-free, nut-free, soy-free, vegan; vegetarian only if using standard ricotta
Ingredients
2 cups chocolate cookie crumbs
⅓ cup coconut (or grapeseed) oil
3 tbsp rapadura sugar (or 4 tbsp agave syrup
½ tsp cinnamon
Instructions
Preheat oven to 180C. Combine all ingredients in bowl.
Press into base of fluted or round pan with release base.
Bake for 15 minutes until browned and dry, remove from oven and let cool completely (approx 45 minutes - 1 hour)
Blueberry Ricotta Cheesecake
A sweet and tangy cheesecake, a blueberry and ricotta dream!
Author:
Alison Murray @ Om Nom Ally
Recipe type:
Dessert, Baking, Cake, Cheesecake
Cuisine:
Dairy-free, egg-free, gluten-free, vegetarian and vegan depending on ingredient choice.
Ingredients
1 tub Tofutti Better Than Ricotta (or 250g ricotta)
6 tbsp almond meal
4 flax eggs (see notes) OR 4 eggs
¼ cup rapadura sugar or agave syrup
375g + 125g fresh blueberries
1 tsp vanilla
1 tsp lemon juice + rind
Instructions
In a blender or food processor puree ricotta and all other ingredients, reserving the 125g of blueberries.
Preheat oven to 180C. Scatter remaining blueberries over baked cookie base and then pour blended mixture on top. Use a spatula to gently even out the top.
Bake cheesecake for 40 minutes (or until firm with a slight wobble in the centre). After this time turn off the oven and leave the oven door ajar for 30min. Cool cheesecake completely and then refrigerate for a few hours before serving..
Notes
To Make 4 Flax Eggs: Mix ¼ tbsp flax meal with ¾ cup boiling water. Whisk and refrigerate for 5-10 minutes or until thickened.