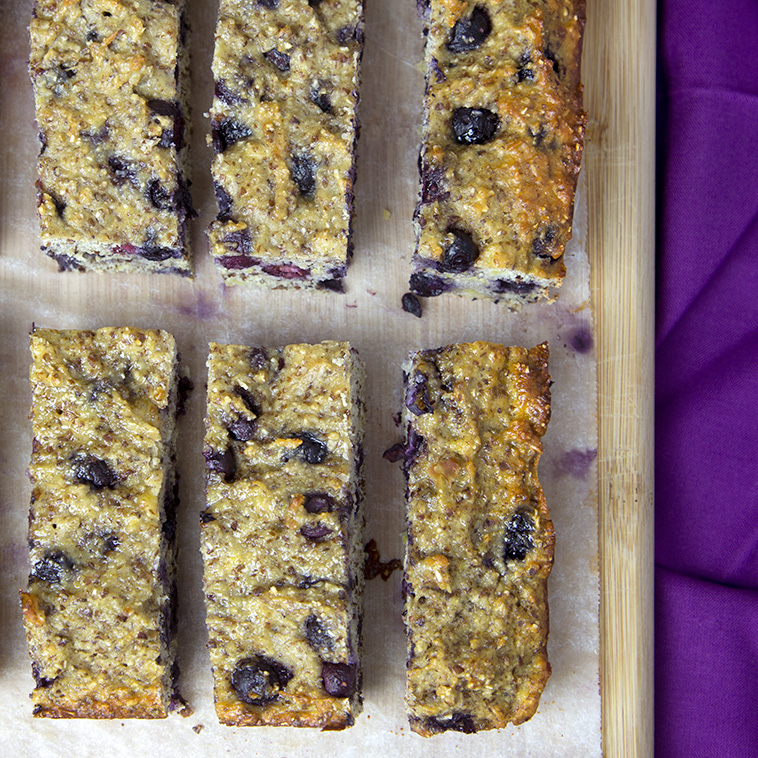 Put down that store-bought protein bar and go turn on the oven – we're making protein bars! Bursting with plump blueberries and made with your favourite protein powder, fibre-rich flax meal, oatmeal and coconut flour, these bars have none of the junk of store bought bars and all of the benefits of a convenient on-the-go protein snack.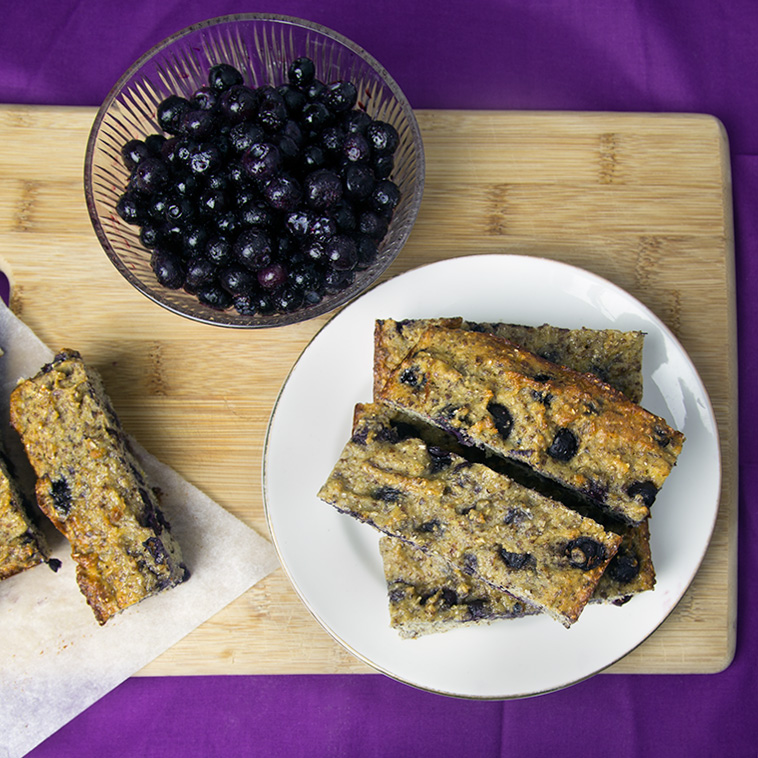 While one of my local health food stores may be  boycotting all cacao/cocoa products, at my work it's the processed protein bars I would want to ban. I love to eat high-protein snacks, but it's the enormous ingredients lists of branded products with nasty soy protein isolate, palm oil, preservatives, maltitol and refined sweeteners that really gets my goat. Yech! These homemade bars however are so quick and easy to make that you'll never miss those supermarket options. After all, these contain absolutely no crap.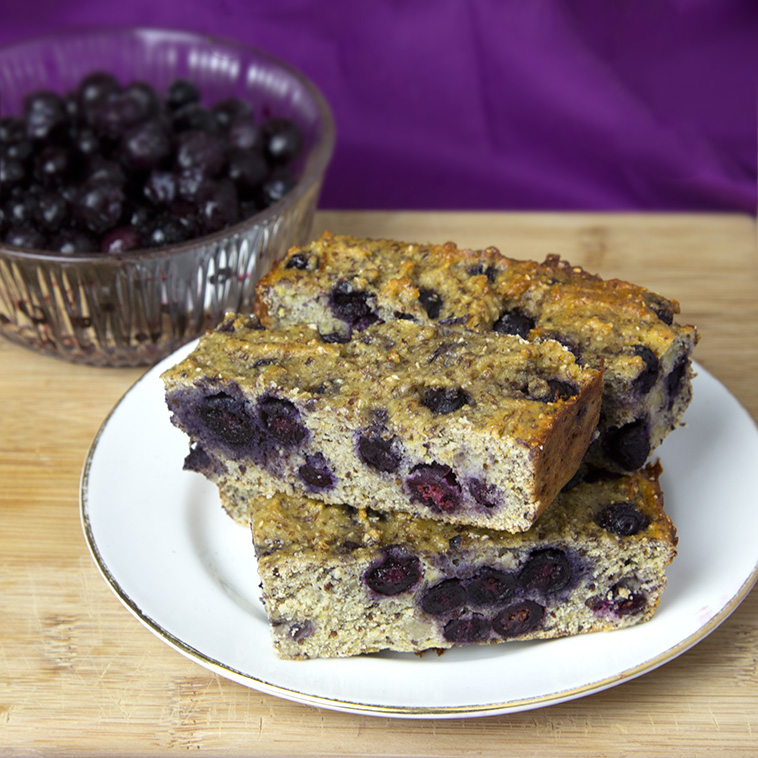 You can mix up all kinds of flavour combinations for these easy protein bars and today I've gone with my favourite berries (anthocyanin-rich blueberries) and creamy, ripe bananas. This recipe contains plenty of protein per serve as it contains three eggs (or chia gel eggs) and a cup of protein powder, but it's also fibre-rich thanks to the coconut flour, oatmeal, flax meal, berries and banana. Winner!
It's not just the health benefits that make these homemade protein bars amazing as these also cost practically peanuts to make! So instead of forking out $5 a bar, save your money and eat these to fuel you up after a workout or tide you over during the mid-morning/afternoon energy slumps. I like to bake a batch in a square cake tin at the start of the week, slice them up ready to eat and then refrigerate or freeze to enjoy later. These will last a week in the fridge, or around 3 months if frozen.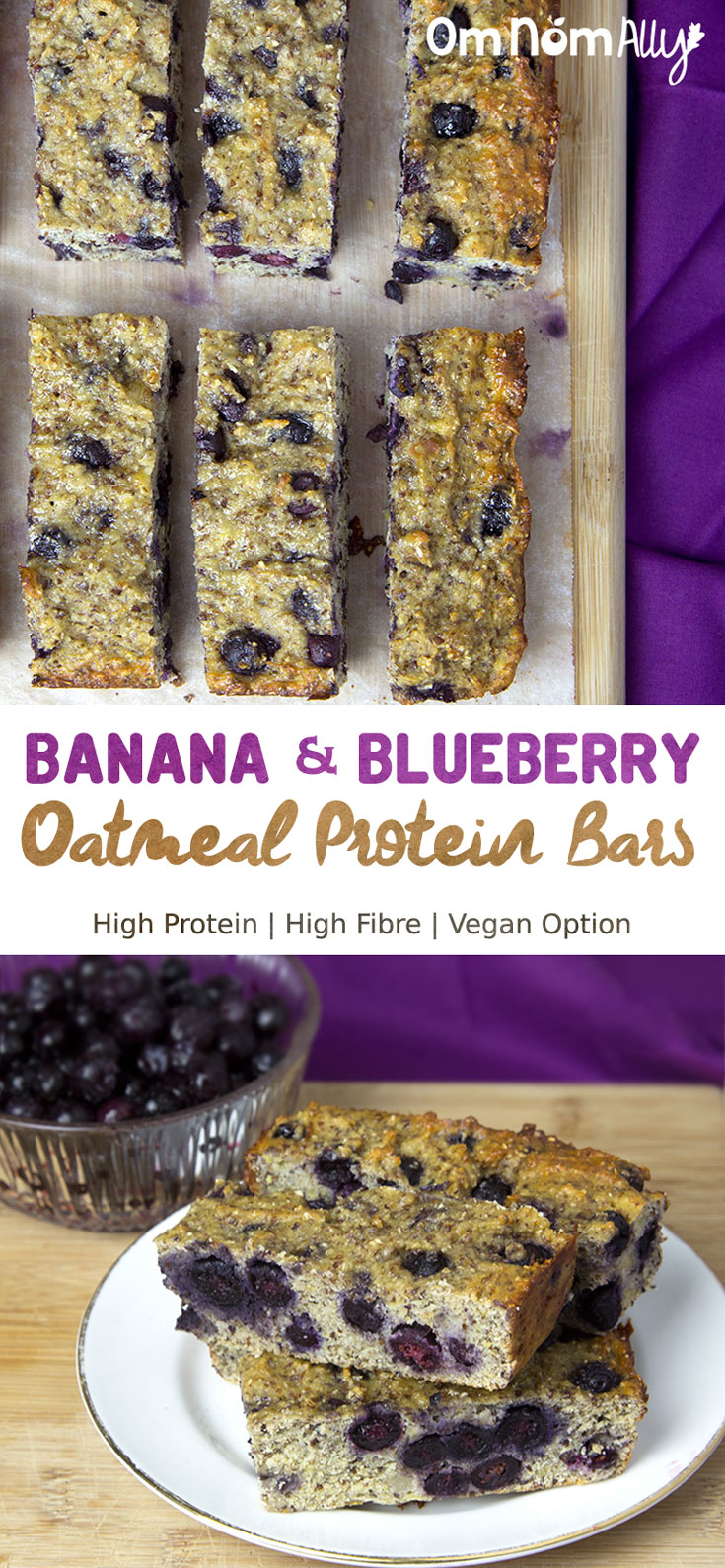 Banana & Blueberry Protein Bars
Save your money and eat these protein-rich, nutrient-dense protein bars to fuel you up after a workout or tide you over during the mid-morning/afternoon energy slumps.
Author:
Alison Murray @ Om Nom Ally | www.omnomally.com
Recipe type:
Baking, High-Protein
Cuisine:
Nut-free, Soy-free, Wheat-free, Vegetarian. Egg-free, Dairy-free or Vegan depending on ingredient choice.
Ingredients
3 biodynamic, organic or free range eggs (or 3 chia gel eggs for egg-free/vegan)
2 ripe bananas, mashed
⅓ cup maple syrup
¼ cup milk or non-dairy milk
1 tsp vanilla extract
1 cup protein powder
½ cup oatmeal / oat bran
½ cup coconut flour
½ cup flax meal
2 cup fresh or frozen blueberries
Instructions
Preheat oven to 180c. Grease and line a 23cm square cake tin, put aside.
In a large bowl, or the bowl of a stand mixer, beat the eggs, banana, maple syrup, milk and vanilla extract until well blended. In another bowl, whisk together the protein powder, oatmeal, coconut flour and flax meal.
Add the dry ingredients to the wet and mix well until all combined. Add blueberries and fold gently through mixture. Bake for 30 minutes, or until top is slightly browned and a skewer inserted into the middle comes out clean.
Allow to cool completely, then remove from tin and cut once horizontally and then cut each portion into 6 bars to make 12 bars total.