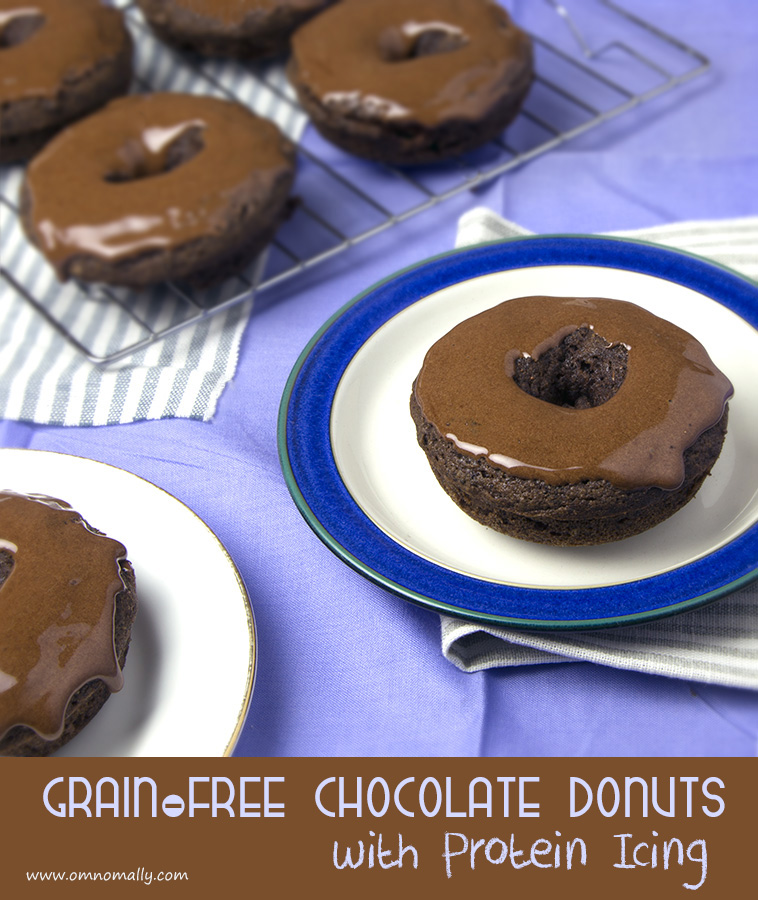 I've been teasing my social media followers for a few days with this recipe, ever since I posted the first pics of my chocolate donut experiments on Instagram last week. This is the third donut (doughnut?) recipe on the blog now, and the second grain-free offering made with fibre-rich coconut flour. It certainly won't be the last healthy donut treat you see here either – I've already started testing a new flavour to feature soon 😉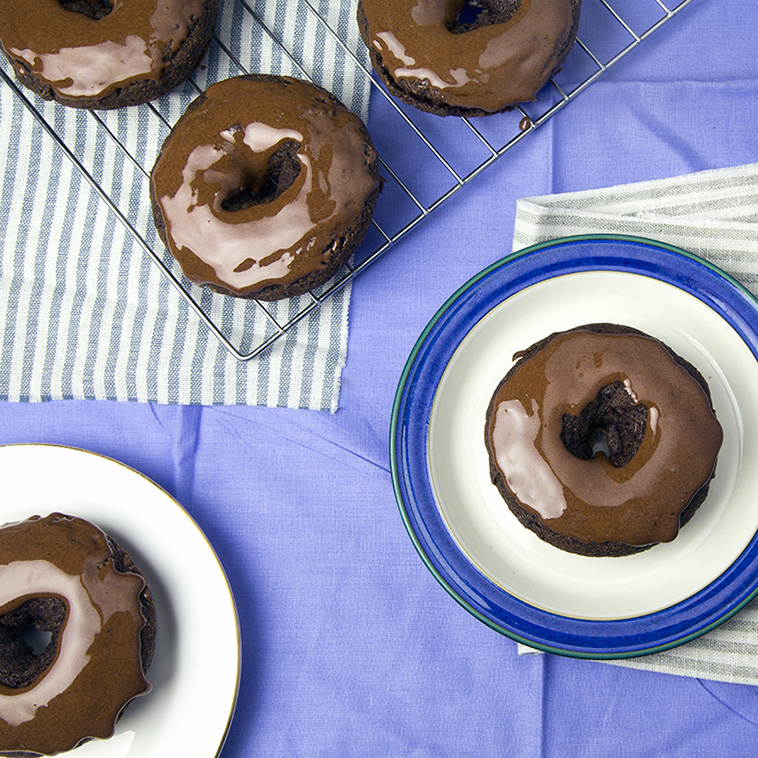 While I love baking with spelt or other flours, I've discovered that coconut flour and plenty of eggs makes for the fluffiest and most satisfying baked donuts. There's absolutely no guilt when tucking into one of these for dessert and I'm stoked about the high amounts of fibre and immunity-boosting lauric acid I'm getting with every bite.
This recipe only makes enough for a six-capacity donut tray, but it's the perfect amount for our household to have a decadent-feeling treat over the course of a few days. Even better, I've both refrigerated and frozen a couple of batches and they thaw out perfectly.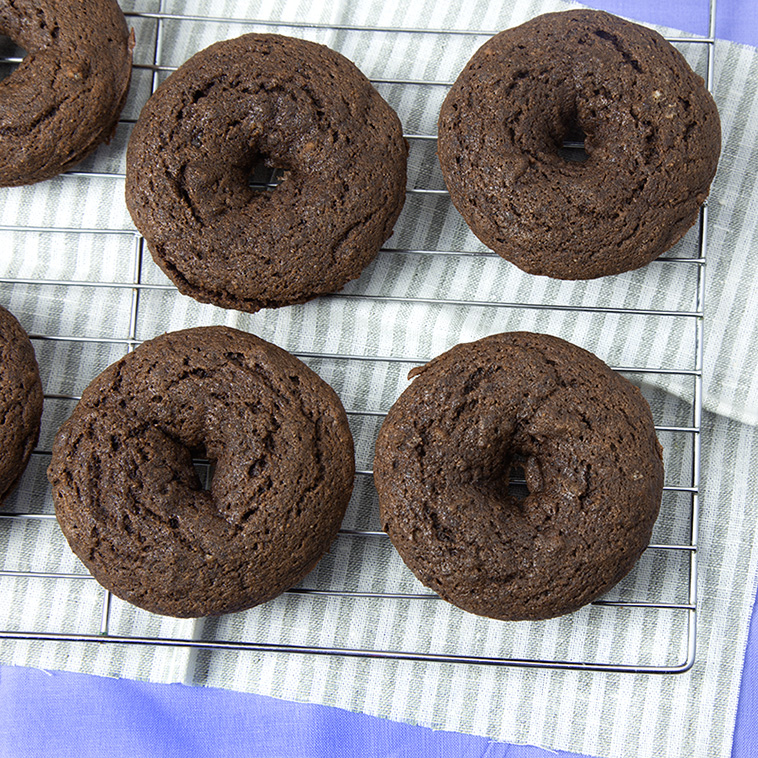 While you can certainly eat these donuts naked (i.e. without icing, or without your clothes on!), I'm also really proud of this super protein icing. Using protein powder in place of icing sugar is a tip I once saw in an old Australia Oxygen Magazine, but I unfortunately have no idea the year or the issue. The premise however was simple enough to always stick in my head and this is the gist of it: mix 2 tbsp protein powder with a tsp of water at a time until it forms a glossy, tacky icing consistency. Sound easy?
You can make plain protein icing in this manner, or add some flavourings (cocoa, vanilla etc.) and a few drops of stevia to sweeten. Spread it all over your donuts, cookies or cupcakes and pop in the fridge for a little while to se to set. This icing mixture (and grain-free donut recipe) is going to change your world!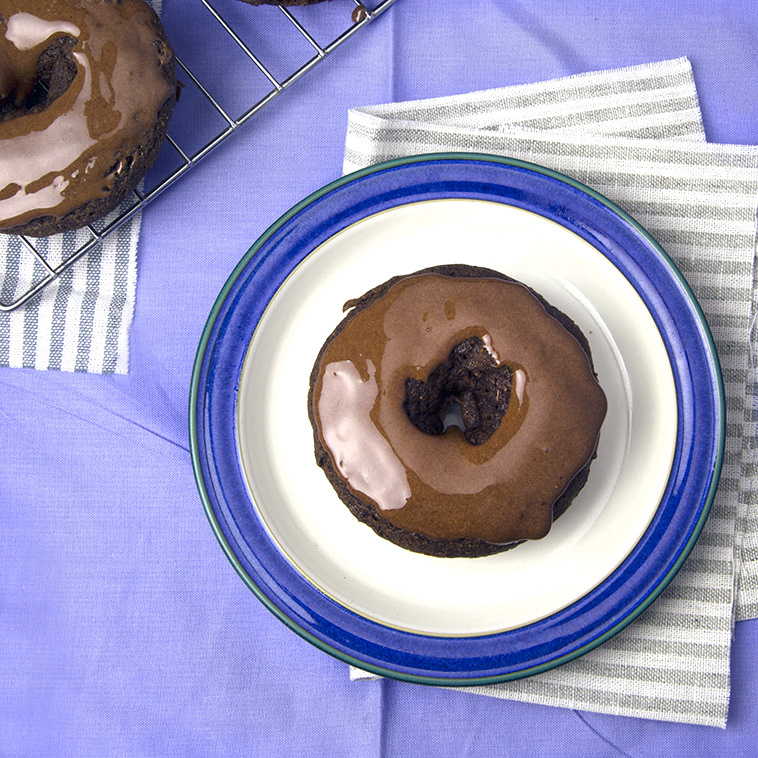 Grain-Free Chocolate Donuts with Protein Icing
Coconut flour and plenty of eggs makes for the fluffiest and most satisfying baked donuts. Eat these chocolate donuts unglazed, or try this protein icing mixture that uses whey protein powder to replace the icing sugar that's typically used for glazing.
Author:
Alison Murray @ Om Nom Ally | www.omnomally.com
Recipe type:
Baking, Dessert
Cuisine:
Gluten-free, Grain-free, Nut-free, Soy-free, Wheat-free, Vegetarian.
Ingredients
½ cup coconut oil, melted
¼ cup coconut sugar
1 tsp vanilla extract
5 biodynamic, organic or freerange eggs
½ cup coconut flour
2 tbsp cacao powder
1 tsp ground cinnamon
½ tsp baking soda (see notes)
Protein Icing

2 tbsp protein powder of choice (whey or pea protein; or rice protein - not grain free)
1 tbsp cacao powder
2 tbsp spring or filtered water, cold
Plain / Vanilla flavoured stevia drops
Instructions
Preheat oven to 180C. Grease a 6-capacity donut tray and set aside.
In a large bowl, or the bowl of a stand mixer, beat coconut oil, sugar and vanilla extract together and then add eggs one at a time until fully incorporated.
In a seperate bowl, whisk coconut flour, cacao powder, cinnamon and baking soda together. Slow add into wet mixture, folding through gently.
Spoon batter into prepared donut tray and bake for 20 minutes. Allow to cool for 5 minutes and then run the blade of a flat knife around the edges of donuts and gently release from tray. Allow to cool completely on a wire rack before icing.
Mix and protein and cacao powder in a small bowl. Add water, 1 tsp at a time, whisking with a fork to incorporate. Continue adding water slowly until shiny, stiff icing mixture forms. Add 1-2 drop liquid stevia and whisk to incorporate well.
Using a flat-bladed knife, spread icing on donuts and place in fridge to set. Icing will be hard when refrigerated and softens slightly at room temperature.