So here we are, two weeks into 2015 already! Where does the time go? My past couple of  weeks have been filled with family visits, catch-ups with friends and lots of relaxation – some things I never seem to find time for the rest of the year! Having my parents in Melbourne for a week was fantastic (though not long enough) and I even managed to make my way through my reading list (you have to check out Make Peace With Your Plate and Deep Nutrition: Why Your Genes Need Traditional Food – do it!).  How have you been spending the holidays and the start of January?
It's post NYE-detox season at the moment and I'm sure your inbox and RSS feeds are full of green smoothies, juices and detox recipes from your other favourite food bloggers. I've already skipped out on posting during the New Year's Resolution portion of the year however (I made 0 resolutions, 5 goals for 2015 with most of them based around this blog or my business aspirations) and because of that I'm sticking with some fresh and flavourful dinner fare for my first post of 2015. A great excuse to use the Homemade Taco Seasoning we made recently, this recipe is certainly not a green smoothie but is nutritious and amazing in it's own way!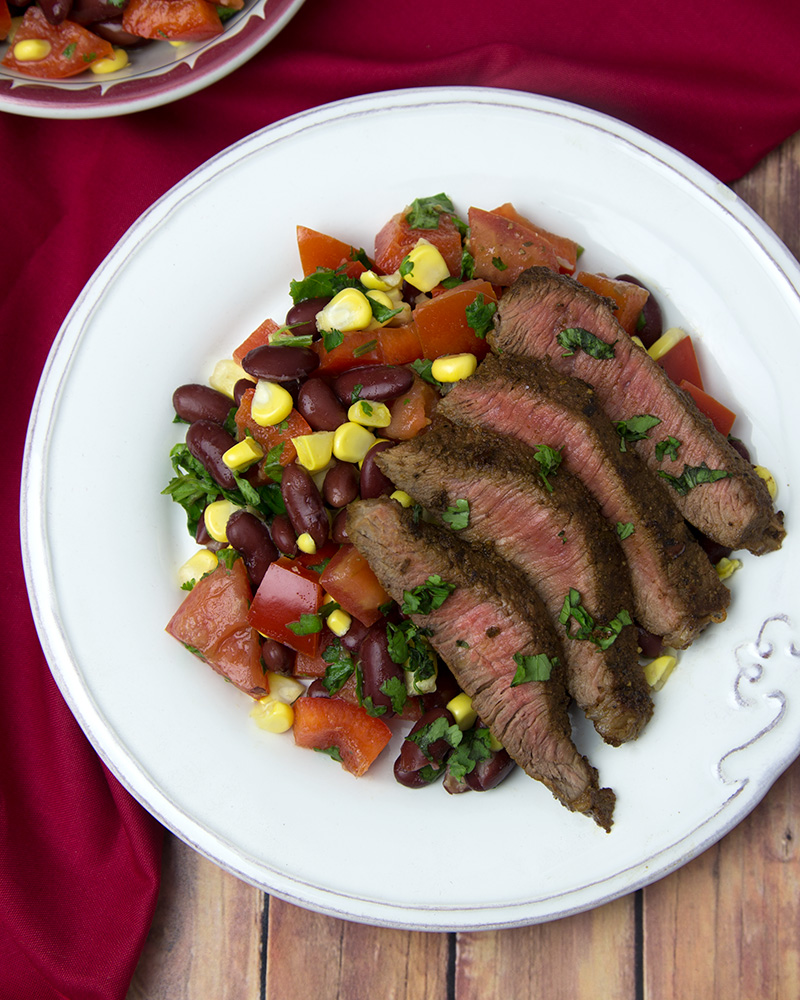 The Australian rump steak is a fantastically versatile cut of meat and is perfect for our favourite national cooking method – the BBQ. I, however, am sans-BBQ (shame on me!) and luckily this spice-rubbed steak is happy to be thrown straight into the pan or cooked on a chargrill instead. It's one of those cuts that loves to soak up the flavours of marinades and spice rubs and should always be cooked only until pink to keep it tender and not tough. This simple, pan-fried, chilli-rubbed steak and fresh salsa screams "Summer!" to me and is loaded with fibre, protein, healthy fats and healing spices. It's just what you need to get your best-ever year (and all those healthy eating resolutions) underway!

Mexican Chilli-Rubbed Steak with Corn Salsa
This simple, pan-fried, chilli-rubbed steak and fresh salsa screams "Summer!" to me and is loaded with fibre, protein, healthy fats and healing spices.
Author:
Alison Murray @ Om Nom Ally (adapted from Quick Family Meals by The Australian Women's Weekly | www.omnomally.com
Cuisine:
Egg-free, gluten-free, nut-free, soy-free, wheat-free. Dairy-free depending on choice of cooking fats.
Ingredients
1 tbsp ghee (or coconut oil for dairy free meal)
1½ tbsp Mexican Seasoning or DIY Homemade Taco Seasoning
500g piece of beef rump steak
1 can organic kidney beans, drained OR 1 cup cooked kidney beans
2 corn cobs, kernels removed
2 large tomatoes, seeds removed, roughly chopped
½ cup fresh coriander, finely chopped
Juice of one lime
Instructions
Rub the spice mix over both sides of the steak, using your hands to ensure it is evenly coated.
Heat ghee or oil in a large frying pan on medium-high heat. Add rump steak to heated pan and cook steak for 8-10 minutes (4-5 minutes each side) until browned, yet pink on the inside (or as cooked as desired). Remove from pan and cover to keep warm.
In a medium bowl, combine kidney beans, corn kernels, tomato and coriander. Pour lime juice over mixture and stir gently to combine.
To serve, divide salsa mixture evenly between four plates, thickly slice rump steak and place slices on top of salsa.