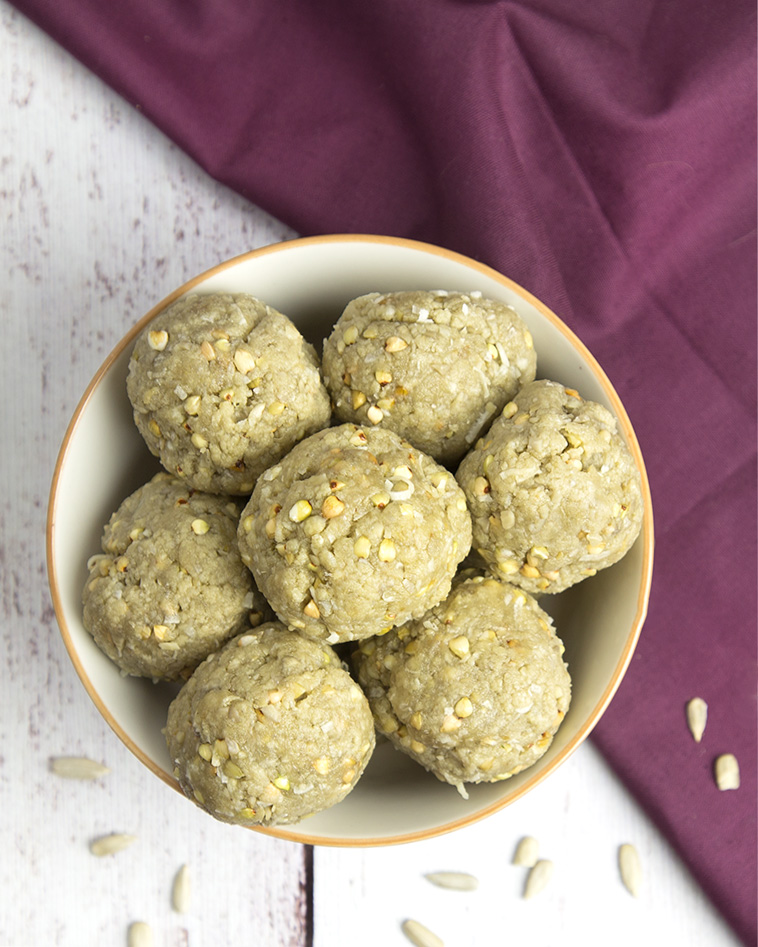 If the key to a man's heart is through his stomach, then I haven't been nurturing my relationship with Kam lately. For the past two months he's begged me to make him some homemade Bounce Energy Ball knock-offs… and I've managed to forget the task at hand immediately after agreeing to his demands over and over. Bad, bad girlfriend!
If you've never heard of them before, Bounce Balls are a range of energising, high protein snack balls with flavours such as Cacao Mint Protein Bomb, Coconut & Macadamia Protein Bliss and Peanut Protein Blast. It's the peanut flavour that Kam has been convincing me to recreate, as he wants them for morning and afternoon snacks (without the $3-a-pop price tag). What's a girl to do however when you finally cave in and find you have no peanuts on hand? Hulled sunflower seeds make a perfect substitute for peanuts and taste almost exactly the same when processed into a creamy seed butter for these protein balls. Phew!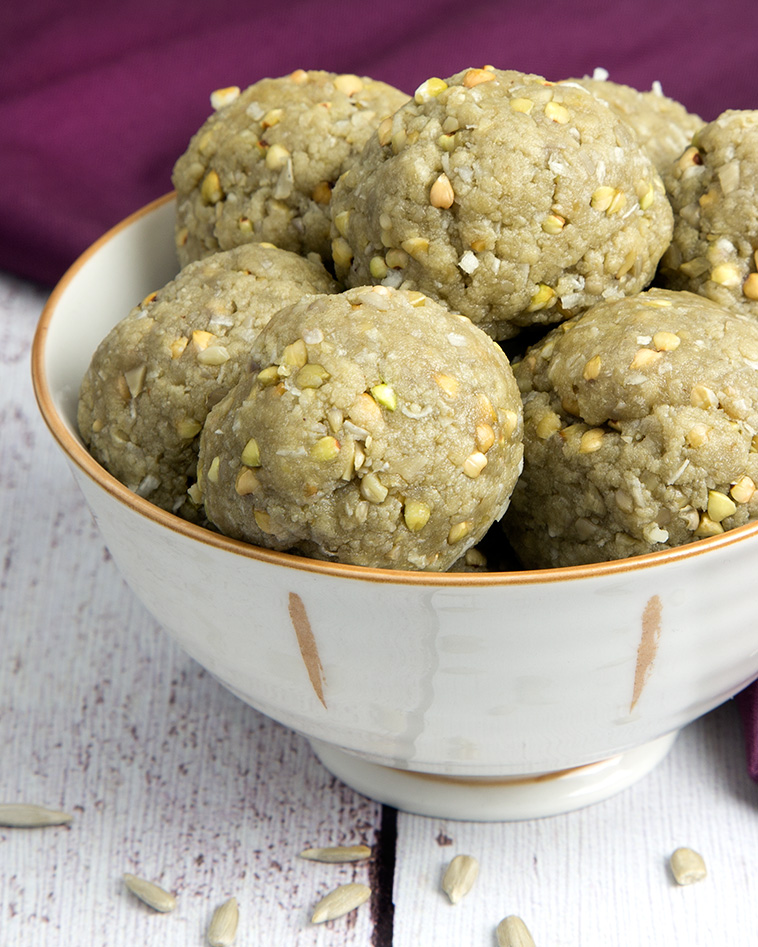 Sunflower seeds aside, these aren't exactly the same as the Bounce Energy Balls range – they're better! We're using immune-boosting honey instead of the rice bran syrup and concentrated grape juice in the store-bought balls, crunchy sunflower and buckwheat kernels in place of the processed whey protein crisps (found in some Bounce flavours) and high-fibre coconut flour instead of tapioca starch.
Need some more encouragement besides the nutritional boost? This recipe will give you 12 large Bounce ball-sized treats, saving you at least $30 dollars (on a retail box of 12 balls) after you factor in the price of ingredients you need for our recipe makeover!  While this recipe will make quite large protein balls, you can also halve the amount you roll up to make 24 instead of 12 for a mini-afternoon snack. I think I've definitely won back Kam's affections now 😉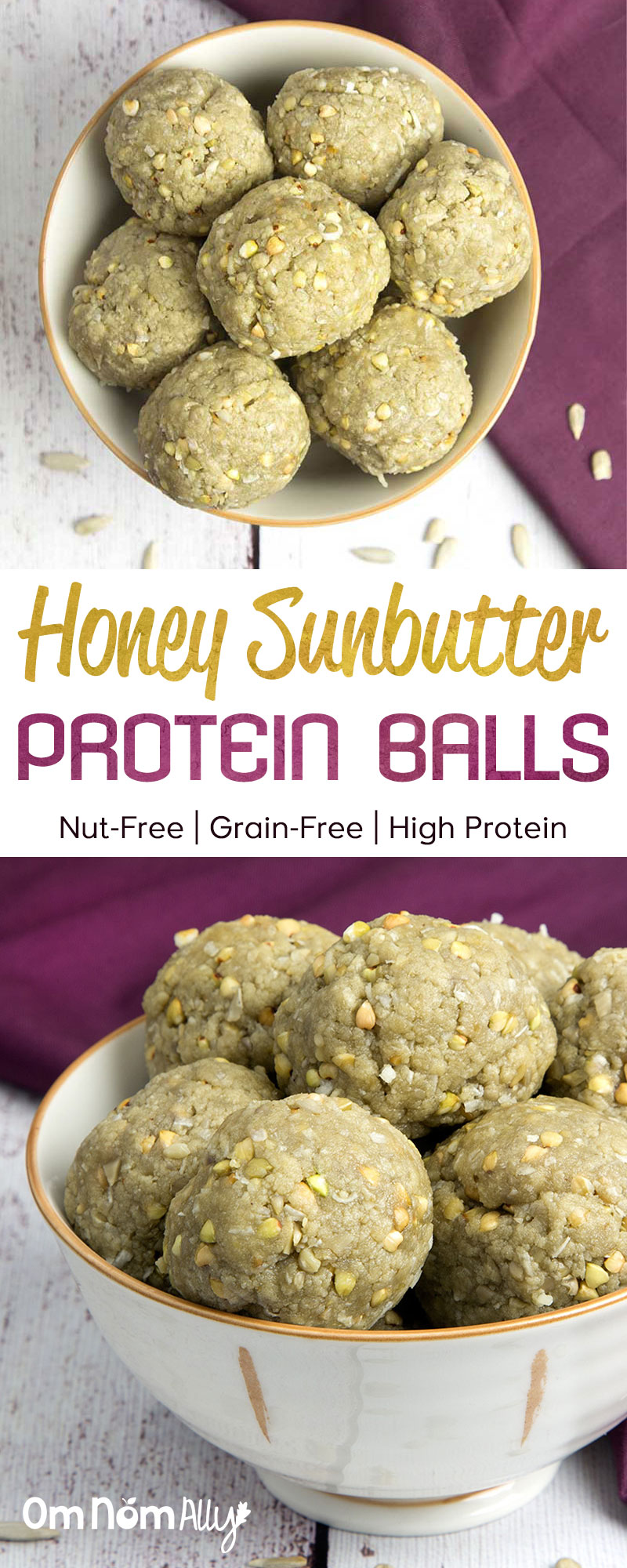 Nut-Free Honey Sunbutter Protein Balls
I can't believe they're not Bounce balls - because they're better! This recipe will give you 12 large protein treats, saving you at least $30 dollars (on a retail box of 12 similar sized protein balls).
Author:
Alison Murray @ Om Nom Ally | www.omnomally.com
Recipe type:
Snacks, High Protein Snacks, Protein Balls
Cuisine:
Egg-free, nut-free, gluten-free, grain-free, soy-free, wheat-free, vegetarian.
Ingredients
1½ cups sunflower kernels (or 1 cup sunflower butter)
1 tbsp coconut oil, melted
2 tbsp cup raw, organic honey
¾ cup protein powder
1 tbsp coconut flour
¼ cup dessicated coconut
¼ cup sunflower kernels
¼ cup buckwheat kernels
water, as needed
Instructions
Add sunflower kernels (or sunflower butter), coconut oil and honey to the bowl of a food processor and process until a creamy butter forms - about 5 minutes.
Add protein powder and coconut flour and process until well combined. Using fingertips, press mixture together to check if it sticks. Dough should stick together and not crumble. If needed, add water, one teaspoon at a time and process for a few seconds to combine, then test again.
Add shredded coconut, additional sunflower kernels, and buckwheat kernels and process for 15-20 second until well combined, but before kernels are ground down. Transfer mixture to a large bowl and roll 2 tablespoon amounts of dough into large balls. Eat immediately or store in the fridge in a closed container for up to one week.