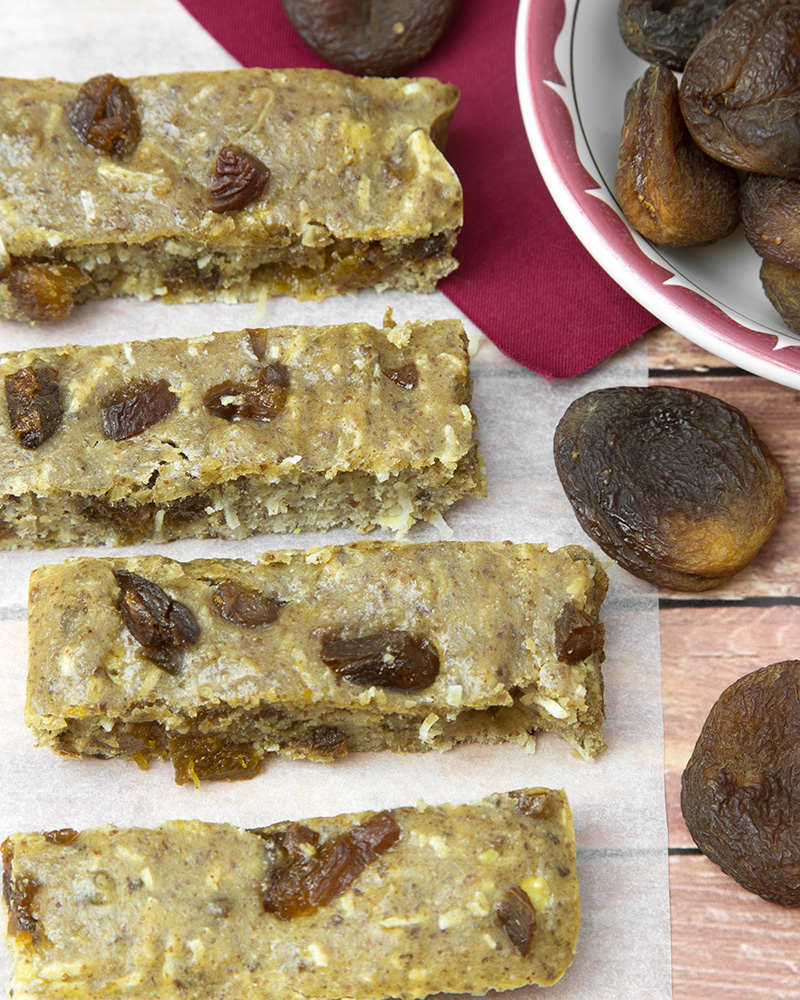 Turkish dried apricots are just the best, don't you agree? A bit more subtle in flavour than standard dried apricots, this Turkish-grown, dried fruit is exactly what I've been craving this week – even while fresh, new season apricots have started to appear on the produce stands.  Want the healthiest dried apricots available? Go for organic and unsulphured, find more info below…
You might know already that I've been procrasti-baking a lot lately; I also bake when I need a little relaxation. While I first made and photographed this recipe a couple of weeks ago, I just finished baking another batch again today after receiving some stressful news. Our brand-new assistant manager quit overnight – after 2.5 weeks of work and 5 weeks before Christmas! Note: Anyone from Melbourne with health food store and management experience looking for a new job? Myself and our amazing team from Sunnybrook Health Store would love to hear from you!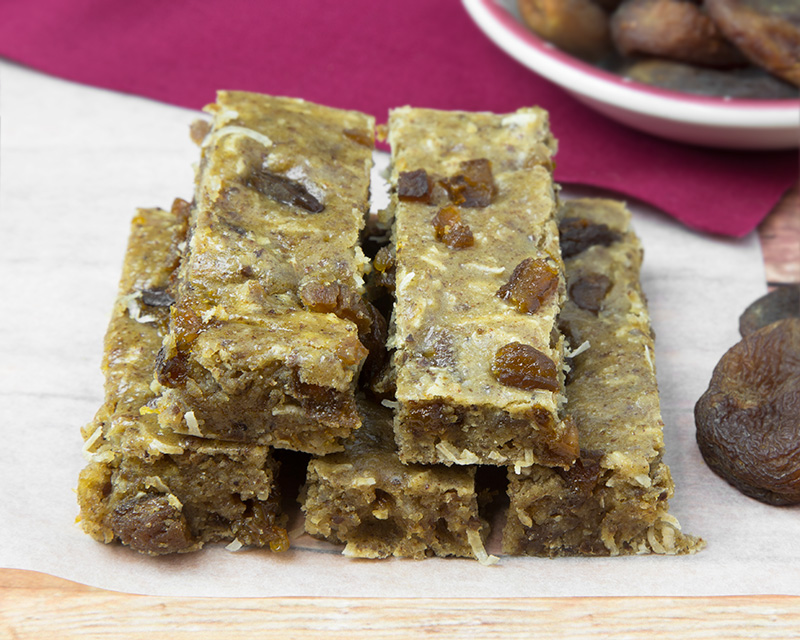 Here's a great article about what makes baking so relaxing and instead of stressing about work in the lead up to the silly season I have decided to roll my sleeves up, don my favourite paisley apron and cover myself in flour (or in this case, whey protein powder and grain-free flours). Homemade protein bars, here we come!
If you've made one of my other high protein snacks before you'd know already how much I love to sneak protein powder into everyday recipes and these sticky, cakey bars contain a whole cup of protein powder  (along with high-protein eggs, almond butter and meal), while also being high in dietary fibre. Woohoo! For every 2-3 dried apricots you eat while snacking you're enjoying nearly a full gram of fibre – so by adding bananas, coconut flour, almond and flax meal to some chopped apricots in these bars I'm bestoying upon them some mega-superhero fibre mojo.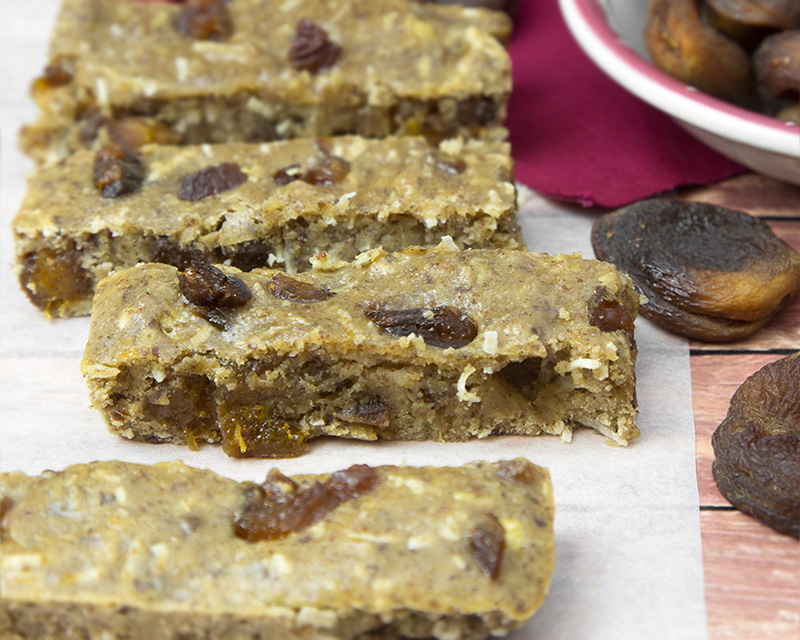 I mentioned at the start of the post about the importance of choosing organic apricots for your homemade protein bars and that's all because conventional apricots are one of the most heavily pesticide-sprayed crops. Conventional dried apricots are also treated with sulphites during processing (to help retain colour) – you definitely want to avoid that if you follow a real food diet/don't want to eat crap/have a sensitivity/show any known symptoms after ingestion.
The organic apricots used in this recipe are much darker in colour than fresh or non-organic due to the lack of sulphur during drying and you can use this colour difference as the clear indication you're buying one of the healthiest snacks on the planet. Bake these Turkish apricot-studded protein bars for some post-workout fuel, or sneak them into your work lunch pack for a healthier afternoon snack. Whichever way you plan on enjoying them, feel good knowing you're eating one of the most delicious ways to increase your daily protein and fibre intake at the same time!
Turkish Apricot & Almond Protein Bars
Enjoy whopping dose of protein powder combined with almond meal and butter, bananas and coconut flour. Bake these almond protein bar and feel good knowing you're eating one of the most delicious ways to increase your protein and fibre intake at once!
Author:
Alison Murray @ Om Nom Ally | www.omnomally.com
Recipe type:
Baking, Bars, Snacks, High Protein Snacks
Cuisine:
Gluten-free, grain-free, soy-free, wheat-free, vegetarian. Dairy-free, egg-free and vegan depending on ingredient choice.
Ingredients
2 ripe bananas, mashed
2 eggs (or chia gel eggs for dairy-free/vegan bars)
¼ cup almond butter
¼ cup milk or non-dairy milk of choice
1 tbsp maple syrup
1 tsp vanilla extract
1 cup protein powder of choice
½ cup almond meal
½ cup coconut flour
¼ cup flax meal
¼ cup shredded coconut
1 tsp ground cinnamon
½ cup dried apricots, roughly chopped
Instructions
Preheat oven to 180c. Grease and line a 23cm square cake tin, put aside.
In a large bowl, or the bowl of a stand mixer, beat the bananas, eggs, almond butter, maple syrup, milk and vanilla extract until well blended. In another bowl, whisk together the protein powder, almond meal, coconut flour, flax meal, shredded coconut and cinnamon.
Add the dry ingredients to the wet and mix well until all combined. Add dried apricots and fold gently through mixture. Bake for 35-40 minutes, or until top is browned and firm and a skewer inserted into the middle comes out clean.
Allow to cool completely, then remove from tin and cut once horizontally, then cut each portion into 6 bars to make 12 bars total.