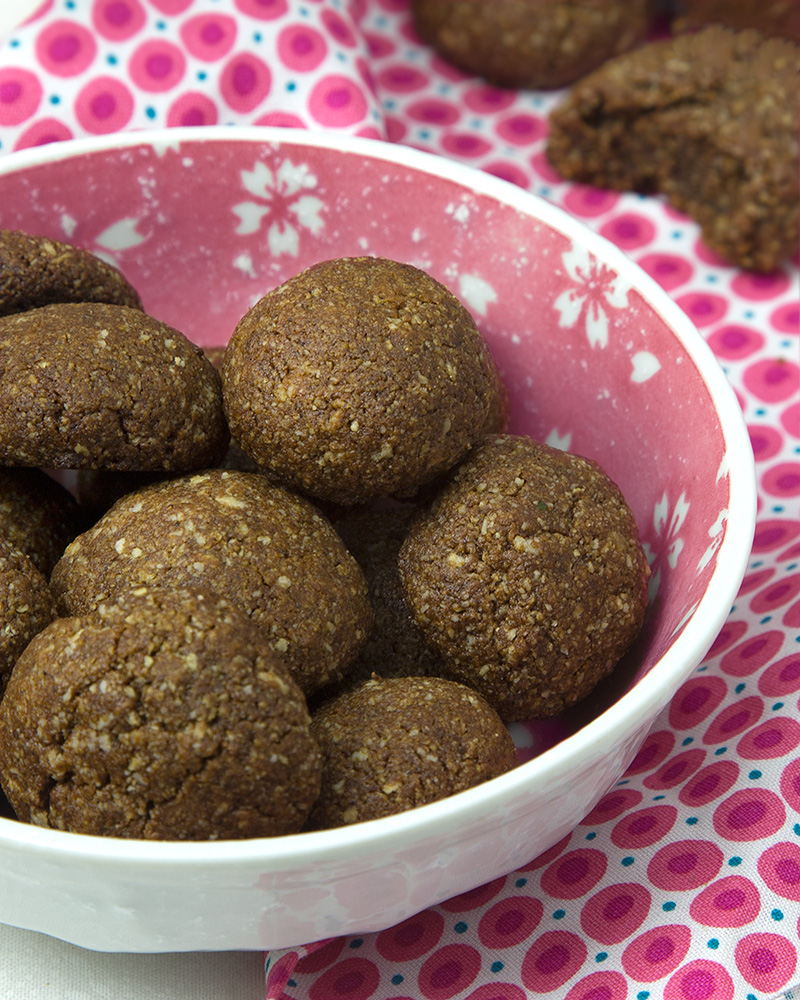 These soft and chewy spiced almond meal cookies are fabulous. One bowl recipes really appeal to my hatred for washing dishes while also satisfying my desire to procrasti-bake. The abhorrent task I'm avoiding this this week? Writing a business plan for my naturopathy course…. I'm unable to sit still for more than ten minutes to get my head around it and make any real progress. Yawn.
Baking is far more interesting at the moment and these grain-free, vegan and paleo cookies with the unmistakable flavour of smoky molasses are a delicious distraction from marketing plans and future income projections (snore!). Made with almond meal, blackstrap molasses, coconut oil and spices, I don't think fabulous is strong enough a word for these spicy cookie gems. How about amazing? Phenomenal? I know, superb 🙂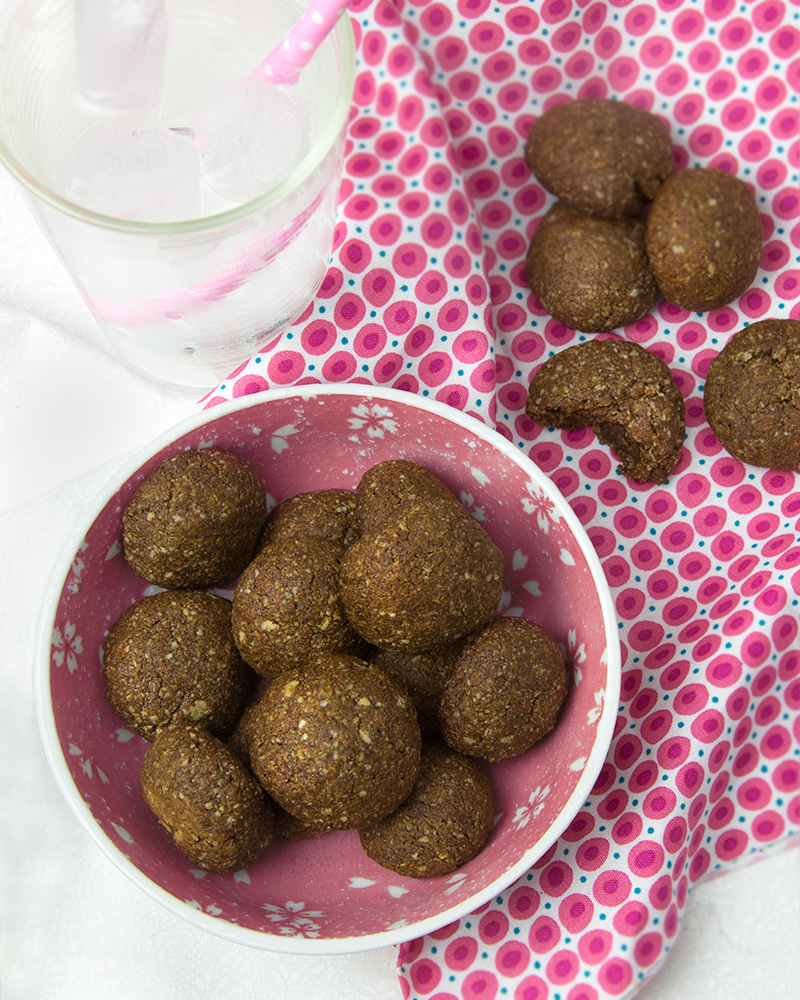 I love baking with molasses, as it's a third less sweet than using the same amount of granulated un-refined sugar and contains high amounts of calcium, magnesium and iron. While molasses is the byproduct of sugar refinement, this dark, syrupy liquid contains all the vitamins and minerals left over after the sucrose content of sugar has crystallized, making it a great choice for wholefood baking recipes.
This recipe is still quite sweet and sugary however so I personally like to bake these as little cookie gems. If you're wanting some big 'ol softies though then go ahead and use 2 tbsp of dough and allow a little more distance between cookies when baking for spreading. Best enjoyed within 1-3 days, these molasses almond meal cookies will also keep in a closed container in the fridge for up to a week.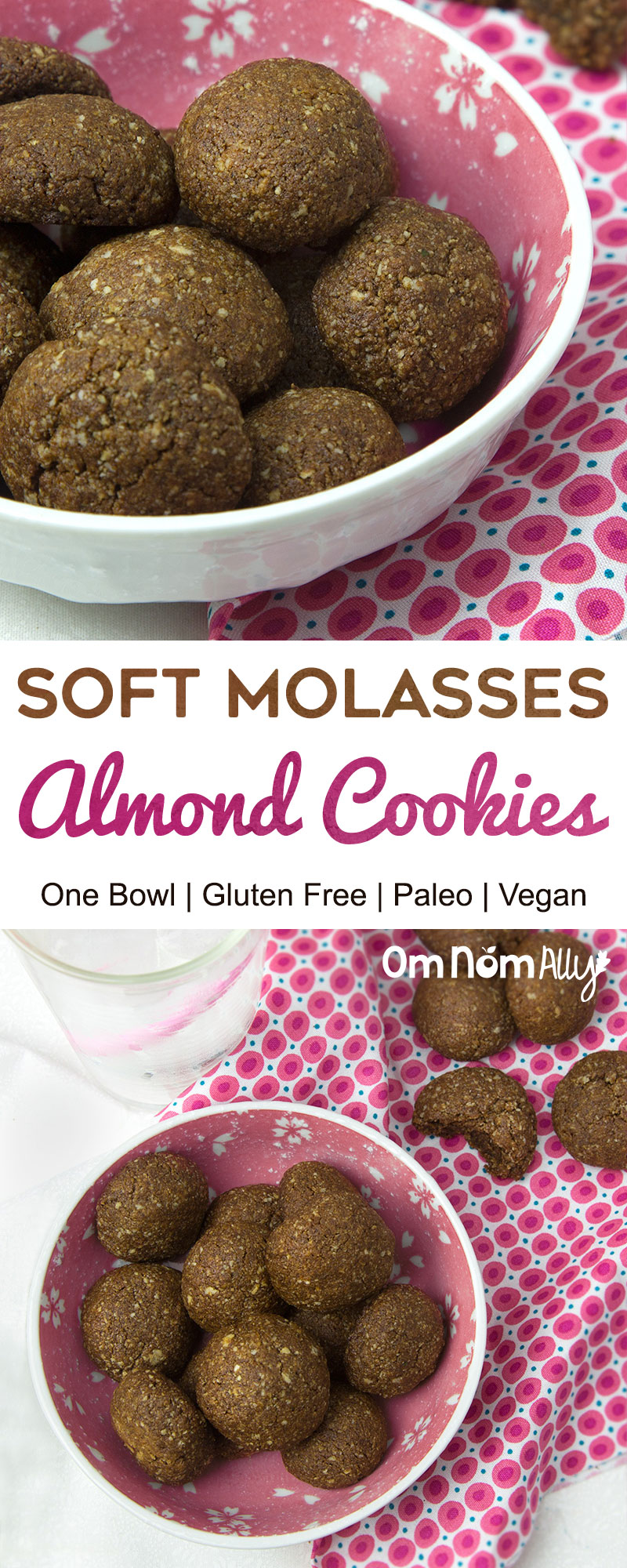 One Bowl Soft Molasses Almond Meal Cookies
What's even better than a spicy, molasses cookie? Less washing up after baking! This one bowl, baking recipe with almond meal, blackstrap molasses, coconut oil and spices ticks all the boxes for a delicious, nutritious and low-effort baking adventure.
Author:
Alison Murray @ Om Nom Ally | www.omnomally.com
Recipe type:
Baking, Cookies
Cuisine:
Dairy-free, Egg-free, Gluten-free, Grain-free, Soy-free, Wheat-free, Vegan, Paleo.
Ingredients
¼ cup coconut oil, melted
¼ cup molasses
1 tbsp maple syrup
2 tsp vanilla extract
1.5 cups almond meal
2 tsp ground ginger
1 tsp cinnamon
¼ tsp nutmeg
¼ tsp cloves
1 tsp baking powder
Instructions
Preheat oven to 180C and line two baking trays with greaseproof or baking paper.
Combine all ingredients in a medium bowl, stirring well to combine. Take 1 tablespoon amounts of dough and roll into balls. Place on on prepared baking sheets 1 cm apart (they will not spread too much) and bake for 12-15 minutes.
Remove from oven and allow to cool for 5 minutes before transferring to a wire cooling rack and cool completely.