I've been in Melbourne for 3 years now, and I'm no less homesick. I often wake up with the biggest urge to bus my way to the city to chill out at Darling Harbour, shop the length of George Street, or traipse Glebe Markets. I often feel sad that I don't feel that same passion for Melbourne and still don't have any 'must visit' places that I frequently return to.
I really missed home and my family during the Easter break that just passed. Easter usually meant Sunday roast lunches or a drive with Dad in the car. I remember Easter egg hunts as a child and big bowls of chocolate eggs and bunnies scattered throughout the house. The George St Darrel Lea store would have lines out the door before Easter Friday, Hyde Park's magnificent tree lined avenues would be abuzz during the parade on Sunday. The Sydney Royal Easter Show (originally in Moore Park and now at the less atmospheric Olympic Park) was always a grand excursion; all gawdy showbags, carnival rides, Showtime Spectacular attractions and more livestock than you could point a stick (or a cattle prod) at. I love that time of year in Sydney.
This Easter, it was the smallest reminder of Sydney that made me start pining home – dried figs. I rediscovered my love for them a couple of weeks ago, with fond memories resurfacing of eating Moreton Bay figs on a college excursion in autumn 2009.
As part of our botany studies, a class of eager and excited naturopathic students all headed to the Royal Botanical Gardens under the enthusiastic eye of our lecturer. Standing amongst the buttresses of these 30-something metre high trees, we looked on intriguingly as Jocelyn picked some plump, purple fruits from low hanging branches and bit into them to show us their delectable insides. I can smell and taste them now. While the figs in these Spiced Fig & Buckwheat Bars recipe aren't from this same species, the heady perfume has become another reminder in my life or how much I still love my home city, as well as spending Easter with my family.
I miss you Mum and Dad, Melbourne is too far sometimes xxx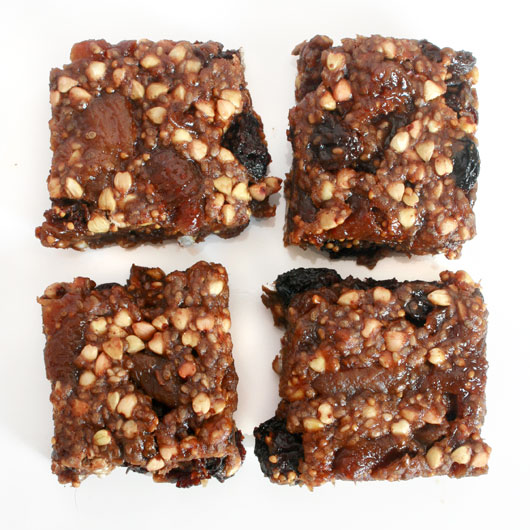 [fb-like-button]
Spiced Fig & Buckwheat Bars
(dairy-free, egg-free, gluten-free, soy-free, nut-free, vegan)
Author:
Alison Murray @ Om Nom Ally
Recipe type:
Dessert, Snack
Ingredients
3 chia eggs (see notes)
⅓ cup unrefined granulated sugar
⅓ cup flour (see notes)
½ tsp baking powder
½ tsp cinnamon
¼ tsp cloves
¼ tsp nutmeg
⅛ tsp salt
1 cup dried figs, chopped
½ cup raisins
½ cup raw buckwheat kernals
2 tbsp water
Instructions
Preheat oven to 160C. Line a 20cm square baking tray with baking paper.
Combine chia eggs with sugar in a medium bowl. Sift flour, salt and spices in another bowl then fold chia egg mixture into dry ingredients.
Stir figs, raisins and buckwheat through mixture until well combined. Add additional water if mixture too dry.
Scrape mixture into square tray, spread out to edges and flatten top evenly. Bake for 40minutes until brown, yet still soft.
Remove from oven and cool for 5 minutes in tray, transfer to wire rack and store in the fridge once completely cooled.
Notes
Flour: You can use gluten-free plain flour or buckwheat flour for gluten-free bars, or use spelt or whole wheat flour. Eggs: To make chia eggs combine 1 tbsp chia seeds with 3 tbsp water. Can replace with 3 eggs or 3 serves of egg replacer Grain free: Use buckwheat, coconut, quinoa flour or almond meal.