I feel perplexed by people who cut up their burgers with a knife and fork. Eating with your hands is fun. Especially when it's a delicious Curried Red Lentil Burger from The Moosewood Restaurant Cooking for Health.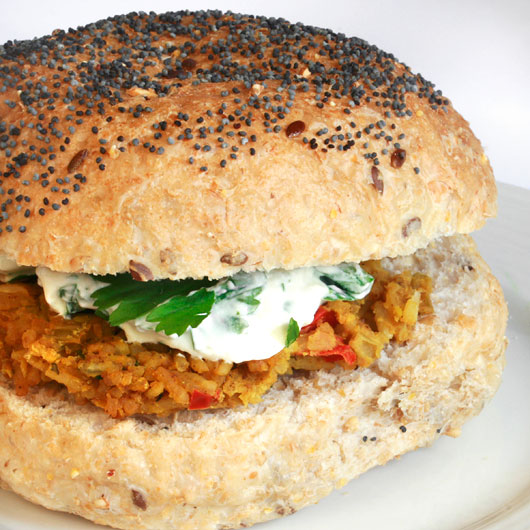 There's a definite pleasure in eating food in burger form, possibly due to the large number of touch receptors in our fingertips and lips. Using those dexterous little digits instead of cutlery makes for an wonderful extra-sensory dining experience. The enjoyment could also be because handsy eating returns us to the messy fun of childhood dining; just think of babies with handfuls of spaghetti and them wearing 90% of it. Now instead recall seeing babies being spoon-fed and rejecting the 'airplane' as it flies in. Eating a burger bigger than your face just isn't as enjoyable when you try to section it up with a knife and fork. You need to just tear into it, and possibly wear it all over yourself.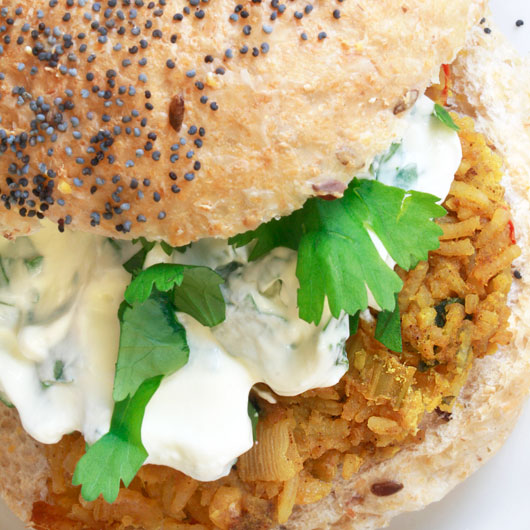 In many countries, you'll find no utensils of any kind and will be expected to eat with your hands. This is true of many African countries, while people of Thailand, Indonesia and India have specific customs surrounding the eating of food with their hands. For burger fans in Australia though there's not too much etiquette to follow, it's all about flattening down (not squeezing) your burger, getting a good grip with both hands and finding a way to stuff all the ingredients back in that may slide out.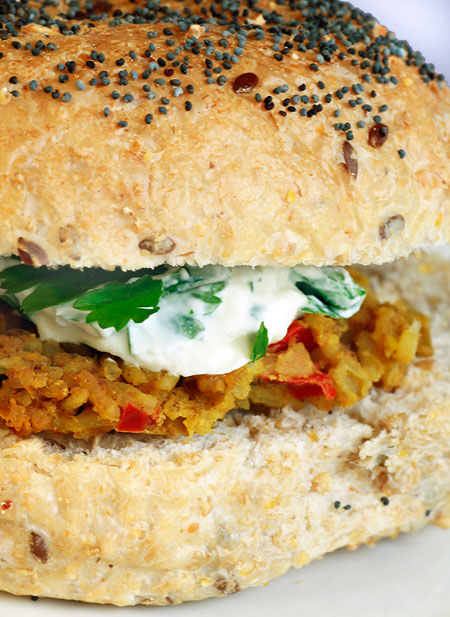 Making enough for 6 hungry bellies, these delicious Curried Red Lentil Burgers are golden, fragrantly spiced and slightly crunchy. Veggies, lentils and brown rice have become firm friends in these patties – and they can't wait for you to slide them into a wholemeal bun, open your mouth as wide as you can and sink your teeth in.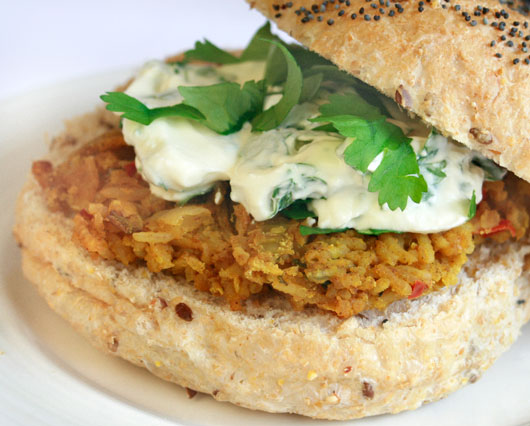 Curried Red Lentil Burgers
(dairy-free, egg-free, soy-free, vegetarian or vegan; nut-free with substitution, gluten-free serving options)
Recipe type:
Burger, Main
Ingredients
1 cup dried red lentils
2 cups water
½ tsp ground turmeric
1 tsp salt
1 large brown onion, chopped
4 garlic cloves, minced
2 tbsp coconut oil
2 celery ribs, diced
1 large red capsicum, diced
1 tbsp fresh grated ginger
1 tbsp water
1 tbsp curry powder
½ tsp ground cinnamon
2 cups cooked basmati or brown rice
¾ cup finely chopped cashews
1 tbsp lemon juice
¼ cup fresh coriander, chopped
Coriander raita to serve (see notes)
Instructions
Rinse and drain lentils, place in small saucepan with water and bring to a boil, stirring often.
Add turmeric and salt, reduce heat to low then cover and simmer until water has been absorbed (about 20minutes). Stir occasionally to avoid burning lentils.
While lentils are cooking, heat oil in a pan and cook onions and garlic for 6 minutes or until softened. Add celery and capsicum and cook for a further 6 minutes. To prevent mixture sticking to pan, add a tablespoon of water.
Add ginger, curry powder and cinnamon and cook for 1 further minute, stirring constantly. Remove from heat and add rice. nuts, lemon juice, coriander and lentils. Once well combined, put aside to cool.
When cool enough to handle, shape into 6 patties and place on oiled baking sheet. If mixture too dry, add a little water or 1 beaten egg before shaping. Bake at 210C for 20min, serve on wholemeal rolls or in pitta bread with coriander raita.
Notes
Coriander raita: combine ½ cup greek yoghurt OR Tofutti Sour Cream (vegan option) with ¼ cup finely chopped coriander Nut-free: Replace nuts with buckwheat kernals, sunflower seeds or pepitas. Gluten-free: Serve on gluten-free buns, bread or pitta
How do you eat a delicious burger?
Are you a cutlery connoisseur, or a tear it with your teeth person?