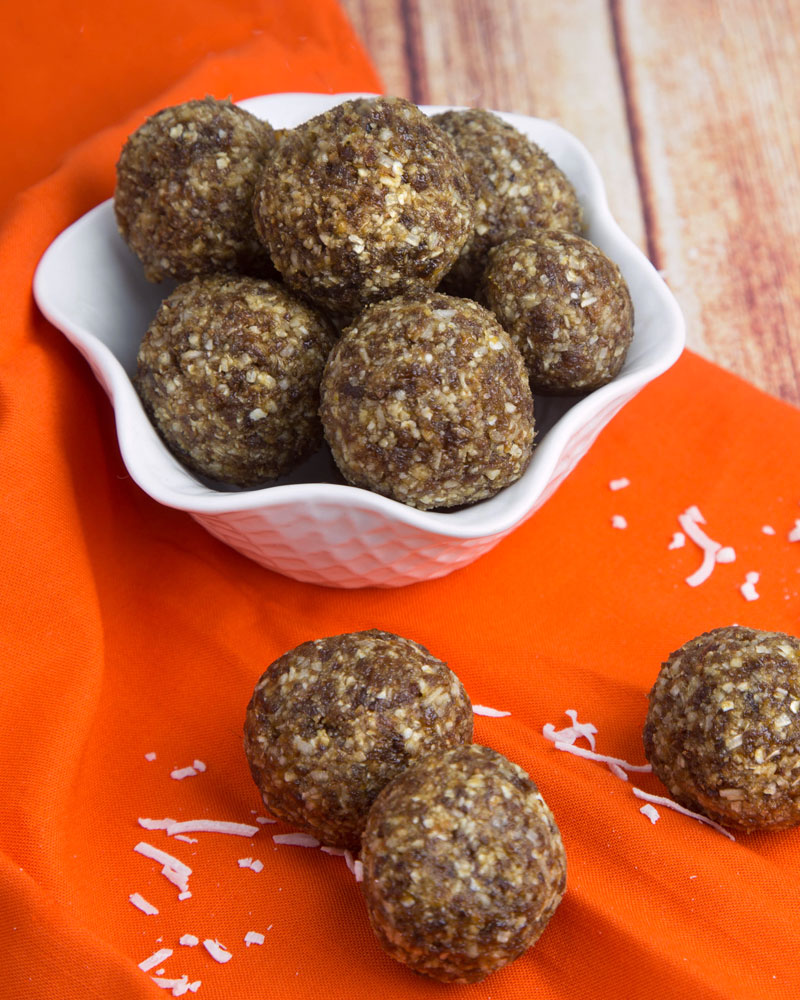 It's freezing cold outside as I write this post and I'm extremely happy I have no plans to leave the house tonight. Me. Kam. A big bowl of soup for dinner. Netflix and Apricot & Coconut Energy Balls for dessert. That's my kind of bliss tonight.
I've had a pretty crap couple of weeks to be honest, with lots of joint and muscle pain along with a scary case of scleritis that could have threatened my vision. I've just had some blood tests as a result of those health issues and everything so far indicates that I've developed an autoimmune disease. To say I'm stressed out would be a bit of an understatement, so all I want to do in this kind of weather is to put on my ugg boot and my warmest flanelette jammies and just relaaaax.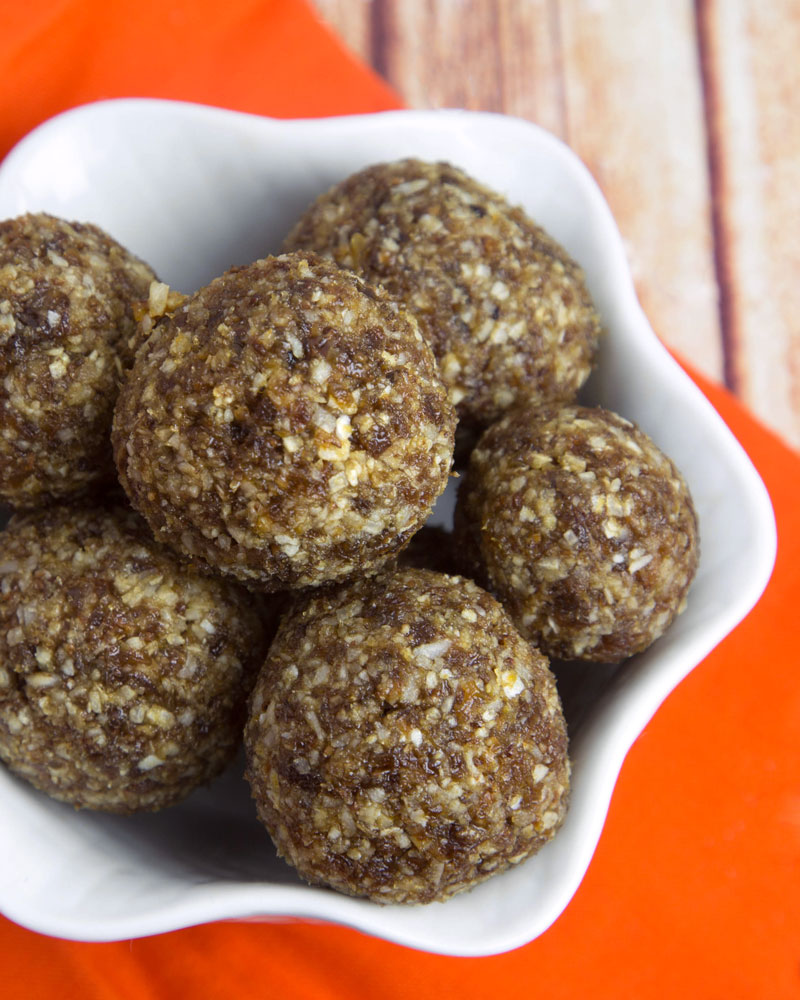 I'm not too sure how much my life will change so far, but my first treatment goal is to reduce my inflammatory markers, as blood tests revealed they were all incredibly high. I'm well on my way too, as my liquid herbal extracts order arrived so I could blend my anti-inflammatory & immune balancing mix, and I've started including more of many naturally anti-inflammatory foods in my diet. My morning smoothie is now extra tangy with the inclusion of pineapple and kiwi fruit and our dinners have all had a hit of turmeric and ginger lately.
Snack time has also been filled with lots of inflammation soothing foods and I've been munching on antioxidant rich-fruit, nuts and seeds, veggies with legume-based dips and energy snacks like these apricot snack balls. You might not know it, but apricots are rich in quercetin and catechins, while coconut contains high levels of inflammation-busting polyphenols. While not a cure all, including more of these anti-inflammatory foods has helped to lower my pain levels as well as my morning joint stiffness. Also, these balls taste freaking amazing – who needs any other reason to make them?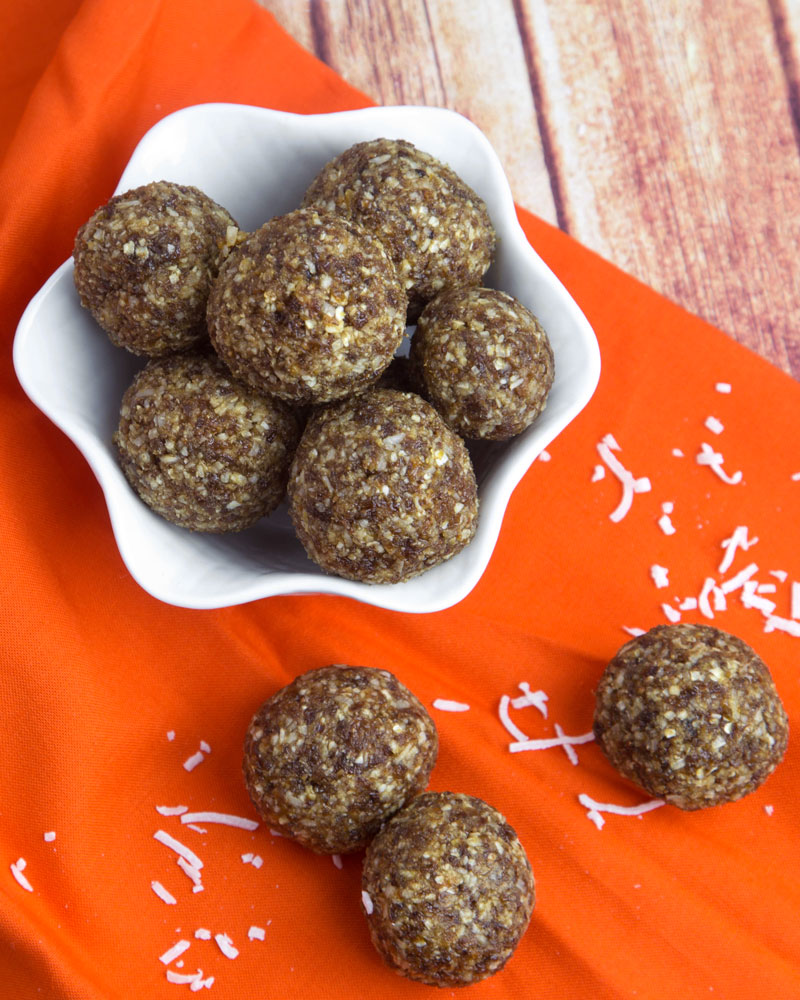 There's been some other changes as well since my health took a sudden nosedive – namely that I've started another new job, and that the Om Nom Store has closed for the time being. While I loved my most current role, it was unfortunately incredibly physically exhausting on my body recently and I've headed back into health food retail management at a local store. As for the Om Nom Store, due to work and my upcoming naturopathy graduation we have to close up shop for now, thank you to all our customers for your love and support the past few months!
Let's get back to the most important part of this post though – it's snack time! Get your food processor ready for this recipe, you'll need a couple of quick pulses to bind these five simple ingredients together and then you're ready to get rolling. I've used quinoa in these balls for an extra protein bump, but feel free to substitute for whichever rolled cereals you've got at home (buckwheat or oats are the bomb as well). Then sit back, pop one of these in your gob and feel instant bliss roll over you. Enjoy!
xx Ally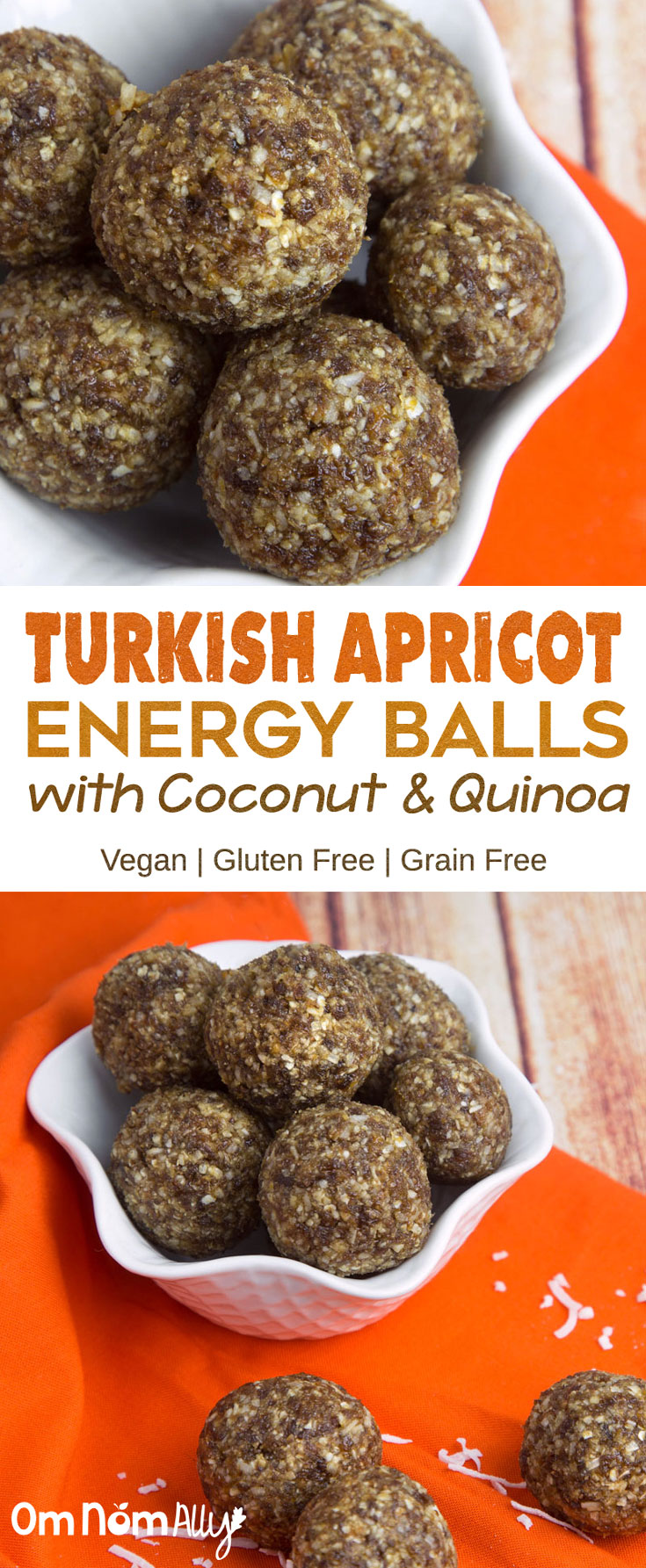 Apricot & Coconut Energy Balls
Author:
Alison Murray @ Om Nom Ally | www.omnomally.com
Cuisine:
Dairy-free, Egg-free, Gluten-free, Grain-free, Soy-free, Wheat-free, Vegan.
Ingredients
1 cup shredded coconut
1 cup organic dried Turkish apricots, roughly chopped
½ cup dried sultanas
¼ cup almond meal
¼ rolled quinoa
1-2 tbsp water
Instructions
Add all ingredients except for water into the bowl of a food processor. Pulse mixture until well combined. Using two fingers, 'pinch' the mixture together. If mixture is crumbly then add water, a little at a time until mixture sticks together.
Roll mixture into 24 balls and refrigerate to set. Energy balls will keep in the fridge for up to one week.