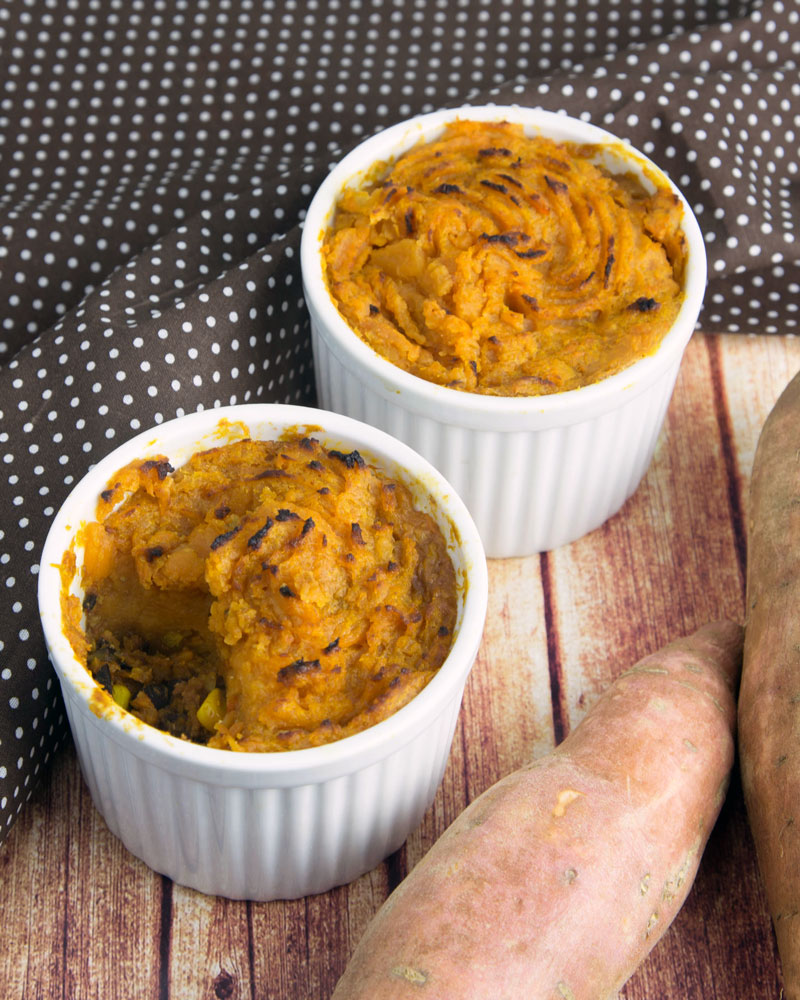 Yay, it's Recipe Redux time! It's been ages since I was part of the healthy recipe sharing project and it's really excited to be all joined up and participating again. It's always a joy to check out the mouth-watering links from dieticians, nutritionists and healthy food bloggers and after a break from this recipe sharing club I'm glad I've got more time to commit to the monthly challenges again. Woohoo!
Actually, there's a lot new and exciting things going on lately, as: a) I have a new full time retail job which is closer to home and is giving me plenty of impetus to get my naturopathy course done; b) Kam has a new job with a culinary herb company that he is absolutely loving and c) the Om Nom Store has had an amazing response, and feedback. It's understatement to say that we're two very happy little Om Nom Campers this month!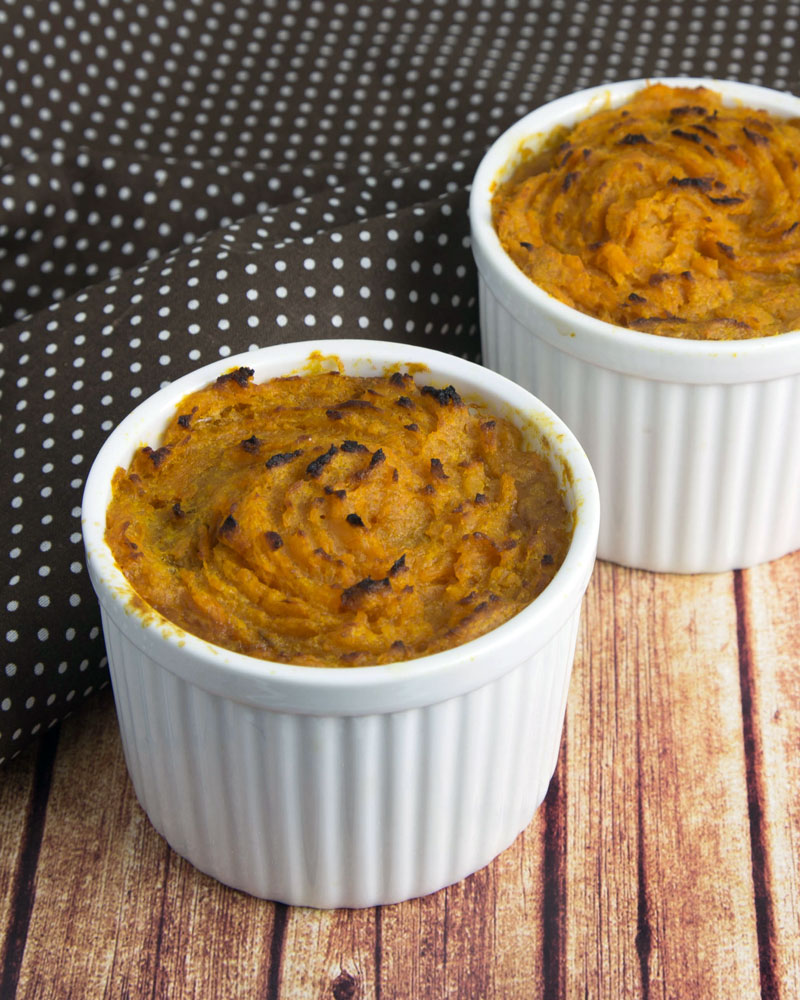 The topic for this month's Recipe Redux was all about Pie Love, as nothing says love from the oven quite like pie. When asked to give our favourite savory of sweet pie recipe a healthy makeover I have to admit I oscillated from this recipe or some dessert fare – but obviously the savoury option won! Pie is one of my go-to comfort foods in winter and these hearty little vegetarian morsels are as healthy as can be with fibre-rich black beans, veggies and a spiced sweet potato crust. Honestly, this is so tasty and spicy that you won't ever miss a pasty casing, and you'll feel much better for it too!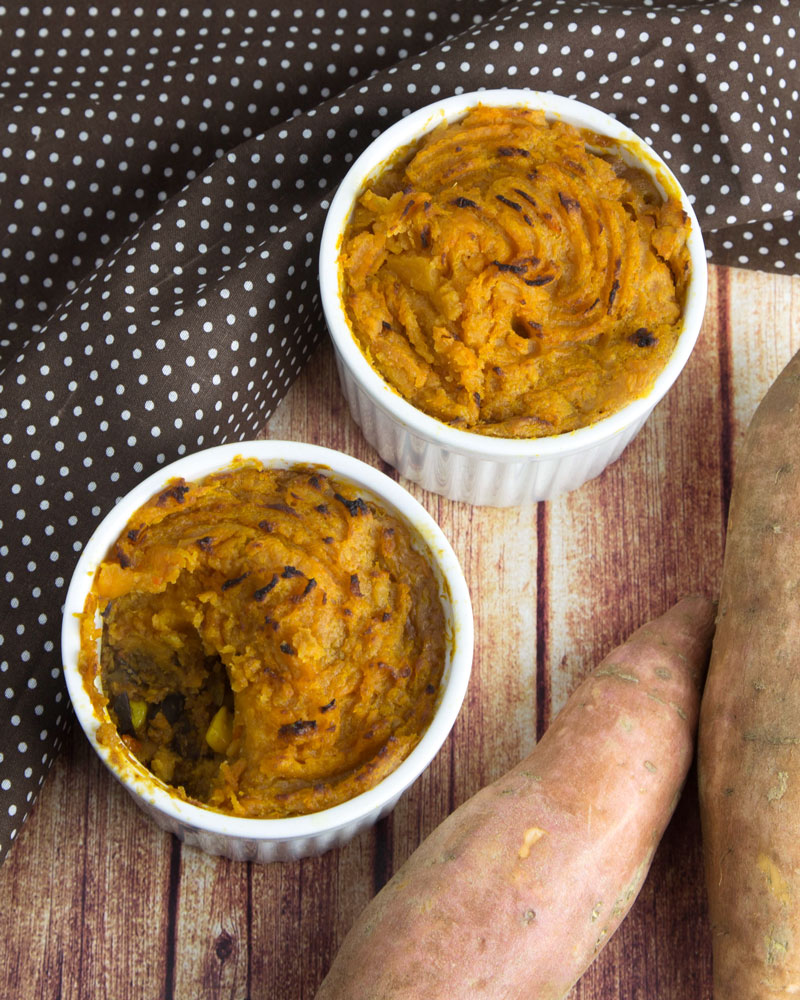 This decision was admittedly influenced by my newly forged habit of cooking lots of freezer meals like soups, stews and chillis on the weekend. The allure for me is that I can make a bulk amount of chilli one day, portion and freeze, then defrost later and top with delicious sweet potato mash for pot pies on demand.
All up we got eight delicious single-serve pot pies from this recipe; for this household that means I got three extra nights lately where I didn't need to cook from scratch after work. While I chose to freeze the chilli mixture at the end of it's cooking time, you could also assemble all the pies in the ramekins, with the topping and then carefully bag and freeze. I do however prefer to make my sweet potato crust fresh every night, as it only takes 10 minutes in total and absolutely tastes better fresh.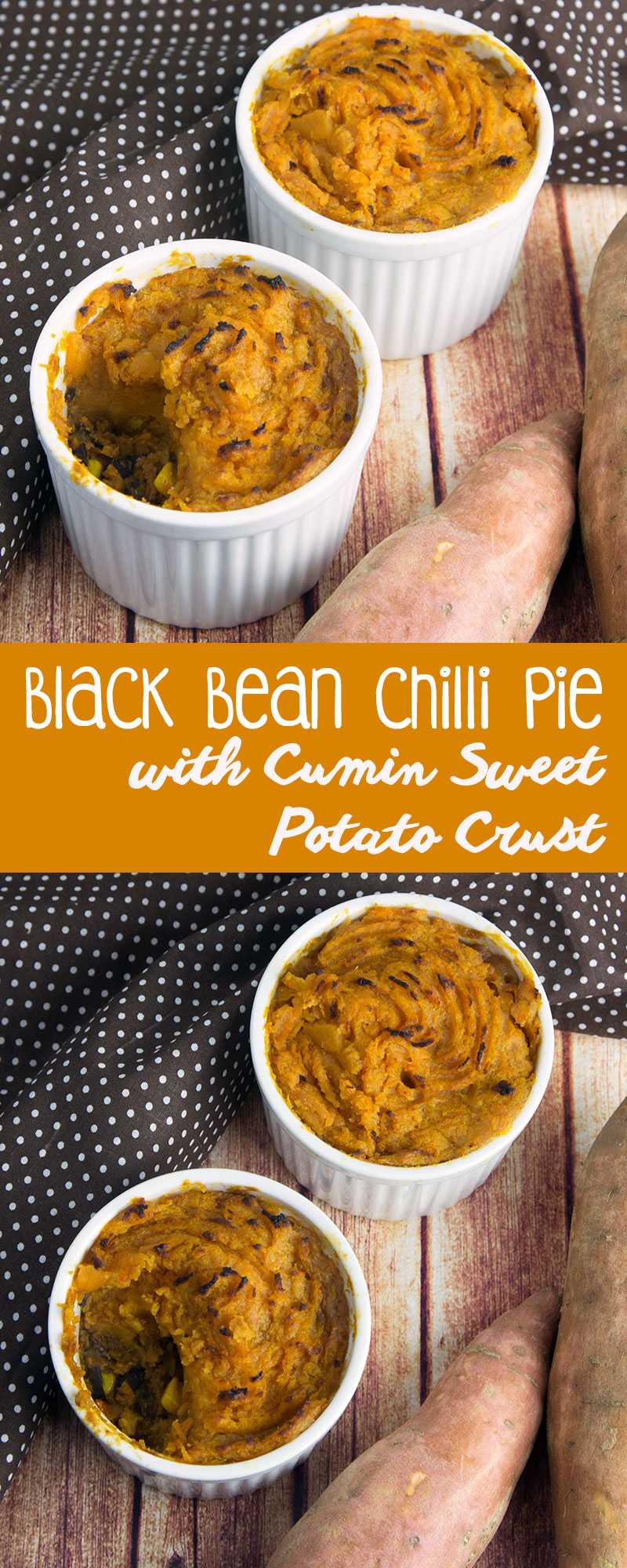 Black Bean Chilli Pot Pie with Sweet Potato
Author:
Alison Murray @ Om Nom Ally | www.omnomally.com
Recipe type:
Main, Baking, Pie
Cuisine:
Egg-free, Gluten-free, Grain-free, Nut-free, Soy-free, Wheat-free. Vegetarian.
Ingredients
1 tbsp ghee
2 medium brown onions, diced
6 cloves garlic, minced
2 long red chillis, finely diced
4 carrots, diced
4 stalks celery, diced
2 cans organic diced tomatoes, drained and rinsed
2 tbsp organic tomato paste
1 cup vegetable stock
2 cans organic black beans
2 tsp ground cumin
2 tsp ground coriander
1 tsp dried oregano
1 tsp chilli powder
Sweet Potato Mash (enough for 2 individual pies)
400g sweet potato, peeled and cubed
½ tbsp butter
1 tsp ground cumin
olive oil
Instructions
Heat ghee in a large saucepan over medium high heat and saute onions until soft and translucent. Add garlic and chilli, carrots and celery and cook, stirring often until vegetables have softened.
Add diced tomatoes and paste, vegetable stock, black beans and spices and bring mixture to a boil. Lower saucepan to a simmer and allow to reduce and thicken for 10-15 minutes.
Either continue on with next portion of the recipe, or allow chilli mixture to cool completely and freeze in 2 cup portions. Allow to thaw completely before reheating. To complete pies, continue on with sweet potato topping as follows.
Cumin Sweet Potato Crust (enough for 2 pies)
Preheat oven to 220C. Place sweet potato in a medium saucepan and cover with water. Bring to the boil and boil for 8 minutes, or until tender. Drain sweet potato and place back into saucepan, add butter and cumin and mash well until fluffy.
Place one cup of chilli mixture in 2 individual ramekins and top with half of mashed sweet potato. Using a fork, scratch topping in a spiral shape and then drizzle a little olive oil on top. Bake for 20-25 minutes, and then place until a grill for a few minutes to create a crusty top. Serve immediately.
  [inlinkz_linkup id=529265 mode=1]