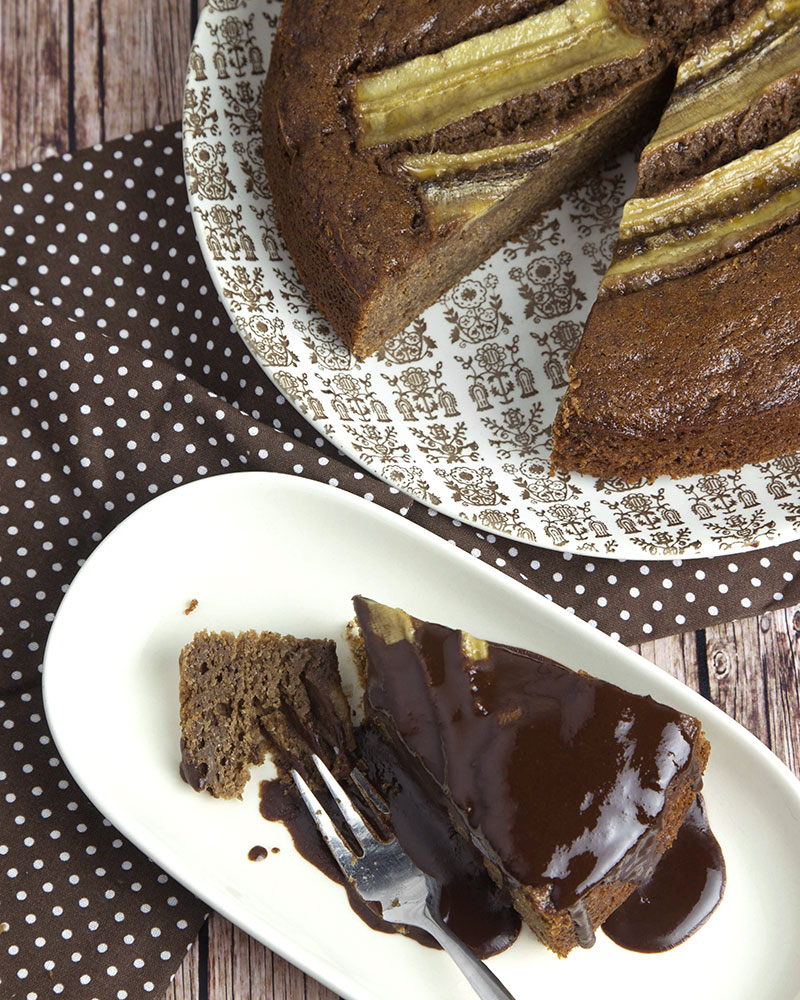 Kam's happy today – he has cake! Woohoo! It's a running joke (or bugbear) that I make cakes for friend's birthdays, or work celebrations, but that Kam always misses out. We make healthy muffins, pancakes and waffles all the time mind you, but none of these are as special in his eyes as a cake. So this past weekend, in the midst of some unsavoury news, I made him a chocolate cheer-me-up cake. With whole spelt flour and almond meal, ripe bananas and lashings of chocolate, this whole grain chocolate cake would make anyone feel better – and in his case, to finally feel included in the cake gift-giving.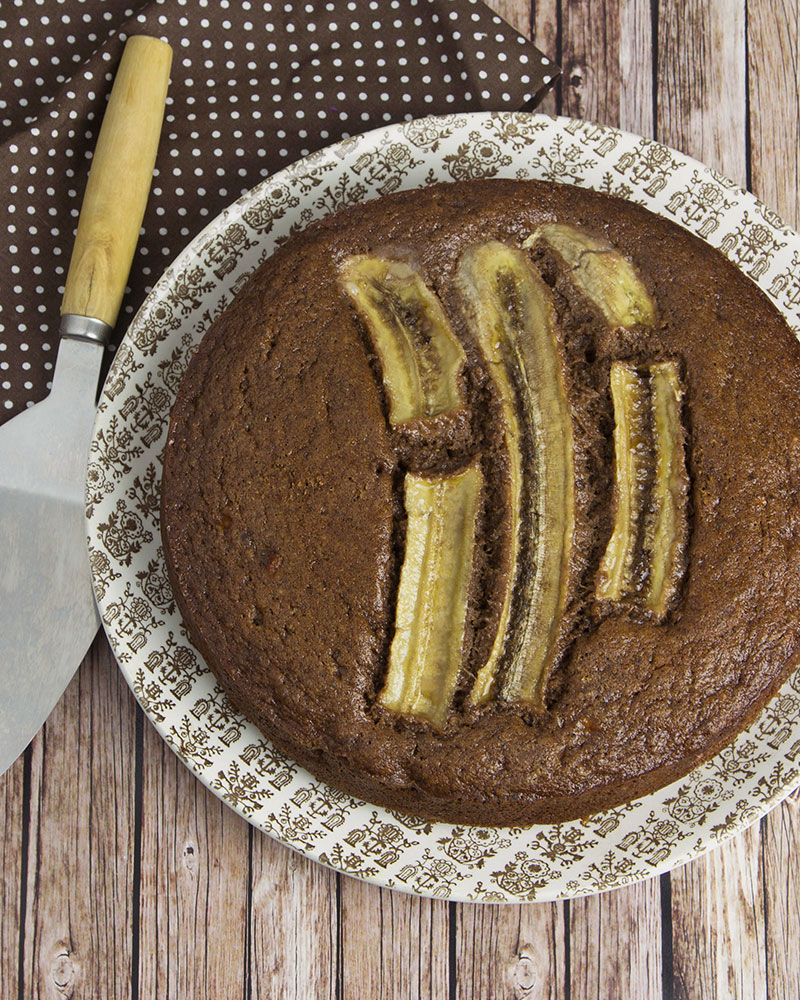 This Chocolate Banana Cake is dense, moist and fudgy thanks to the addition of mashed banana, with the amazing flavour of real banana and chocolate infused in every crumb. It's the next generation of banana bread, with the sweetness of banana and caramel-like coconut sugar helping to balance the natural bitterness of cacao or cocoa powder. To be honest you can even skip the homemade chocolate syrup, as the cake is fantastical enough without this extra flourish. For chocolaholics like me however it's a must, pouring the melted coconut oil, cacao and maple syrup combo over the top elevates this cake from tea-time to me-time!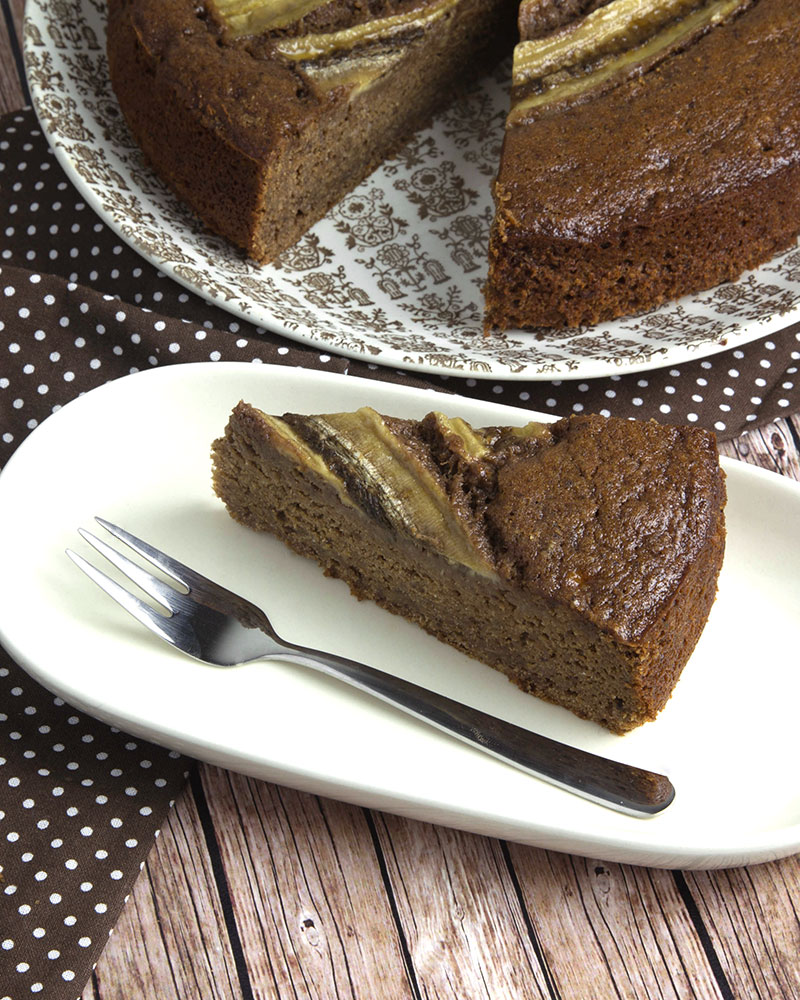 I've made a few dozen variations of this cake over the years depending on the recipient it was baked for – gluten-free, grain-free, egg-free, oil-free, with sauce, unsauced, more banana, less banana – and this would have to be my favourite so far. Kam has seen all those versions leave our kitchen (without ever trying them) and after waiting so, so long he wholeheartedly approved on his first ever bite. It suddenly looks like I'll be baking two cakes for celebrations from now on – the real deal to take away and a "practice cake" to leave at home – with absolutely no complaints from me!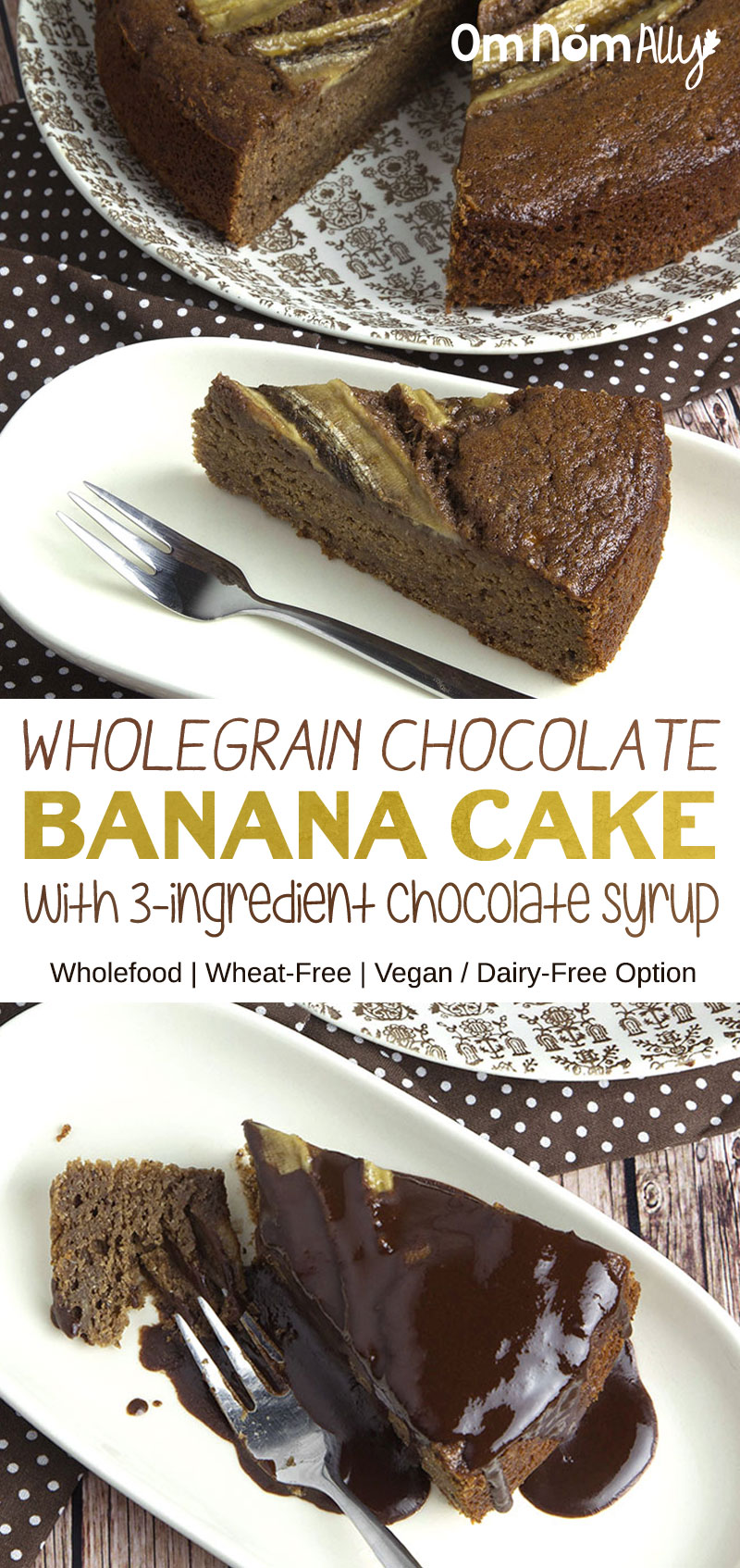 Whole Grain Chocolate Banana Cake with Chocolate Syrup
This Chocolate Banana Cake is dense, moist and fudgy thanks to the addition of mashed banana, with the amazing flavour of real banana and chocolate infused in every crumb.
Author:
Alison Murray @ Om Nom Ally | www.omnomally.com
Recipe type:
Baking, Cakes
Cuisine:
Soy-free, Wheat-free, Vegetarian. Dairy-free, egg-free or vegan depending on ingredient choice.
Ingredients
½ cup coconut oil
¾ cup coconut sugar
2 medium ripe bananas, mashed with a fork
½ cup organic, full fat milk OR non-dairy milk of choice
2 organic, biodynamic or free range eggs OR gel eggs of choice
1 tsp vanilla extract
1 cup whole spelt flour
1 cup almond meal
1½ tbsp cacao or cocoa powder
1 tsp baking powder
1 tsp cinnamon powder
¼ tsp nutmeg
½ tsp celtic sea salt
1 medium ripe banana, sliced lengthways
Chocolate Syrup
¼ cup cacao powder
¼ cup coconut oil
2 tbsp maple or agave syrup
Instructions
Preheat oven to 180C. Grease and line a 20cm round spring-form cake tin and put aside.
Place sugar and coconut oil or butter in the bowl of a stand mixer and beat until fluffy. Add banana, milk, eggs and vanilla extract and continue to beat until well combined.
Whisk flours, baking powder, spices and sea salt together and then slowly add to bowl of stand mixer while running. Mix until only just folded in and then pour into prepared cake tin.
Bake for 50-60 minutes or until a skewer inserted into the center of the cake comes out clean. Remove from oven and allow to cook for 5 minutes before removing from tin. Transfer to a wire rack and cool completely.
To serve, combine cacao powder, coconut oil and maple syrup in a small bowl and then melt together over a pot of simmering water. Place cake on a plate or serving platter and pour over melted chocolate syrup. Serve immediately.