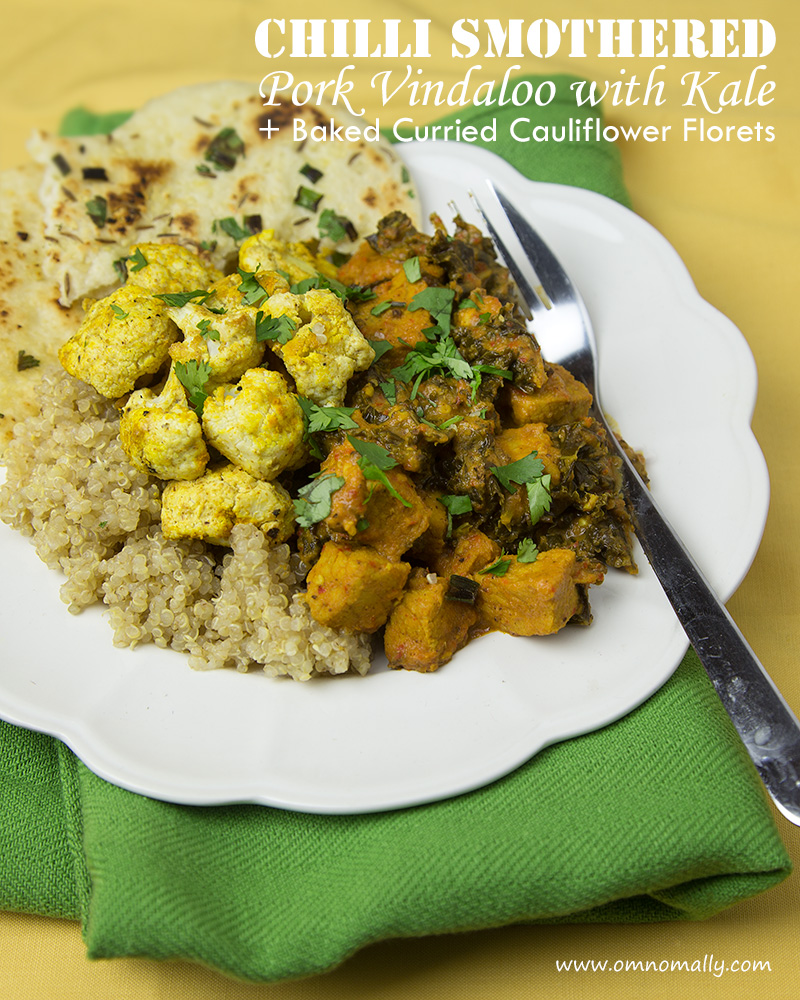 Is there any better comfort food than a fresh, spicy, healthy curry? (Answer: Nope!)
One of my (current) favourite cookbooks is  '660 Curries: The Gateway to Indian Cooking' by Raghavan Iyer, as I've never been steered wrong when making anything from this hefty tome (note: affiliate link). Buying this book four years ago was the starting point of my love for Indian cooking, with this vindaloo being my latest adaptation from the book's well-worn pages. A fiery-hot pork dish, this amazing Goan-style vindaloo curry is made by smothering the pieces of meat in a homemade garlic-chilli sauce before braising until tender. Are you feeling hungry yet?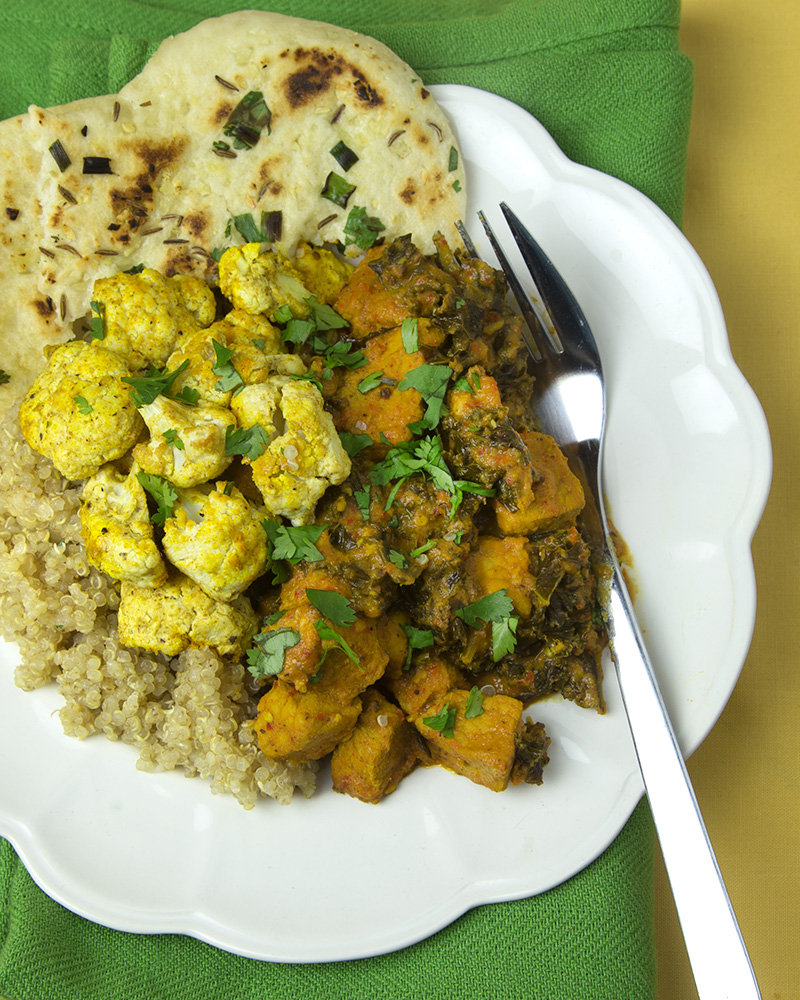 While this dish may sound delicious enough already, I love to add all manner of veggies to my curries for more colour, flavour and nutrition. Kale, spinach or silverbeet would all work equally well when cooked down in this sauce and you could even add one cup of cooked lentils or chickpeas for added fibre and texture as well.
I've decided to go for pork vindaloo with kale with some curried cauliflower florets on the side this time around, as these yoghurt-marinated and baked bites offset and compliment the heat of a classic vindaloo. If you find it hard to cope with a really hot curry, then you can go ahead and serve this dish with a big dollop of yoghurt with coriander on the side too.
Chilli-Smothered Pork Vindaloo
A fiery-hot pork dish, this amazing Goan-style vindaloo curry is made by smothering the pieces of meat in a homemade garlic-chilli sauce before braising until tender.
Recipe type:
Main, Curries
Cuisine:
Dairy-free, egg-free, gluten-free, grain-free, nut-free, soy-free, wheat-free.
Ingredients
½ cup apple cider vinegar
8cm fresh ginger, peeled and sliced
8 garlic cloves, peeled
4 fresh cayenne chilies, stems removed
4 fresh bird's eye chilies, stems removed
1 stick of cinnamon
2 tsp ground cumin
2 tsp ground coriander
2 tsp ground turmeric
1 tsp fine Celtic sea salt
2 tbsp ghee or coconut oil
500g boneless pork loin chops, cut into 2cm cubes
½ cup spring or filtered water
1 cup kale, stems removed and chopped
2 tbsp fresh coriander, finely chopped
Instructions
Add vinegar, ginger, garlic, chillies, spices and salt to the bowl of a blender, and process until a gritty, liquidy paste is formed.
Place the cubed pork in a bowl and pour the paste over the top, then stir it all together to coat well. Cover and refrigerate for 1 hour, or overnight to all the flavours to develop.
Heat ghee in a skillet on medium-high heat and then pour in the pork and all the marinade paste and cook, stirring occasionally for 10-12 minutes. Meat will initially stew until the marinade liquid is reduced and evaporated, and then pork will brown.
Pour in ½ cup water and scrape bottom of the pan to deglaze marinade. Reduce heat to medium-low and add chopped kale. Simmer, covered stirring occasionally for 15 minutes or until the pork is tender, kale has softened and cooked down and sauce is thick. Serve with cooked quinoa, amaranth or rice, yoghurt and chopped coriander.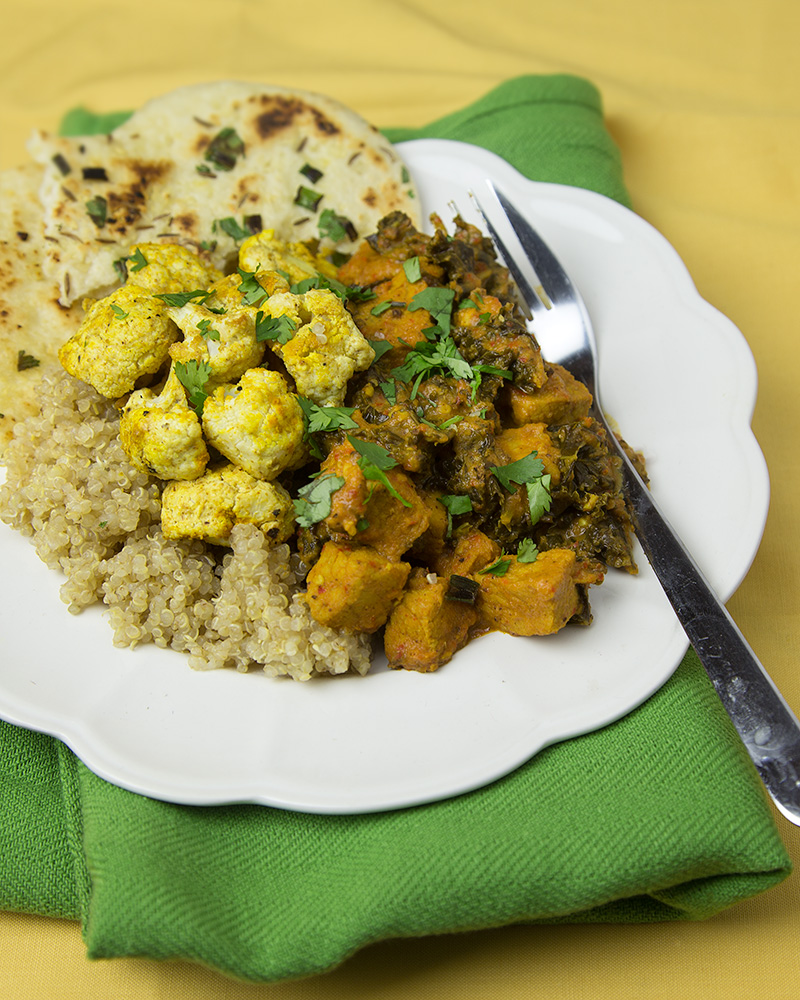 Full disclosure: I really wanted to make cauliflower steaks to accompany this pork vindaloo recipe, but unfortunately I totally suck at cutting cauliflowers neatly! It's bad enough when trying to simply halve a head of cauli doing food prep at work for our store displays (and failing 9/10 times) – so trying to make very neat, even slices of cauliflower for 'steaks'? Forget about it!
If you've got better cauli-slicing skills than I do go ahead and cut some fancy cauliflower steaks for baking. If not then pile those bite-sized florets on some cooked quinoa and scoop it all into your mouth with some naan!
Baked Curried Cauliflower Florets
Author:
Alison Murray @ Om Nom Ally | www.omnomally.com
Cuisine:
Egg-free, Gluten-free, Grain-free, Nut-free, Soy-free, Wheat-free, Vegetarian.
Ingredients
½ cauliflower, cut into florets
½ cup Greek, natural or homemade yoghurt
1 tbsp curry powder
1 tsp fine Celtic sea salt
⅛ tsp fresh cracked black pepper
zest and juice of 1 lemon
1 tbsp olive oil
salt and pepper, to taste
1 tbsp fresh coriander, finely chopped
Instructions
Place cauliflower florets in a large non-reactive bowl. In another bowl combine yoghurt, curry powder, sea salt and lemon zest and juice, stirring well to combine. Pour yoghurt mixture over cauliflower and massage into florets with your hands to cover well. Cover with plastic wrap and refrigerate for an hour, or overnight.
When reading to cook, preheat oven to 200C and line a rimmed baking tray with aluminium foil or baking paper. Pour marinated cauliflower florets onto prepared baking tray and spread into a single layer. Drizzle with olive oil and season with salt and pepper. Bake for 30 minutes, or until golden and tender.
Remove from oven and scoop into a large bowl. Gently toss with with chopped coriander and serve with extra yoghurt and cooked quinoa, amaranth or rice.
Tell me, what's your favourite comfort food?
How do you handle a hot curry?