Yes, it's been three months since you've heard from me. I can hardly believe it myself. What started as needed "a few weeks away" when my naturopathic college majorly changed my course and study patterns has become three months of stress, new learning experiences (I'm doing Life & Wellness Coaching, as well as Permaculture now too) and spiritual inflection. Some of this time has been downright frustrating, and some of it has been more enlightening and uplifting than imaginable. But there hasn't been a whole lot of time for blogging. I'm sincerely sorry for that, as I truly missed it and talking to all of you!
I've actually sat down five weeks in a row to write a post much like this one, but it's only from this weekend that I know I can start posting content regularly. My life has finally reached some balance again and it's time to talk all things food, health and blender parties again. Are you as ready as I am?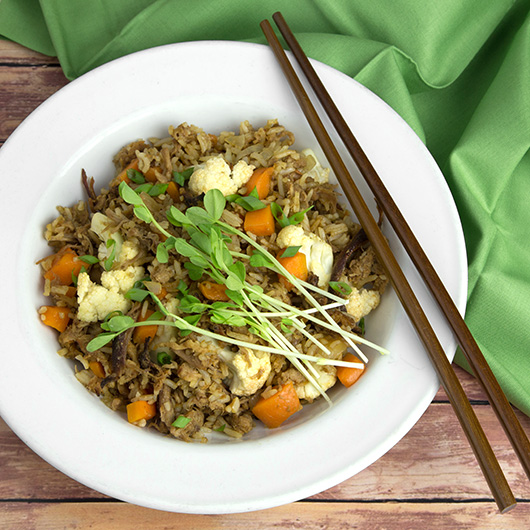 Due to the miserable weather here in Melbourne, I couldn't think of a better recipe to post today than an offering from my slow cooker. Nothing is more comforting on a day where you don't want to get out of your jammies, than knowing that dinner will be simmering away waiting for you when you get home.
The slow cooker has also become my favourite way to cook roast pork, allowing a tough shoulder cut to melt into tender pulled pork and used in dishes throughout the week. I've used my Spicy Fermented Plum Sauce for the amazing flavour it adds to this simple weeknight recipe, but you can use any natural, bought version as well if you have a favourite choice.
Slow Cooker Pulled Pork
Author:
Alison Murray @ Om Nom Ally
Cuisine:
Gluten-free, Dairy-free, Egg-free, Gluten-free, Nut-free, Soy-free, Wheat-free.
Ingredients
1½ cups chicken stock
¼ cup coconut aminos
2 onions, diced
4 cloves garlic, peeled and diced
2-inch piece fresh ginger, peeled and sliced
½ tsp chilli powder
1 tsp Chinese five spice powder
2 tbsp Spicy Fermented Plum Sauce
1 - 1.5kg boneless pork shoulder roast
Instructions
Place chicken stock, coconut aminos, onions, garlic and ginger into base of slow cooker.
Combine chilli powder, Chinese five spice powder and plum sauce in a small bowl and rub over pork shoulder. Place pork shoulder into slow cooker.
Cook for 8 hours on low. Remove from slow cooker to a cutting board and using 2 forks, shred the meat into bite-sized pieces, discarding any large fatty pieces.
Notes
Strain cooking liquid from slow cooker before discarding solid contents - this liquid can be used as broth for cooking rice to use for remainder or recipe.
Spicy Plum Pork Fried Rice
Author:
Alison Murray @ Om Nom Ally
Ingredients
1 tbsp ghee or coconut oil
1 medium brown onion, diced
1 medium carrot, chopped
2 garlic cloves, diced
1cm piece of ginger, minced or grated
2-3 cups cooked, cold rice (brown or basmati)
500g pulled pork
½ cup Spicy Fermented Plum Sauce (or bought plum sauce)
1 tbsp coconut amino acids (see notes)
1 cup cauliflower florets
Spring onions, chopped to serve
Fresh sprouts, to serve (sunflower sprouts shown)
Instructions
Heat ghee or oil in a wok or large frying pan. Cook onion over medium high heat until soft and translucent. Add carrot, garlic and ginger and cook, stirring often, until softened.
Add cooked rice, pork, plum sauce and coconut aminos and stir-fry until heated through, 1 to 2 minutes. Add cauliflower and cook for 1-2 minutes, then remove pan from heat.
Linked to:
Simple Supper Tuesday
, 
Fat Tuesday
,
Tasty Tuesdays
,  Natural Living Monday,  The Gathering Spot, 
The Hearth and Soul Hop
, 
Thank Goodness It's Monday
, 
Homemade Mondays
, Real Food Wednesdays,
Whimsy Wednesdays
,  
Tuesdays With A Twist
,  
Anti-Procrastination Tuesday