I've missed the last two Recipe Redux monthly posts due to time constraints and there was no way I was skipping the "Beverages are Hot" theme. Healthy drinks are my jam and I'd love you all the participate in the Weekend Wholefood Blender Party each week if you agree with this sentiment too!
The name of the theme may suggest this month is all about hot cocoa, hot toddies or hot mead. What Recipe Redux really wanted to see however is the best of healthy drinks that get us bloggers all fired up. For me, that's got to be fermented beverages – namely water kefir and kombucha with their probiotic, immune boosting and digestive aiding benefits. I make (and drink) both cultures, and have long since branched out from drinking them straight after the fermentation period is over. It's far more fun to experiment with a range of natural flavours in the form of fruit and vegetables  😉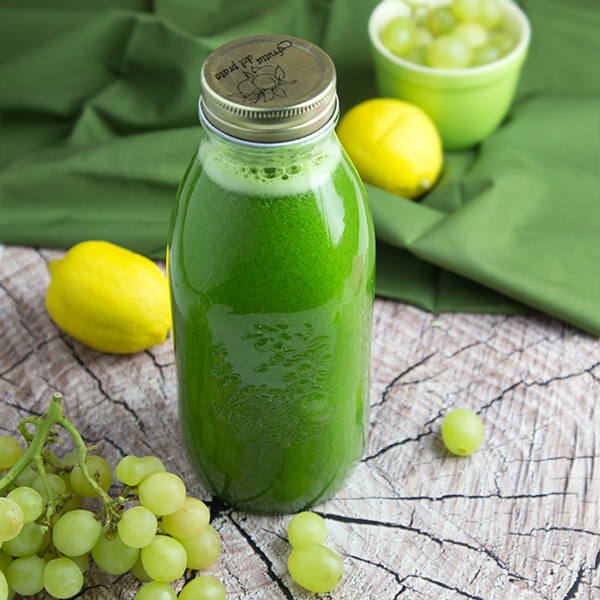 This recipe combines fresh pressed fruit and vegetable juice with prepared kombucha or water kefir to make a delightfully fruity, green lemonade alternative. You can drink it straight after juicing and mixing, or make a second ferment of your chosen culture by leaving it for another few days at room temperature. Stir or gently agitate the lemonade daily to prevent settling of fibre leftover from juicing, and do the same again just before drinking. You could also strain the lemonade before drinking to remove the sediment altogether if you're not a fan. Alternatively, skip the fermentation altogether and mix with coconut water for a refreshing grape lemonade sensation!
Fermented Green Grape Lemonade
Author:
Alison Murray @ Om Nom Ally
Recipe type:
Beverage, Fermentation, Juicing
Cuisine:
Dairy-free, egg-free, gluten-free, grain-free, nut-free, soy-free, wheat-free, raw, vegan.
Ingredients
3 cups green seedless grapes
4 tuscan kale leaves, stems removed
1 lemon, peeled and quartered
1 medium lebanese cucumber
2 cm piece of ginger, peeled
500ml prepared kombucha or water kefir
Instructions
Feed grapes, kale, lemon, cuccumber and ginger through a high powered, slow juicer.
Combine with prepared kombucha or water kefir and drink immediately, store at room temperature for 7-10 days for kombucha/24 hours for water kefir for a second period of fermentation. The bottle can also be stored in the refrigerator where it will continue to ferment, but at a much slower rate.
[inlinkz_linkup id=366962 mode=1]