My life for the next 11 months is a never ending cycle of work and study. I'm not complaining though, as at the end of that time period I will have finished my studies and be fully qualified as a naturopath. This is exciting stuff everyone!
I've already got plans for clinic consultation, healthy living workshops and ebooks for once it's all over but in the meantime I'm feeling the pressure to hanker down and get to work. My concentration has been wavering lately however and find I need lots of nutritious snacks when studying to keep my mental faculties razor sharp. It seems Australian Bush Flower Essences Cognis only gets me so far! I do love my ball-shaped protein snacks though and these little beauties are full of happy-brain loving ingredients such as spirulina, dates, tahini and flax.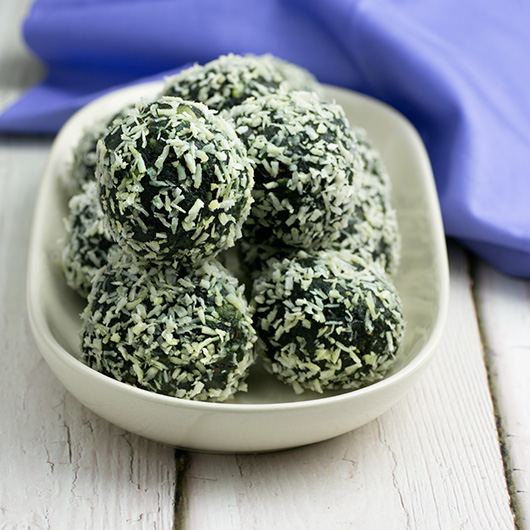 As one of the most concentrated food sources on the planet, spirulina is a great source of protein, vitamins and minerals. This cyanobacteria is also extremely high in detoxifying chlorophyll that can help carry oxygen to the brain. Tahini and flax are important for brain health too, all due to their zinc and GLA with actions in promoting memory and leaning and neuron development respectively. Madjool dates are high in B6, shown to help increase brain performance as well as supplying steady supply of glucose – the substance your brain draws most of it's power from.
While many people believe spirulina tastes like 'pond scum', combine it with delicious medjool dates, tahini and coconut for mildly "green" tasting, nutritious protein ball perfect for when you need your brain to spark up again. Just call these balls my Study Superstars!
Seedy Spirulina Protein Balls
Author:
Alison Murray @ Om Nom Ally
Recipe type:
Raw, Snack, Protein Snack
Cuisine:
Egg-free, gluten-free, nut-free, soy-free, vegetarian. Dairy-free, grain-free, raw or vegan depending on protein powder ingredient choice.
Ingredients
½ cup medjool dates, pitted and finely chopped
⅓ cup tahini
⅓ cup pepitas
⅓ cup flax meal
⅓ cup protein powder of choice (depending on dietary needs)
¼ cup spirulina powder
½ cup dessicated coconut, divided
Instructions
Line a baking sheet with baking paper and put aside. Place all ingredients and half of the desiccated coconut into the bowl of a blender. Blend until well incorporated, using a tamper to move ingredients around the blades if necessary.
Pour remaining coconut into a shallow bowl or plate and roll each ball in coconut to cover generously. Place on prepared baking sheet and chill in the fridge for at least 30 minutes to set.