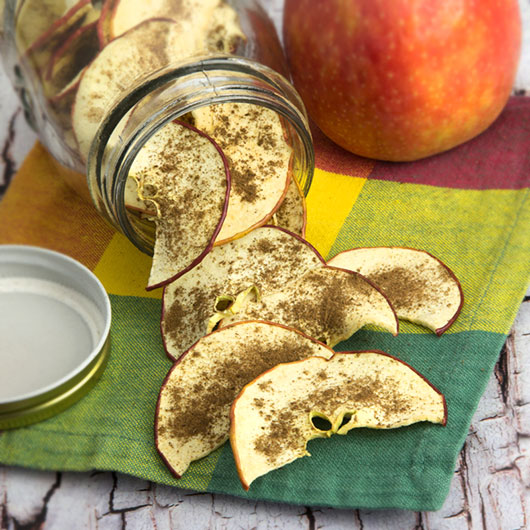 It was over 40 degrees Celius most days last week, and while I avoided using the oven or stove as much as possible I strangely had the dehydrator running almost everyday. Yes, it does make the house a little too warm for comfort (even with the air conditioning on), but in order to preserve my many recent bulk buys of delicious seasonal fruit I'm willing to make a concession. I'm still getting through preserving my 4kg haul of strawberries but am thankful all the apples and stonefruit are done. My Excalibur dehydrator is never more handy than for helping me enjoy the bounty of summer fruit harvests for the next few months!
As with all dried fruit, dried apples can be much more expensive to buy than the fresh fruit itself. As long as you have a dehydrator you can make A LOT of apple chips for the same amount of money as a few seasonal apples. Home dried fruit is also free of sulphate preservatives and although the dehydration times are long, it's all passive "cooking time" – just check back on the fruit in 8 or so hours.
While I more regularly wash, slice and dry my fruit without much more preparation, sometimes you crave something a little bit special – like these vanilla spice apple chips. Dipped in a lemon juice bath to stop the fruit browning and sprinkled with mixed spices and vanilla powder, these may well be the best thing you'll make in your dehydrator in a while 😉
Vanilla Spice Dehydrated Apples
Author:
Alison Murray @ Om Nom Ally
Ingredients
2 cups water
juice of one lemon
1 tsp ground cinnamon
¼ tsp ground nutmeg
¼ tsp vanilla powder
2 large red eating apples
Instructions
In a large bowl combine water and lemon juice and put aside. Mix spices and vanilla powder in another, smaller bowl and put aside.
Slice apples with a mandolin or food processor attachment. Dip apple slices prepared lemon water and then place on mesh lined dehydrator sheets. Sprinkle with spice mix from smaller dish and dehydrate at 105F for 8 hours or until dried and leathery.
This post is linked to:
Clever Chicks Blog Hop
,  Meatless Mondays, 
Recipe Sharing Monday
,
Healthy, Happy, Green & Natural Party Blog Hop
,
Tuesday Greens
,
Fat Tuesday
, Natural Living Monday,
Fresh Foods Wednesday
, 
Allergy Free Wednesday
, Real Food Wednesday, 
Waste Not Want Not Wednesday
, 
Thank Goodness It's Monday
, Mostly Homemade Mondays,