I have a love/hate relationship with Nutella and it's all to do with the product's health claims and the ongoing insistence by the Australian branch of the company that Nutella can be 'part of a nutritious breakfast'. There's no way to convince me it's good practice to suggest white bread with Nutella as your first meal of the day –  not with an ingredient list like this:
Sugar, Vegetable Oil, Hazelnuts (13%), Skim Milk Powder (8.7%), Fat-Reduced Cocoa Powder (7.4%), Emulsifier (Lecithins) (Soy), Flavouring (Vanillin).
There is only 13% hazelnuts and 7.4% cocoa in Nutella, but when checking out the nutritional panel you'll find you get 10g of sugar in a 20g serving. It's 55% sugar! There's also vegetable oil, skim milk powder and some soy… mmm delicious, with extra sarcasm. Nutella is really a 55% sugar spread with rancid oil, a few nuts and a twiddly amount of chocolate. 'Vanillin' isn't even vanilla, it's more likely a nature-identical synthetic chemical used instead to keep costs down. Fantastic! Yummo!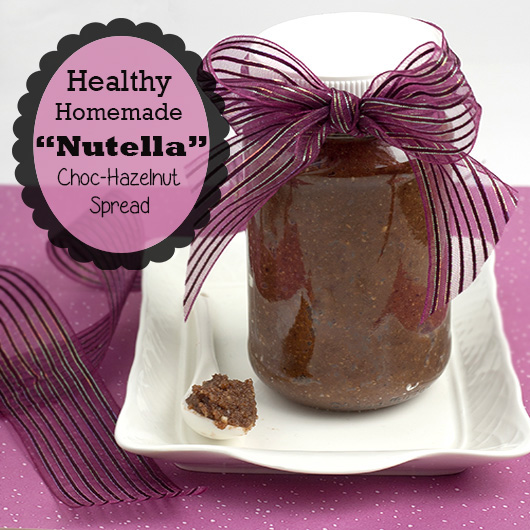 Yes, I'm being extremely negative so far in this post, as I find it very hard to conceal my distaste for this widely-loved product. A problem with my snarky rage towards Nutella however is that someone else in my house grew up on Nutella and loves it – causing enormous tension when I finally refused to allow it in my pantry anymore. To help appease the situation I've spent the last few weeks perfecting a Homemade Nutella Choc-Hazelnut Spread (both for my partner and) for Our Growing Edge, a monthly blogging event aiming to connect and inspire foodie bloggers to try new things.
It's chocolately, it's hazelnuty and more importantly it's actually healthy.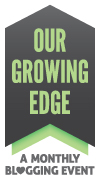 Use this homemade Nutella any way you would the original product (sandwich spread, a healthy sweet dip for fruit slices or the perfect ingredient to slather over a cupcake) and enjoy the goodness of hazelnuts and cocoa with chickpeas, coconut oil, coconut flour and real vanilla. It's dairy-free, gluten-free and vegan. I've used a food processor to make this batch, so it's a little less smooth than I would ideally like, I'll make it again in my whizz-bang Optimum blender when it arrives in a couple of weeks and post another pic 🙂
Healthy Homemade 'Nutella' Choc-Hazelnut Spread
Author:
Alison Murray @ Om Nom Ally
Recipe type:
Dessert, Snacks
Cuisine:
Dairy-free, egg-free, gluten-free, soy-free, vegan.
Ingredients
150g hazelnuts
150g cooked chickpeas
⅓ cup coconut sugar
1-2 tbsp cacao or cocoa powder
2 tbsp coconut oil
2 tbsp coconut flour
½ cup water
1 tsp vanilla extract
Instructions
Add raw or roasted hazelnuts to a food processor and process until you get hazelnut meal. Add remaining ingredients and process until mixture is of desired consistency - as smooth or chunky as you want (mine is a little bit chunky still).
Spoon into sterilised jars and store in the fridge for up to two weeks.