This stuff is
UNREAL
.
It's hardly surprising to hear that many people get confused about which yoghurt to eat and with that in mind I like to put yoghurt into 3 categories. There is supermarket yoghurt ('low-fat', 'diet', 'sugar-free'; gelatine, pectin or artificial colours and flavours added), natural yoghurt (Greek, organic, full cream or naturally pot-set) and then there is the home-made stuff. Bad, good and great yoghurt, respectively. Home-made yoghurt is always my first choice these days; you control all the ingredients and the preparation, it's naturally sweet without any added sweeteners and you don't even need a dedicated yoghurt maker. As long as you have a starter culture of some kind you can just DIY with just a stove top, a saucepan, a thermometer and a sterilised jar.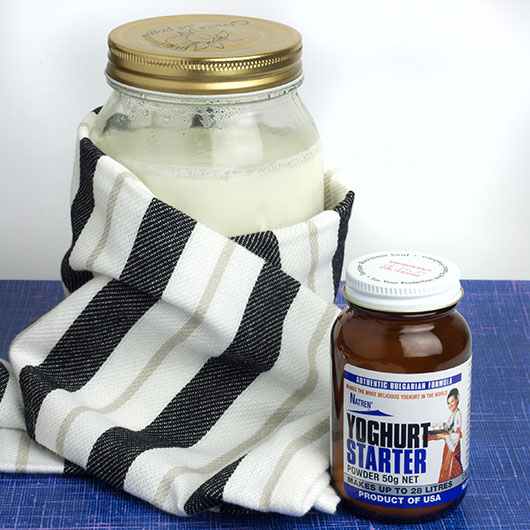 One of my new year's food resolutions was to do more fermenting, culturing, pickling and preserving. I've therefore been enjoying drinking kombucha and water kefir for a while now, but I just couldn't get used to the liquidy state of milk kefir after making it for a few weeks. I tend not to drink a glass of dairy milk on it's own and I never got used to drinking it once cultured either. I like the type of yoghurt that sticks to my upturned spoon, that I can dollop on my steaming oats or "plop" into my blender to thicken up a smoothie. That's why I love this Bulgarian style yoghurt more; it's thick set when using good quality milk (no fake, skim milk please!), very smooth and creamy texture with a pleasantly tangy taste.
Natren yoghurt starter is a bit pricier compared to some other yoghurt starters (or using the 'old pot' method of using the last 1/4 cup of  bought natural yoghurt to make you own new batch) but the health benefits far outweigh this economical concern. You can even use the old pot method with the last spoonful of your Bulgarian home-made yoghurt (though Natren themselves suggests otherwise), you'll get 4-5 more batches before you should start again. .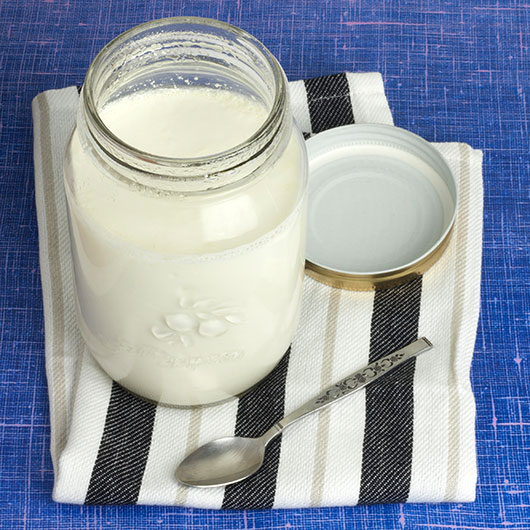 While fermented foods in general aid digestion and the immune system, this yoghurt starter contains the Lactobacillus bulgaricus LB-51 and Streptococcus thermophilus BC-122 bacterial strains. LB-51 in particular is known help to break down protein and assist in facilitating the absorption of nutrients. It also produces substances that help other beneficial bacteria stick to the intestinal wall and has possible anti-cancer effects!
After warming up your (preferably raw; unhomogenised; organic or A2) milk on the stovetop, you cool to a lukewarm temperature and then add the milk to the Natren starter culture in a sterilised jar. After this you need to keep the mixture warm for 8-12 hours. I like to place my sealed jar in my dehydrator at a low temperature; you can also wrap it in a tea towel or blanket to keep it nice and cosy. It's a very easy process that gives you a thick yoghurt that's just a little bit runny – just mix the liquid whey back in before you eat from it next time. For an even thicker, Greek- style yogurt you can hang your set yoghurt in cheesecloth over a bowl for a few hours. Just make sure you keep the collected liquid whey for use in smoothies, whey lemonade, baking adventures or wash your face and hair with it. Seriously, whey is the best skin and hair cleanser ever.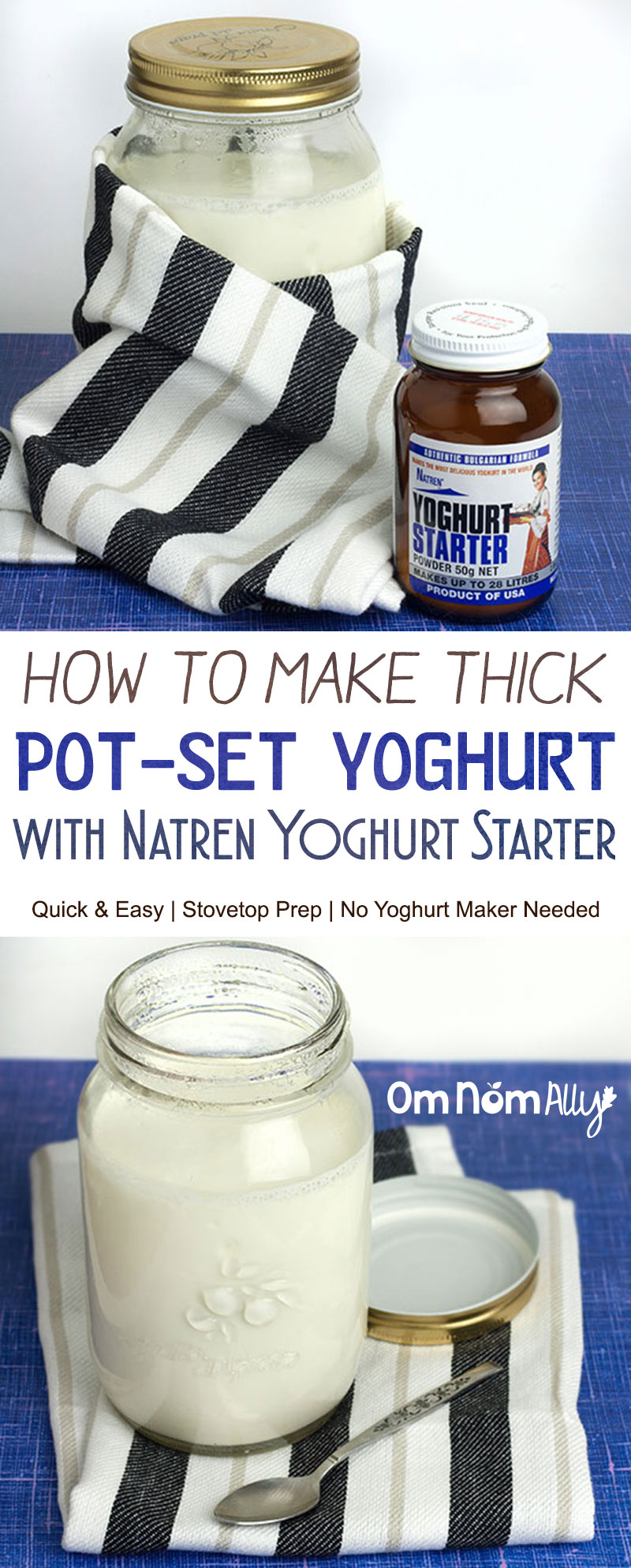 Product Review: Natren Yoghurt Starter + Home-made Yoghurt
DIY a batch of homemade yoghurt with Natren Yoghurt starter, a stove top, a saucepan, a thermometer and a sterilised jar.
Author:
Alison Murray @ Om Nom Ally
Ingredients
4 cups milk - use raw; unhomogenised; organic or A2 milk (in order of preference)
1-2 teaspoons Natren yogurt starter
1 glass litre/quart size jar with lid, sterilised
Instructions
In a heavy bottomed saucepan, or a double boiler, slowly bring the temperature of the milk to 43º/110°F for raw milk or 82º/180°F for pasteurised milk. Once this temperature has been reached, heat at this temperature for 5 more minutes. Take off the heat and let the milk cook for 5-10 minutes.
Use 1 tsp of Natren yoghurt starter for a runny yoghurt, or 2 tsp for a thicker style yoghurt. Place the Natren yoghurt starter in the bottom of the sterilised glass jar. Pour in about ¼ cup milk and stir gentle to fully incorporate the starter. Fill the jar with the rest of the milk, stir to mix and screw on lid.
Wrap the jar in tea towels and let sit overnight or for at least eight hours in a warm place. Alternatively incubate in dehydrator for 6-8 hours at 110°F. The longer you let your yoghurt set, the thicker and tangier it will be. After setting period, refrigerate.
Disclaimer:
 I didn't get paid for this review, or receive any free products to sample – I just love this yoghurt starter for making home-made yoghurt! This review is not in any way sponsored by the manufacturer and is comprised of my own opinions and experience.