All Go Orange posts:
Getting mail is usually a pretty banal experience for me and consists of magazine subscription, bills, cable television offers and letters to past tenants who've long moved on. Recently though, a crate of oranges appeared on my doorstep. Brightly coloured, juicy oranges fresh from Citrus Australia (Aussie Oranges) with the request that I take part in their Go Orange 10 day challenge. Winner!
Citrus Australia want everyone to know all about the health benefits of Australian-grown organic oranges and are challenging Australians to eat one whole orange every day for ten days this June to take advantage of all the nutritious benefits this superfruit has to offer. We all know that repetition of a desirable activity helps create good habits and while oranges have often been known as the last fruit left in the fruit-bowl, the Go Orange challenge is about the make the humble orange the favourite fruit of Aussies everywhere. There's also another very important reason Citrus Australia wants you to enjoy a whole orange everyday – Oranges are very rich in vitamin C; a water-soluble vitamin which needs to be replenished every day.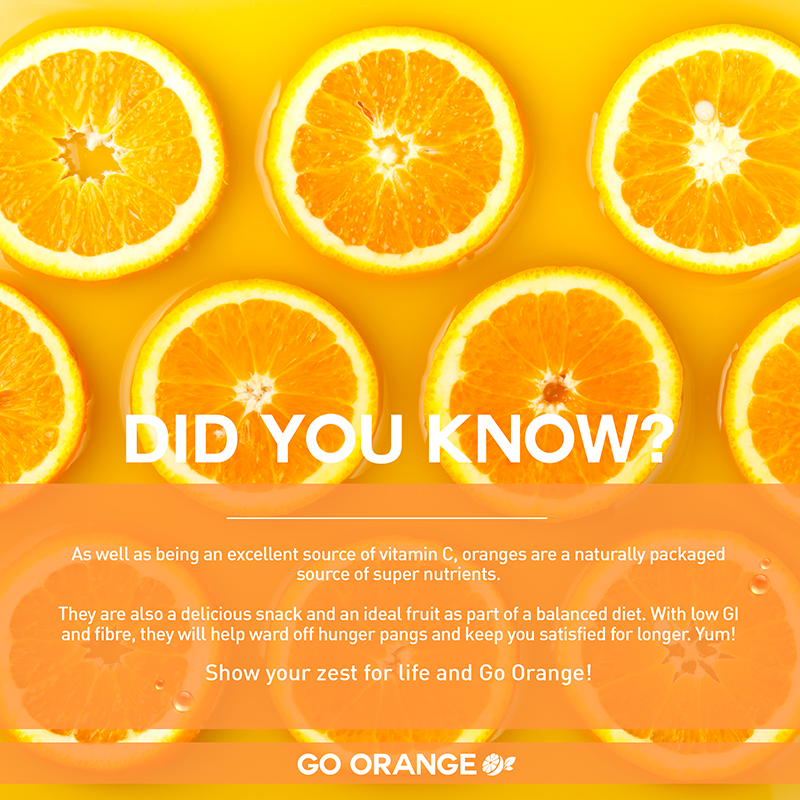 Health Benefits of Australian Oranges
 Take care of your wellbeing with a little help from the best and brightest fruit in the bowl!
With an immune system that works incredibly hard to protect our bodies against infections and diseases, it's important we support it wherever we can. Eating one juicy orange a day is the perfect way to do just that. As vitamin C is a water-soluble vitamin, it is not stored in the body and is therefore required to be consumed daily.
This naturally packaged source of super nutrients contains antioxidants such as carotenoids, flavonoids and a huge 64mg of vitamin C, which is more than one and a half times the daily recommended dietary intake. All of this healthy goodness will help support your immune system in fighting free radicals, generated when the body is exposed to smoke, poor diet, stress and infection.
Oranges are also ideal for weight maintenance. Not only do they contain zero fat, they're also rich in antioxidants and are a wonderful source of folate, potassium and fibre. Compared to the other fruits in your bowl, oranges contain a lower amount of fruit sugars but are high in fibre. This means they'll keep you fuller for longer.
So what are you waiting for? Live a healthier you and Go Orange!
Want to take part?
Peel them, slice them, juice them, grate and use the peel – oranges are versatile and the perfect ingredient to brighten up your favourite recipes. For the next 10 days, I'll be charting my Go Orange 10 Day Challenge progress on Om Nom Ally, Facebook, Twitter and Instagram with photos and delectable recipes. You can take part too, all you need is ten oranges and you're set! Use the hashtag #GoOrange on Twitter or Instgram and let me know how you're going via social media or by commenting below. I, and Citrus Australia would love to hear all aboutyour favourite ways to snack on fresh, juicy oranges.