I always whinge that mango is such a messy fruit to eat. That's why t I love throwing it in smoothies to bypass the "fruit juice all over my hands" stage of enjoying a ripe mango for dessert.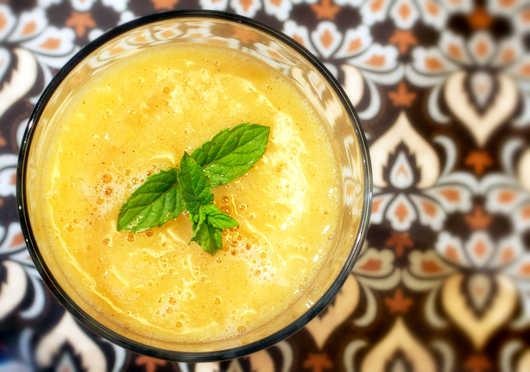 If you've seen my Cinnamon Quinoa Milk recipe, you'll remember my joy at discovering the simplicity of home-made non-dairy milk production. While I've now tried quite a few recipes, I've found myself preparing almond milk over and over. While I'll drink the pre-packaged stuff in a pinch too, I definitely taste the difference between my own and the carton stuff – not least the ingredients that go into the latter. That being said, I don't expect everyone to have a nut milk bag, or the inclination to make their own milks. This recipe will be amazing with whatever milk you have on hand, especially almond, coconut or hazelnut milk. Yummo!
What I do expect is you to enjoy the health benefits of this spiced drink as much as you do the incredible taste! Mangoes give a lovely boost of vitamin A, beta-carotene, potassium and iron with almonds throwing you some calcium, magnesium, vitamin E and B vitamins. By making your own milk you'll also get the polyphenols and antioxidants from the brown skins. And what about cardamom and cinnamon? The digestive, circulation improving and detoxifying actions of these spices make this more than a cool, tropical drink. This is definitely sounding like a bit of a Raw Superfood-Lassi to me!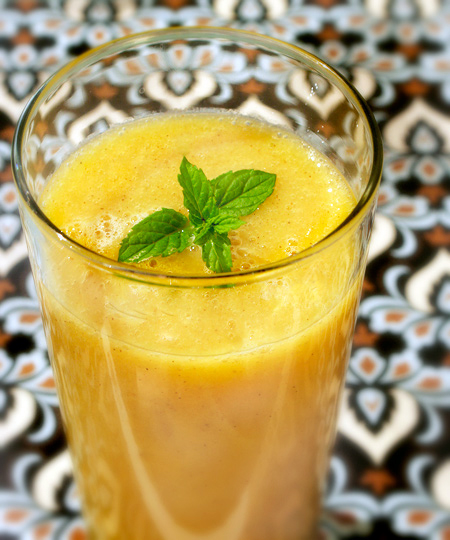 (dairy-free, egg-free, gluten-free, peanut-free, soy-free, vegan and raw)
Author:
Alison Murray @ Om Nom Ally.com
Ingredients
2 cups raw almond milk
1 ripe mango, skin removed, flesh sliced
½ tsp ground cinnamon
¼ tsp ground cardamon
Instructions
Blend all ingredients until smooth and creamy.
Notes
To make fresh, raw almond milk blend 1 cup raw almonds + 4 cups water + dates or raw agave to taste; strain through nut bag then store excess in fridge