Today was a day of transition for me. I've finished one job yesterday (though I was asked to work today to cover someone who was sick) and I start a new job tomorrow. I didn't really get much time to ponder this event though. The first half of the day I wandered around Southland shopping centre after attempting to try on a possible bridesmaid dress. They didn't have my size and somehow it didn't occur to me to ring them first and ask about it. I then spent too much money on clothes (well I NEED work clothes – good enough excuse right?) and ate a decidedly unsatisfying lunch while waiting for a late train to get home.
The second half of the day I meal planned for the week by flicking through magazines, bookmarks and books. I also made myself a snack of oven fries -but nommy roasted root vegetable fries rich in vitamin C (potato, sweet potato) and betacarotene (sweet potato, carrot). After whipping up some Acai Berry Popsicles  and Acai Berry Muffins I  went grocery shopping for fresh food. I then smsed Kam 3 hours later to ask him to do more grocery shopping for everything I forgot… oops.
A few weeks ago saw me ecstatically jumping around after the arrival of a giant carton of books from Amazon. So far I've flicked through a couple of them idly and found them homes on my over-stuffed bookshelves. One in particular though has been devoured cover to cover. Appetite for Reduction: 125 Fast and Filling Low-Fat Vegan Recipes almost has as many post-its as pages at the moment with all the recipes I'm dying to try. As the first one I've made so far the dish for this post was also a great excuse to use the red rice I bought recently from my local Asian grocery store.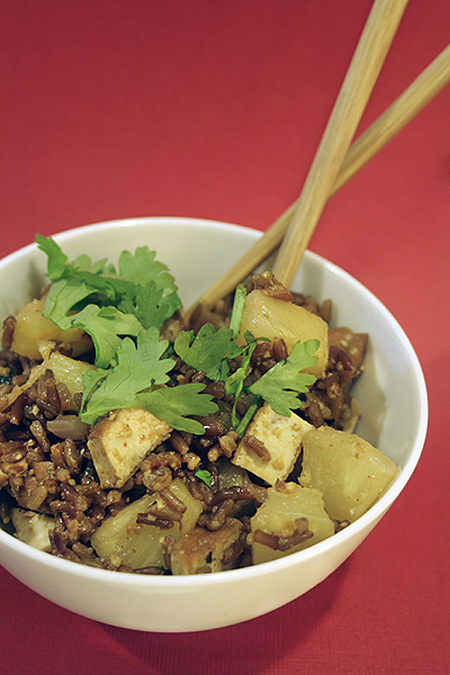 [fb-like-button]
The red grains of rice are beautiful, bright and crisp and when strr-fried with garlic, ginger and red curry paste are aromatic and spicy. Pineapple rounds out the flavours with a delicate sweetness and the added health benefits of bromelain, vitamin C and manganese. With the addition of tofu this dish is very substantial and filling main meal. Compared to the Pineapple Quinoa I made from Veganomicon: The Ultimate Vegan Cookbook a few weeks ago, I find this dish to be my preferred choice – the texture, flavours and colours are delightful. The only real change I made was using 2 cups of rice  compared to the 1 the recipe suggests. 1 cup just wouldn't have made enough food for 4 servings – not 4 decent, main meal  sized servings anyway. I also a block of Soyco Thai marinated tofu as a little cheat, which went with this dish perfectly and made it more substantial than a side-dish.
Bhutanese Pineapple Rice with Tofu
(dairy-fre, egg-free, gluten-free, nut-free, vegan)
Author:
(adapted recipe by) Alison Murray @ Om Nom Ally.com
Ingredients
2 cups red cooked red rice
1 tsp grapeseed oil
1 small red onion, diced
4 cloves garlic, minced
1 tbsp minced ginger
pinch of salt
2 tsp Thai red curry paste
1 tbsp water
1 tbsp tamari
2 tsp agave nectar
½ cup lightly packed fresh coriander, chopped, plus extra for garnish
1 can chopped pineapple
1 cake firm tofu, diced (optional)
Instructions
Preheat large frypan over medium heat. Cook onion, garlic, ginger and salt for about 5 minutes – until onion is translucent.
Add the diced tofu (if using) and cook, stirring frequently until lightly browned. In a small bowl combine curry pasta, water, soy sauce and agave.
Add coriander to pan and saute until wilted for about a minute. Add the cooked rice and drizzle in the curry paste mixture. Toss the rice to coat completely and cook for about 3 more minutes.
Add the chopped pineapple and cook until just heated through. Serve garnished with extra coriander.