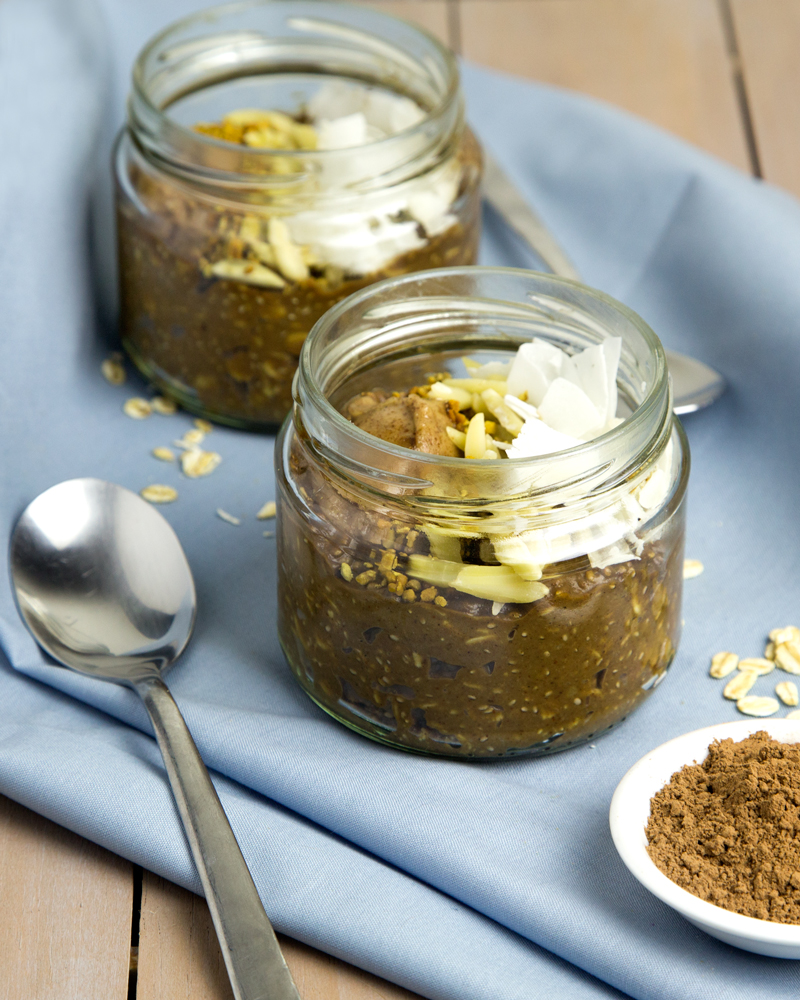 If breakfast is the most important meal of the day, then I feel like it should also be pretty exciting, amirite? Like a lot us, I'm guilty of skipping breakfast on occasion, but I always look forward to it when I've put in a little extra planning to make a delicious, nutritious and vibrant morning meal.
These overnight oats are a great example of a breakfast that requires a little effort for a massively yummy payout. The benefits are three-fold: 1) A few minutes of prep the night before saves you some precious time during your busy morning. 2) 'Soaking' your oats in the liquid ingredients helps to soften them for easier digestion  3) You get to eat chocolate pudding for breakfast!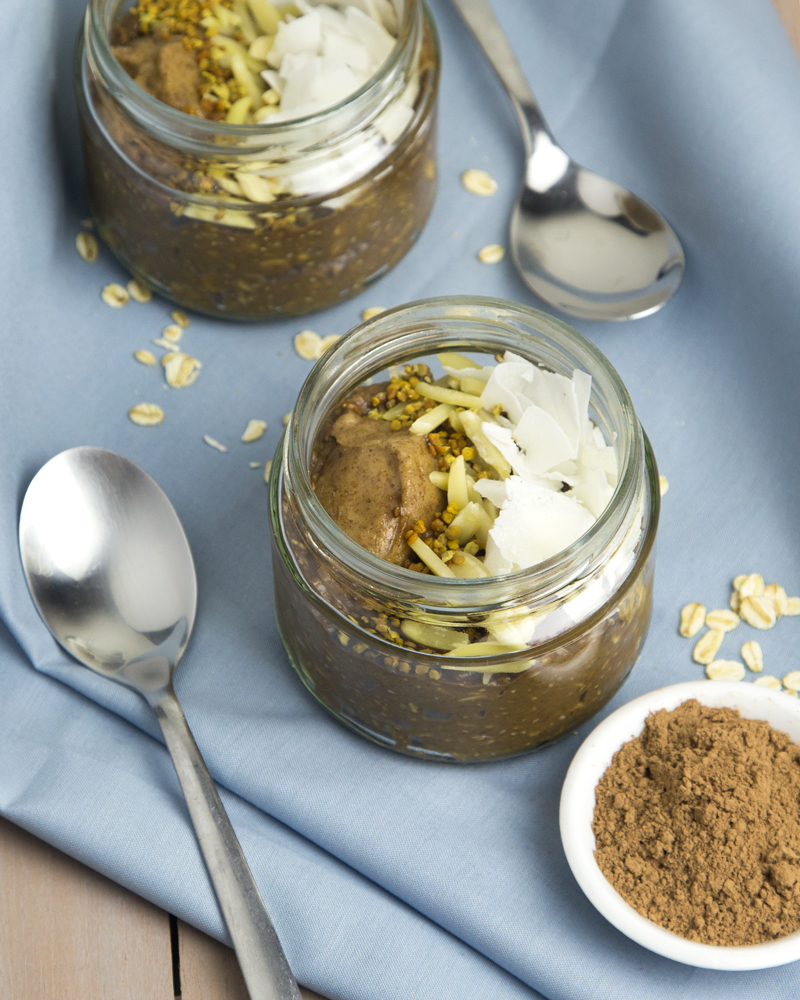 Creamy avocado and almond butter (+ a few hours chilling time!) are the secret to these thick, mousse-y, pudding-like overnight oats. With just enough chocolate flavour and sweetness to trick you into thinking you're being very bad, this breakfast-in-a-jar recipe is actually choc-ful of fibre and protein to fuel your day. Nothing naughty added!
Avocados are an ideal breakfast food; my normal trick is to smash or mash them up to serve with eggs on sourdough… mmmmm. They're a concentrated energy source that fills you up for hours (thanks heart-healthy  monounsaturated fats!) and when combined with fibre-rich oats will soothe the strongest of morning hunger pains. Did I mention you get to eat chocolate pudding for breakfast?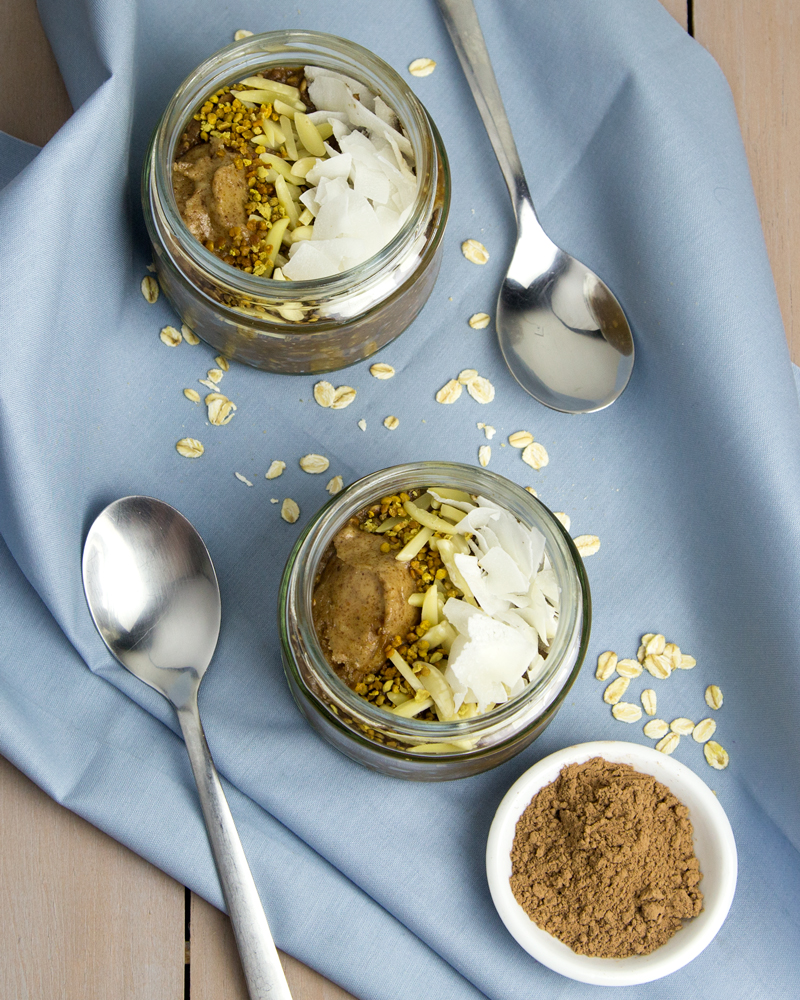 My favourite part of the whole meal preparation though is adding the toppings in the morning to serve, including lots of texture to complement the soaked, soft and creamy base. Think lots of crunchy slivered almonds, crisp coconut flakes and granular bee pollen for a bit of excitement, then a big 'plop' of homemade almond butter to finish it off. Yummo!
Don't like any of those ingredients? Mix and match your own favourite toppings for a vibrant and nourishing breakfast that takes all of two minutes to serve in the morning. What will you add to your chocolate pudding oats?

Chocolate Pudding Overnight Oats with Avocado
Feel like eating chocolate pudding for breakfast? With an avocado and cacao base, these breakfast pudding oats are both decadent and healthy at the same time!
Author:
Alison Murray @ Om Nom Ally | www.omnomally.com
Cuisine:
Dairy-free, Gluten-free, Wheat-free, Soy-free, Vegetarian
Ingredients
Flesh of one avocado,
¼ cup spring or filtered waterwater
2 tbsp cacao powder
2 tbsp maple syrup
2 tbsp almond butter
1 tbsp chia seeds
2 tsp vanilla extract
1 tsp cinnamon powder
⅛ tsp fine celtic sea salt
1 cup gluten free oats
optional, to serve: bee pollen (note: not vegan), slivered almonds, flaked coconut, almond butter
Instructions
To the bowl of a food processor or high powered blender, add all ingredients except for oats. Process for a few minutes or until well blended and creamy. Turn out mixture into a large bowl and gently stir through oats until well combined.
Split mixture into 2 jars or bowls, cover and refrigerate overnight.
The following morning, remove from fridge and top with nuts, coconut, nut butter and bee pollen (if using). Can also use fresh or dried seasonal fruit and an extra drizzle of maple syrup.