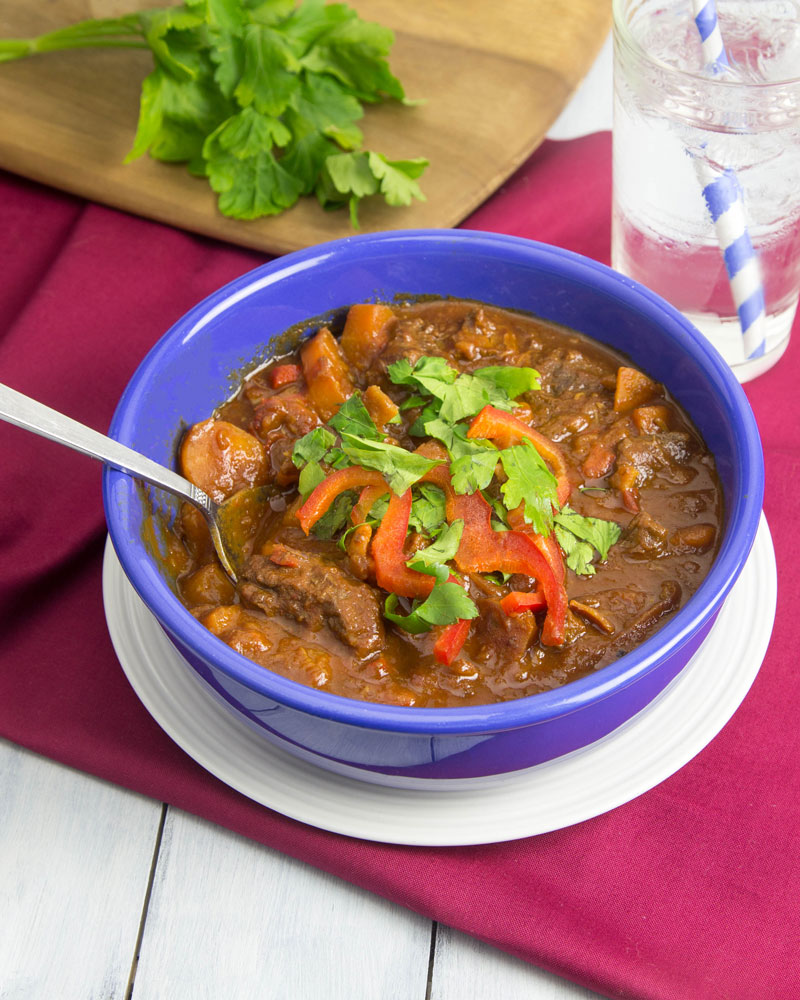 I get really excited when the monthly Recipe Redux themes fit into what I already love to cook and the current theme for "Fantastic Freezer Meals" is suiting me to a tee. Why? Simmering a big batch of stew on the stove top is so rewarding when you know you'll get to enjoy it several times over! I've actually got about five different freezer recipes stockpiled in my chest freezer at the moment – a flavourful variation of soups, stews and sauces – and have enough dinners to the two of us every night for 2 months if need be. It's a bit like having my own little home restaurant menu (that I can heat up in 10 minutes after defrosting), which makes for the ultimate fast weeknight meal selection!
This Hungarian Beef Goulash is the latest addition to that stash and will be probable be the meal we run out of first the way we've been craving more. It's a hearty, smoky, paprika-spiced stew, full of fall-apart beef and veg that I promise you'll want to eat bowl after bowl of. Typical of Hungarian Beef Goulash, there is no flour or roux in this dish and I've made it extra hearty with the addition of lots of chopped sweet potato, carrot and red capsicum. Not only do these sweet vegetables round out the sharp flavour, but you don't need to add the traditional pasta or noodles to guarantee satiety. That means this meal is now 100% healthier and 100% gluten free (and paleo if you use coconut oil for your cooking oil). All of these ingredients also freeze perfectly and, dare I say, actually improve on the flavour with the subsequent heat-and-eat.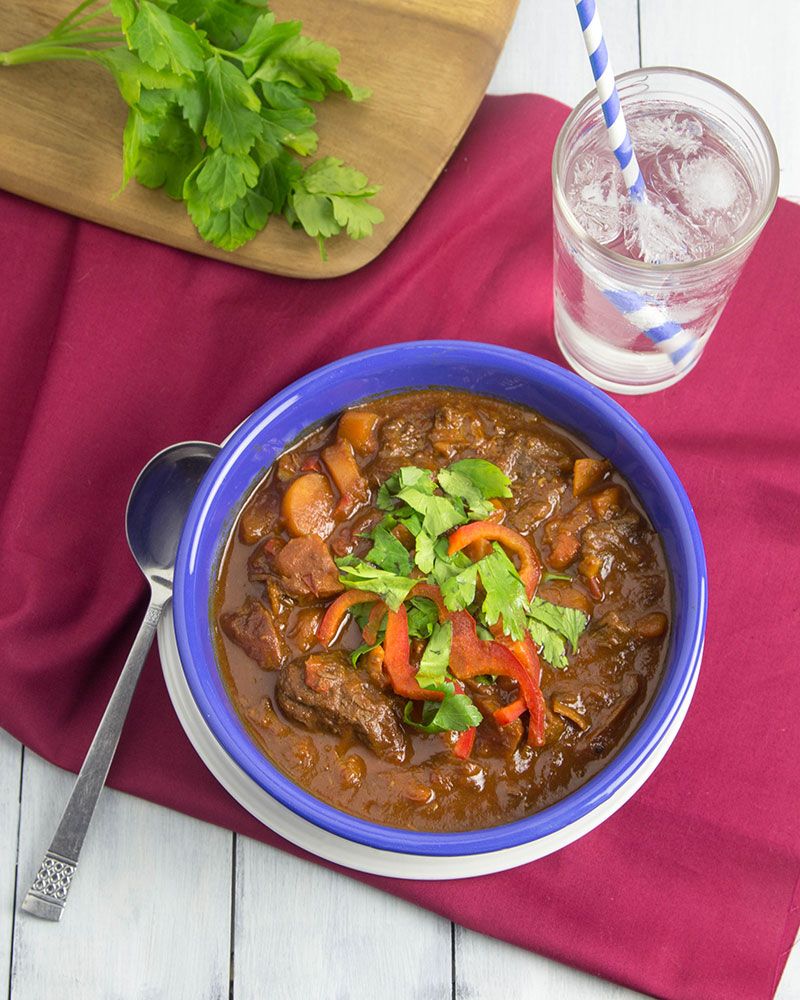 As well as our favourite freezer meal recipes, the Recipe Redux team also asked us to share our tips and tricks for making freezer meals. I would have to say that my best advice definitely starts at the shopping stage:
1: Buy cheap cuts:
Besides the time-saving benefits of cooking large batches, you also want your meals to be economical, so stick to the fresh food (meat, fruit, veg) or dry/canned goods aisle (beans, chopped tomatoes) to get your best cost-per-serve possible. I've used this advice extensively for this recipe as I've used tough and collagen-rich chuck steak for this meal, where a long, low stewing time helping the meat to tenderise and fall apart. It's a very cheap cut of meat, so buy it cheaply in bulk and cook up this make-and-freeze meal for a very economical meal indeed indeed!
2: Find a meat wholesaler:
Whether you choose to eat organic or conventional animal products, it pays to find a high-quality meat wholesaler who sells direct to the public in your area. By cutting out the supermarket you'll cut down on price (particularly on organic meat) while also getting the freshest animal products possible. In Melbourne, I recommend Belmores Biodynamic Meat as well as Organic Direct for delivery. If this is not possible, then get to know the meat selection at your local supermarket and you'll soon be able to recognise good pricing specials on the grocery shelves. Also make the time to get to know your friendly local butchers, they can help with sourcing and preparing harder to find meat cuts and often offer better prices on tougher, less requested cuts of meat (and stock bones!).
3. Maintain a well stocked wholefood pantry:
I keep a lot of herbs and spices in my pantry and like to buy my spices in bulk to save on money, as well as growing a few herbs on my windowsill to use fresh. You can make absolutely anything with the right herb and spice mixes and I love adding lots of flavourful ingredients to simple meals. I've also always got at least eight cans of organic diced tomatoes and two cans each of most kind of organic beans as these are always handy for one-pot make-and-freeze meals. To a lesser extent, I've usually got a few types of wholegrains around to add to soups and stews, though mostly I buy them in smaller quantities as needed as they are more prone to going rancid.
From this point onwards you've got the key tools to get started with making some delicious freezer meals – all you have to do is make some room in the freezer! With this Make-and-Freeze Hungarian Beef Goulash recipe below to whet your whistle for freezer meals, be sure to check out all of the other entries for the Recipe Redux at the end of the post!
xx Ally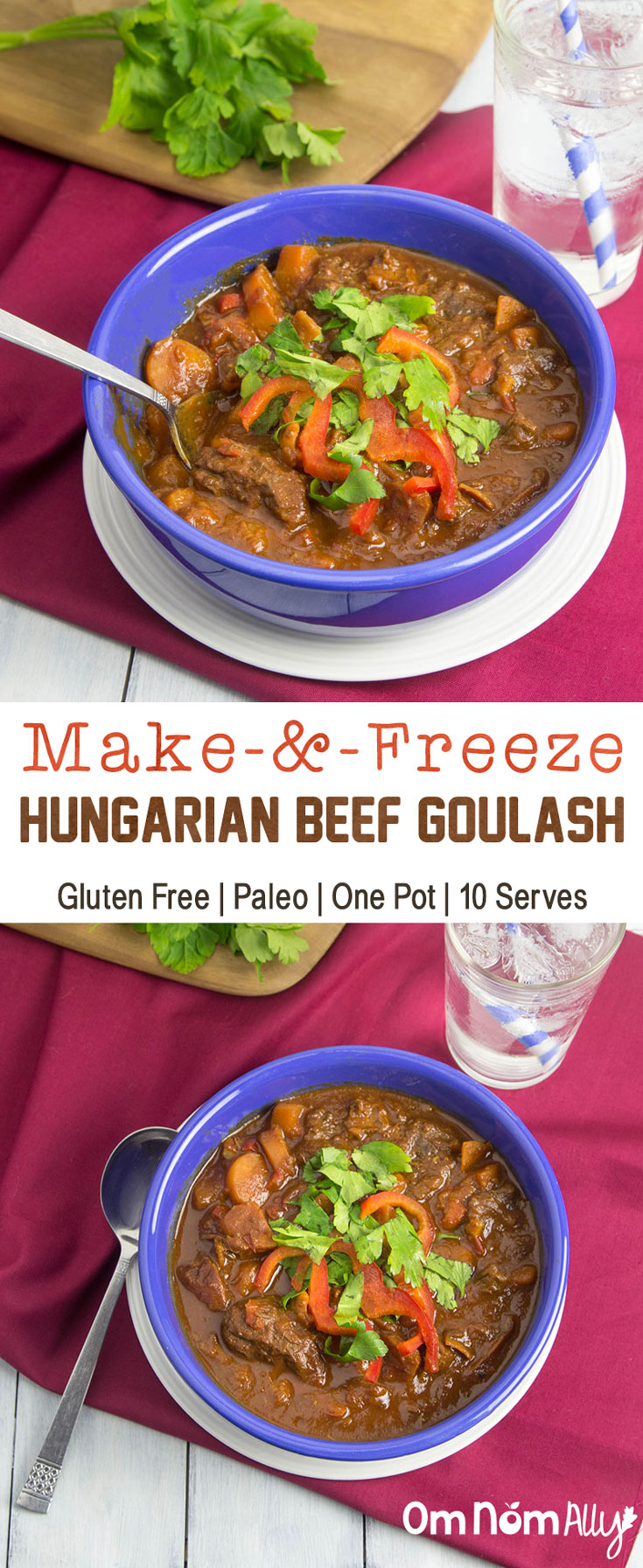 (Make-and-Freeze) Hungarian Beef Goulash
Make this Hungarian Beef Goulash once, and enjoy over and over! This recipe makes 10 delicious, fragrant serves of stew ready to freeze and reheat for easy weeknight dinners.
Author:
Alison Murray @OmNomAlly | https://omnomally.com
Cuisine:
Dairy-free, Gluten-free, Nut-free, Soy-free, Paleo.
Ingredients
3 tbsp ghee (or coconut oil for paleo meal)
2 medium brown onions, diced
6 cloves garlic, minced
¼ cup smoked paprika
1 tsp ground chilli
1 tsp ground caraway seeds
salt and pepper
1kg diced beef chuck steak
3 cups beef or vegetable stock
¼ cup apple cider vinegar
4 roma tomatoes, chopped, or 1 400g can organic diced tomatoes
¼ cup tomato paste
1 kg sweet potato, scrubbed and diced into 2cm cubes
4 medium carrots, diced
2 large red capsicums, halved and seeded then sliced thinly
Continental parsley, to garnish
Instructions
Heat ghee or coconut oil in large stock pot over medium-high heat. Add onion and saute until softened and translucent, about 3-5 minutes. Add garlic, paprika, chilli and caraway and saute until softened and fragrant. Add more ghee or oil if mixture is very dry, to prevent burning or grainy texture of finished dish.
Season diced beef chuck with salt and pepper and add to paprika mixture, stirring well to coat. Brown meat on all sides and then add stock, vinegar, tomatoes and tomato paste. Lower heat to low-medium temperature and stew meat, covered for 1.5 hours
After 45 minutes of cooking time has elapsed, add sweet potato, carrots and capsicum and continue cooking, covered. Once total cooking time has elapsed, adjust seasonings as needed and serve. For thicker stew, cook for a further 10 minutes, uncovered or until mixture reduces and thickens.
Can also serve with dollop of Greek or natural yoghurt (or coconut cream for dairy-free and paleo meal) on top.
[inlinkz_linkup id=557633 mode=1]