I love a good curry. If it's coconut-creamy, spicy and dreamy, then I want to nom it. This hasn't always been the case though. I used to be a very picky and restrictive eater once, often making decisions that I didn't like certain foods – without even ever having tried them! There is a great family anecdote involving my childhood hatred of  peas that Dad loves telling everyone (*groan*) that I won't be repeating here – and I even love them now! Well, except in fried rice… I still pick them out. Old habits die hard?
In any case, this curry is light and creamy while giving a delicate kick of red chili. Paired beautifully with Coconut Lemongrass Rice you get a double hit of the vitamins, minerals (especially calcium, phosphorus and manganese) and medium chain fatty acids from the coconut milk . Why had I never thought of cooking rice in coconut milk before I tried it at a Thai restaurant last year?! It's delectable.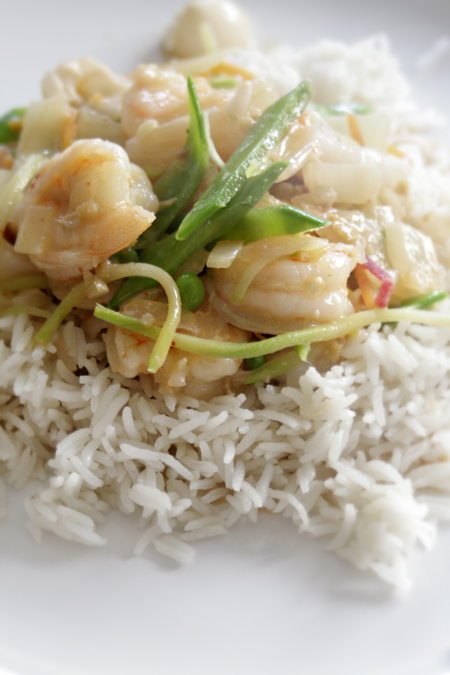 [fb-like-button]
Red Thai Curry with Prawns
Serves 4
(egg-free, dairy-free, gluten-free, nut-free, soy-free)
1 tbsp rice bran oil
1 tbsp minced ginger
2 cloves garlic, finely minced
1 brown onion, finely chopped
2 tbsp red curry paste
200-250g raw prawns, tails removed
1 can coconut milk
150g snow peas, washed and thinly sliced on the diagonal
1 large carrot, cut into matchsticks
1 large floret of brocolli, cut into matchsticks
15 lychees, quartered
Heat oil in a wok or large pan. Cook onion, ginger and garlic until fragrant and onion translucent. Add red curry paste and cook until oil is visible.
Add coconut milk and bring to a boil, then reduce to simmer until slightly thickened. Add prawns and cook 6 – 8minutes on medium heat, or until done.
Add vegetables to wok and cook a further 1 – 2 minutes until bright in colour. Finally, add lychees to dish and stir well to combine. Serve over rice.
Coconut Lemongrass Rice
(egg-free, dairy-free, gluten-free, nut-free, soy-free, vegan)
2 cups basmati rice
1 can coconut milk or cream
1 cup water
2 large lemongrass stems
Remove tough outer covering of lemongrass and discard. Cut off the bulbous base with a sharp knife and cut into small enough sections to fit into saucepan or rice cooker basin.  Press the stem with the flat side of a knife or pummel gently with a mallet to bruise and release the flavour. Put aside.
Add rice, coconut milk/cream and water to a large saucepan or to rice cooker basin. Lay lemongrass stems on top and cook as per normal instructions.
When cooking time finished, discard lemongrass stems and fluff rice gently with a fork.