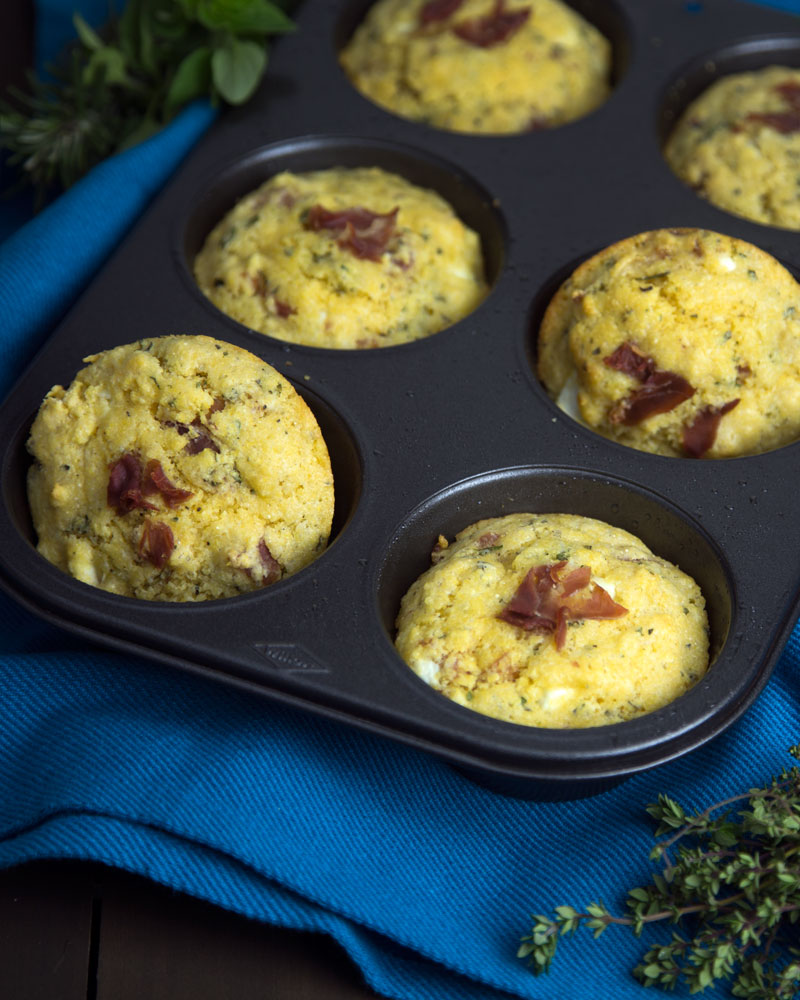 Who wouldn't love one of these Giant Herbed Polenta, Prosciutto & Feta Muffins for morning or afternoon tea? Kam apparently, who refuses to eat savoury muffins, period. I don't know what led to this aversion to any muffin that isn't sweet in nature, but hey, that means all six of these bad boys are mine to enjoy! His loss, my gain 😉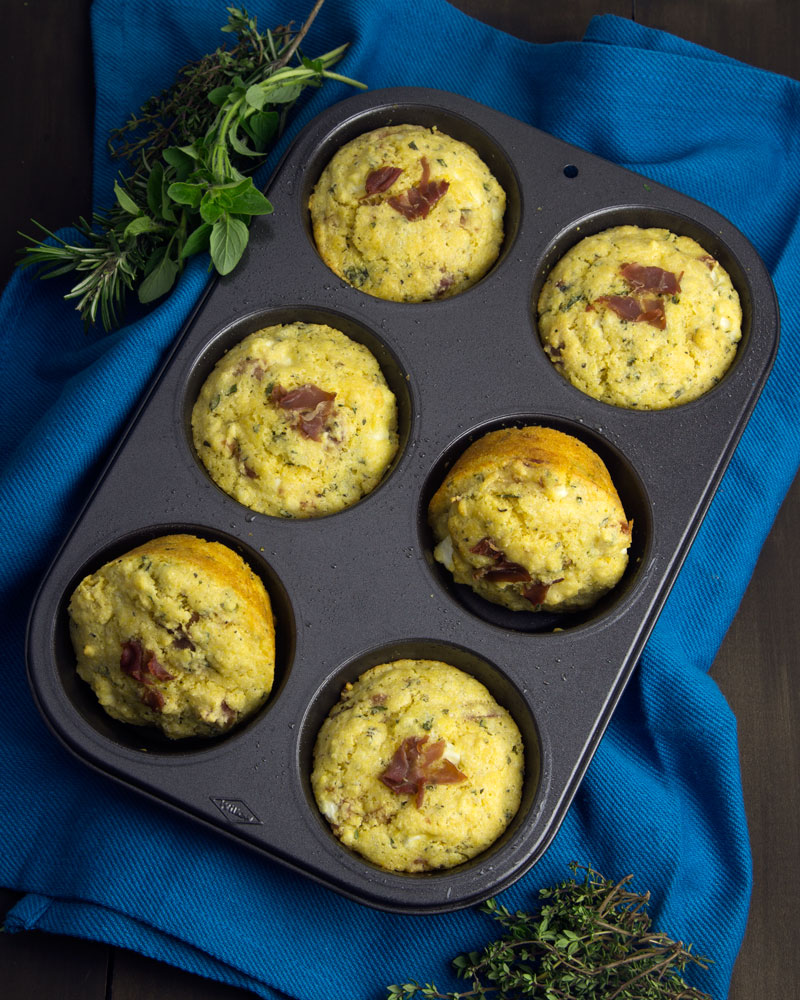 This recipe came around from having bibs and bobs of leftover herbs from other recipes in the kitchen – namely some chicken stock making and a couple of make-and-freeze soups and stews. It's fun to play the "what will we make with the leftovers?" game and the answer in this instance was to finely chop up the leaves of some rosemary, thyme and oregano for a hearty savoury muffin mix. It's very satisfying to use up as much of your fresh produce as possible and make something you actually want to eat from it as well, am I right?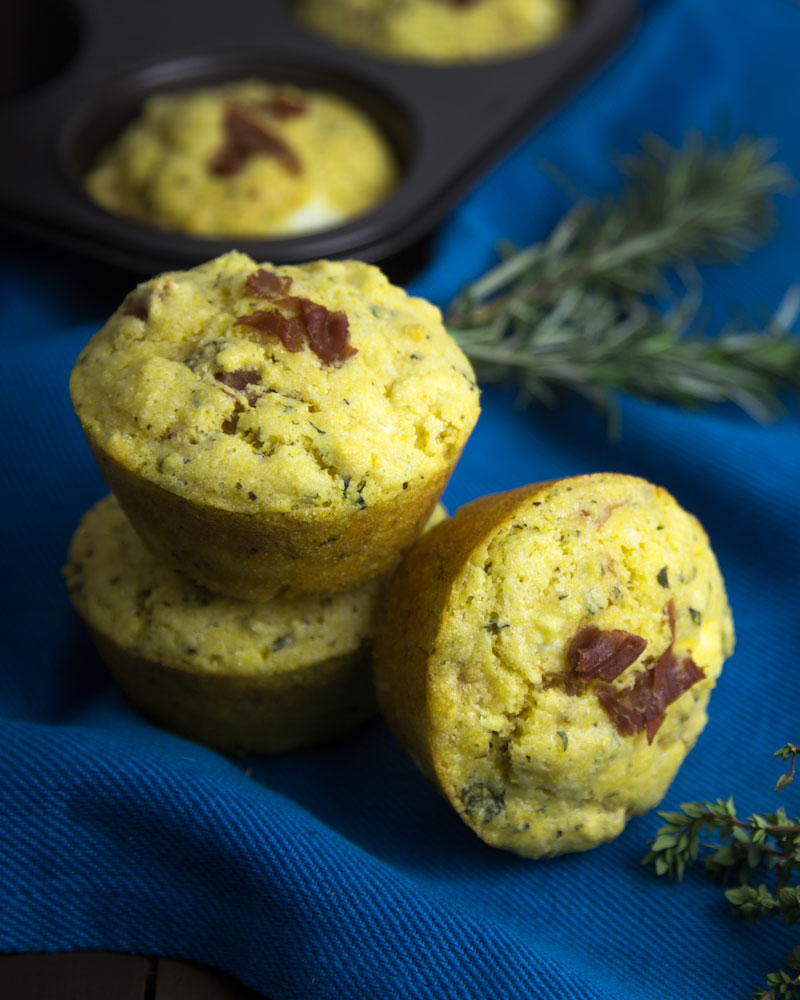 These giant wholemeal spelt muffins are full of fibre, with a warm, golden hue thanks to the addition of ground corn polenta. Stuffed with parmesan cheese and flecked with garden herbs, feta and prosciutto, I love to nosh on these as snack next to a boiled egg, or as a side to a broth or pureed soup (instead of sourdough bread). They would also make for a satisfying breakfast with a side of scrambled eggs… now there's an idea!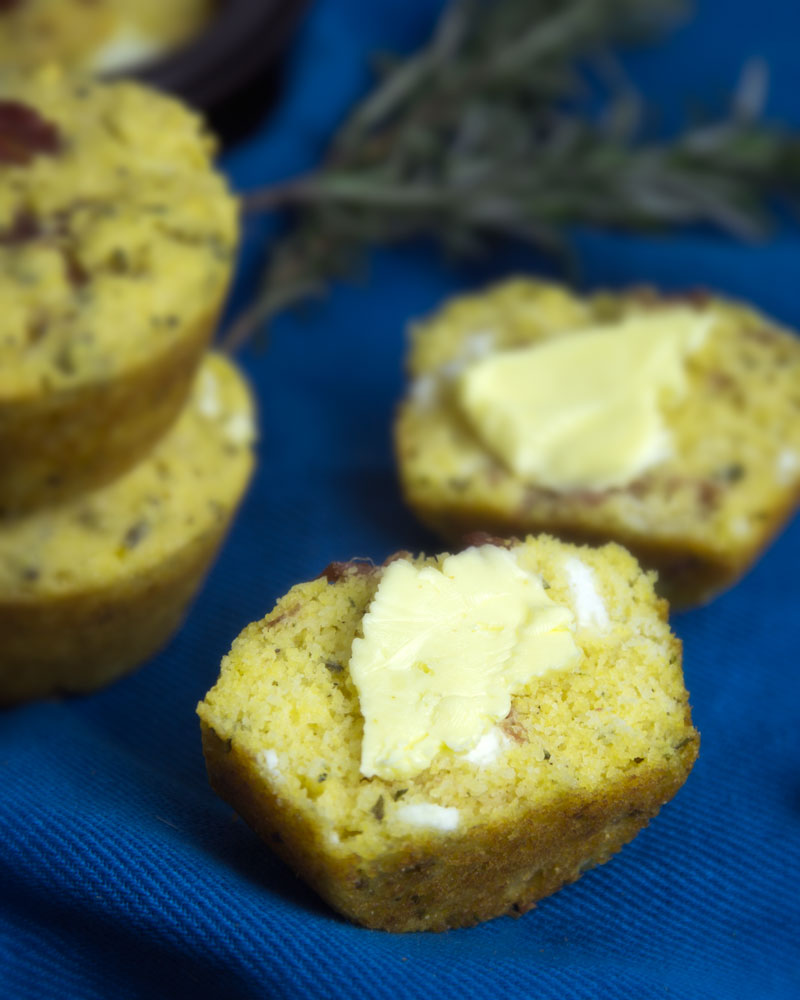 Knowing full well that Kam will never touch these savoury muffins, I like to bake a few, freeze a few, so that they can be enjoyed whenever the craving takes hold. Baked goods hold up well when frozen in a layer of aluminum foil and then bagged and I ate two of these a week until they were all gone. Just remove from the freezer first thing in the morning and pop into your lunch box or bag for work/school, by lunchtime, voila! your muffin is room temperature again and ready to enjoy.
However you plan to enjoy them, I hope you do enjoy them, as these giant savoury muffins are full of flavour and texture that will surely satisfy the most discerning of muffin aficionados. (except for Kam, because he's seriously missing out!).
What do you prefer – sweet or savoury muffins?
What's your favourite way to eat savoury muffins?
xx Ally

Giant Herbed Polenta, Prosciutto & Feta Muffins
These giant savoury muffins are full of flavour and texture that will surely satisfy the most discerning of muffin aficionados.
Author:
Alison Murray @ Om Nom Ally | www.omnomally.com
Ingredients
1 cup organic, full fat milk
1 large organic, biodynamic or free range egg, lightly whisked
¼ cup organic butter, melted and cooled
1 cup sifted wholemeal spelt flour
1 cup polenta or yellow cornmeal
1 tsp baking powder
1 tbsp fresh rosemary leaves, finely chopped
1 tbsp fresh thyme leaves, finely chopped
1 tbsp fresh oregano leaves, finely chopped
¼ cup freshly grated parmesan
100g feta, crumbled
¼ cup finely sliced prosciutto, diced + 1 tsp extra
½ teaspoon celtic sea salt
¼ teaspoon ground black pepper
Instructions
Preheat oven to 200C. Grease a 6-capacity Texas muffin tin, or line with paper liners, put aside.
Combine milk, egg and butter in a medium bowl, mixing well. In another, large bowl, whisk together flour, polenta and baking powder and then add remainder of ingredients and stir well.
Make a well in the centre of the dry ingredients and pour in wet, mixing until only just combined, with some streaks of flour left. Divide batter between prepared muffin tins and top with reserved prosciutto. Bake for 25-30 minutes, or until gotden brown and skewer inserted in centre comes out clean.
Remove from oven and allow to cook for 5 minutes in muffin tin, before transferring to wire rack to cool completely. Eat within 3 days, or refrigerate for up to a week. Alternatively, freeze for up to 3 months, defrosting in fridge overnight before consuming.