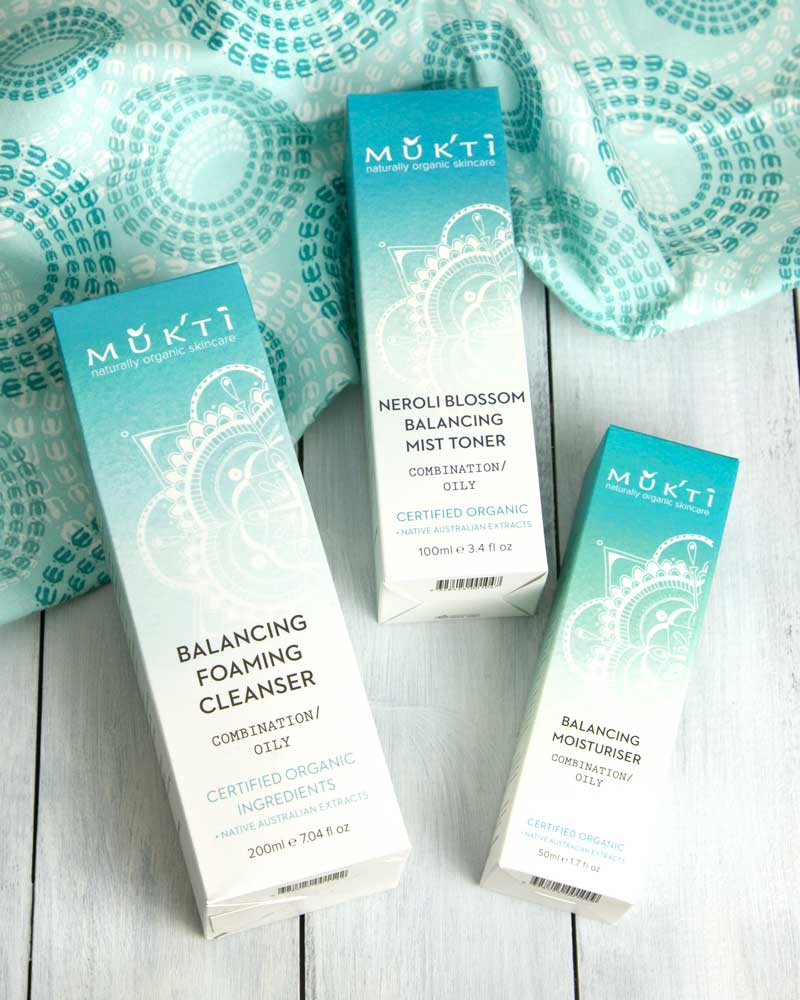 This product review has been a long time coming. It feel like it's taken me forever to prepare this post, mostly as it's been whirlwind of work, business and website changes here recently – so firstly a big shout out to Mukti with an apology for this post being so overdue!
I've got the amazing Mukti herself to thank for the package of Mukti Naturally Organic Skincare I received several weeks ago, as she mailed them out for consideration of being part of the Om Nom Store catalogue (which though now closed due to employment reasons, will be resurrected again in the future). As I wasn't able to take on the products for sale at this time I instead offered to try and review this luxurious range and I'm so impressed I've now become an affiliate for their products. The name Mukti originates from Sanskrit, meaning 'freedom' and 'liberation' and I believe that everything about this range revels in having a lifelong love for freedom and liberation in choosing beautiful, sustainable and nourishing products for our most important organ (our skin).
With full organic certification and manufactured and produced in Australia, the thing I love most about the Mukti range is how every products features bioactive native extracts and peptides. With ingredients such as Kakadu Plum, Finger Lime, Flame Tree and Wild Rosella in addition to healing essential oils,  this premier range of skin care products celebrates all things 'Australian' and were designed to improve skin condition and healing while also fighting the signs of ageing. We'll all be glad to know that their entire product catalogue is also 100% vegan and all products are 100% natural and GMO-free.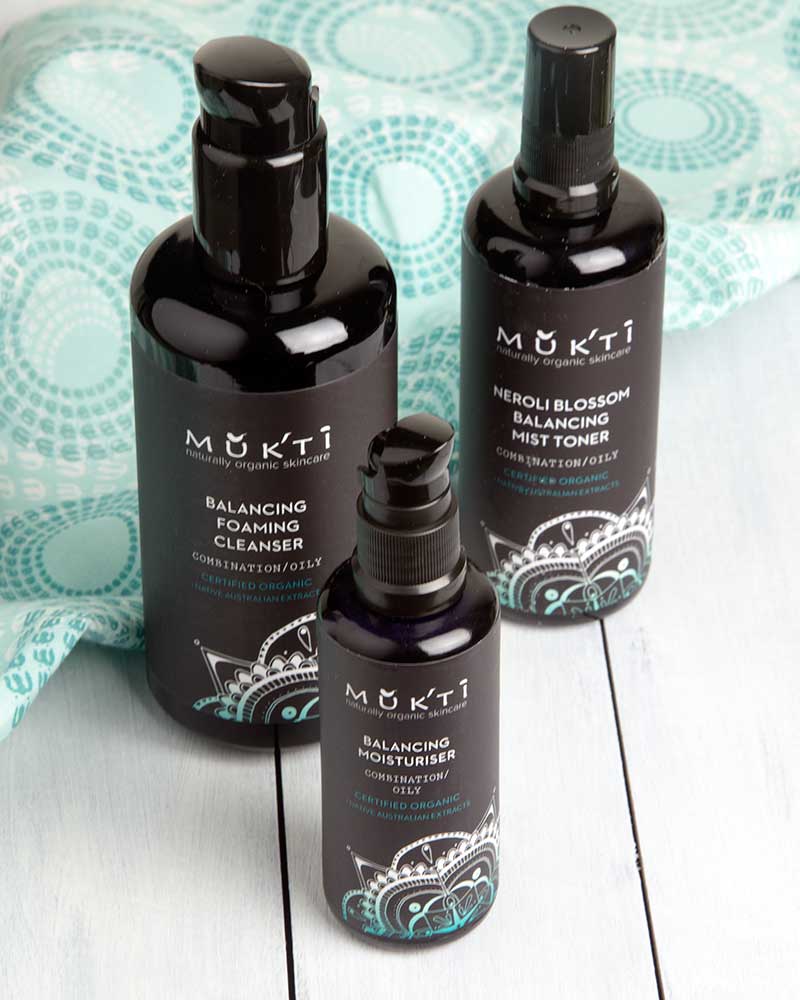 What I loved:
I received three products from their Combination/Oily range to try:
Balancing Foaming Cleanser
Containing the bioactive native extracts of Flame Tree and Mountain Pepper Leaf, this cleanser was very normalising for my combination skin type and left my skin feeling pleasantly taut and balanced. The cleansing lotion also works brilliantly with the Foreo Luna oscillating cleansing pad I bought recently to replace all the various exfoliating cream cleansers I've tried over the years. The combination provides a deep, relaxing cleanse experience and was also fantastic as a makeup remover at the end of the day when applied to an organic cotton bad to lightly swipe across my face.
Neroli Balancing Mist Toner
I hardly ever use a toner, usually going straight from cleanser to serum or moisturiser, so it took me a couple of days to even remember to use this misting toner. Once I got in the routine however I decided to buy this product again for the wonders it did on the enlarged pores on my nose I've been plagued with my whole life. Noticeably smaller and tighter in size, I've also had less small blackheads on my nose since using this product. I've never really used toners as they have made my skin feel very tight and dried out, but with Witch hazel, neroli and other tonifying essential oils, my skin felt balanced and much less oily at the end of the day.
Balancing Moisturiser
I am always on the hunt for a great moisturiser and this would have to be my favourite product of the three I tried. With an incredibly oily t-zone, lots of moisturisers have failed to balance out my combination skin in the past. While the directions on the label instructed me to avoid the t-zone during application I did apply the moisturiser to my whole face as a test, with a much better clarifying action compared to other brands I have been using lately. I was still dry, without any need for blotting by the afternoon and the days I wore foundation to work I found there was less need for touch-ups during the day. This moisturiser also contains some of my favourite-ever skincare ingredients (rosehip oil, Calendula extract, Lavender and Rosemary essential oils) and I will be buying this product over and over again.
What I Wasn't Keen On:
I'm drawing a blank here. I love the products and all I can say is I want to try more from the range. With over 15 products in their skincare range (over four skincare collections), I've still got a lot of products to try including the Mukti Aloe Vera Moisturiser which I'm interested to try as a summer day moisturiser as well as their Rosehip Eye Gel (I'm a sucker for all things rosehip oil). They also have an all organic bodycare and haircare that has just launched, so I'm extremely excited to try those soon too.
I can honestly say I loved everything about these products, so let's move on!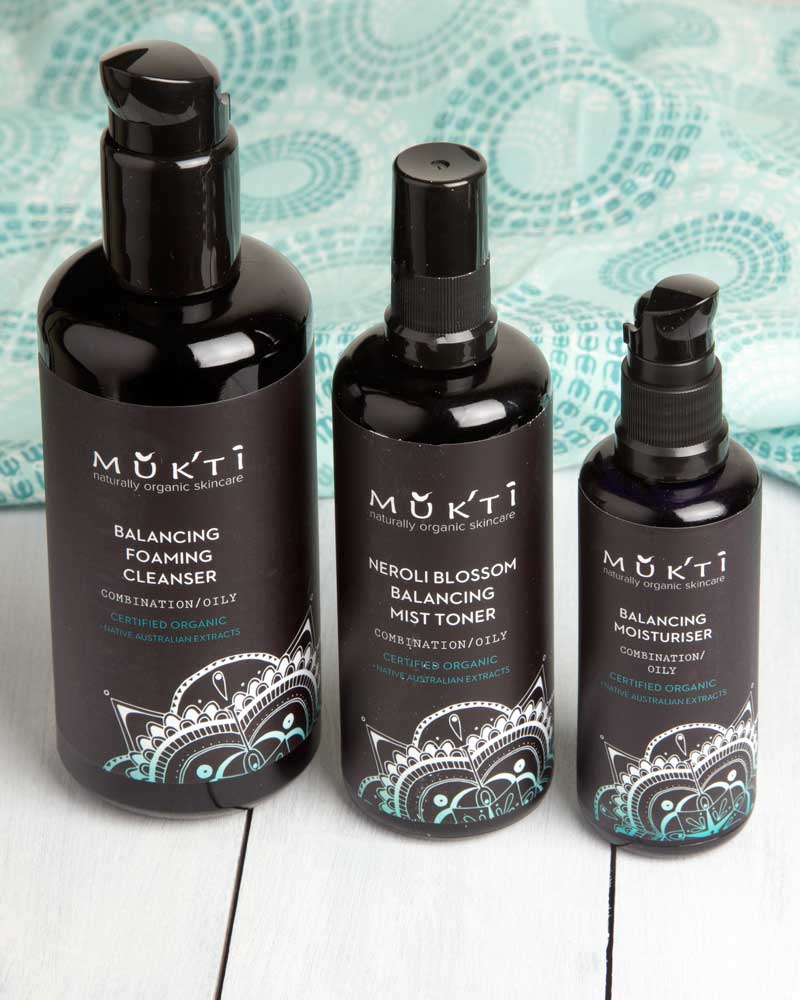 I would recommend Mukti Naturally Organic Skincare for:
Anyone looking for organic, GMO-free, cruelty free, small-batch skincare. This range is suitable for all age groups and contains many antioxidant properties suitable for younger skin through to individuals needed increased anti-aging skin healing. They are 100% synthetic chemical free and
Anyone looking for an exclusively Australian produced and manufactured beauty range that utilises the best of Australian native plant extracts. Many ingredients for this range are purchased through fair trade agreements, providing income to indigenous Australians.
Anyone looking for products that work, that do what the label says, that don't contain fillers are are rich in antioxidant, anti-ageing, nourishing and healing nutrients.
Where to purchase:
Mukti's online store stock the full range of skincare, as well as body and haircare here, with prices ranging from $49.95 for cleansers and balms, up to $109.95 for concentrated anti-aging serums. As an affiliate for this company, if you shop through any link on this page it won't change or increase the price of your purchase, but will receive a nominal payment. Free shipping is offered for all Australian orders over $99 and if you sign up as a VIP today you'll also receive a 10% discount on your first purchase.
Mukti Naturally Organic Skincare is also being stocked at health food store around Australia, check with your local outlet to see if they have, or want to stock this amazing skincare range.