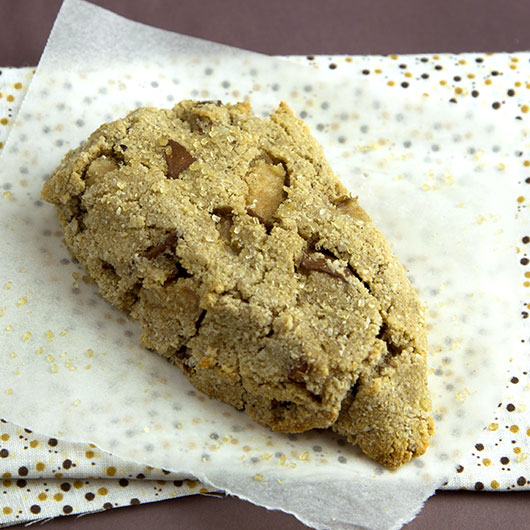 Breath that scent in. Deeply. I just adore the combination of ginger, cinnamon, cardamom and cloves. That's why I drink chai everyday. It makes me happy in a way I can't quite wrap words around. Scones are another thing that makes me happy – that one I can express more easily as it's definitely a textural thing. These spiced scones with chunks of tender pear are both buttery and flaky – they're also completely grain-free. Almond and coconut flours do all the work here in these paleo-friendly, grain-free scones and I promise that the texture is still light and fluffy.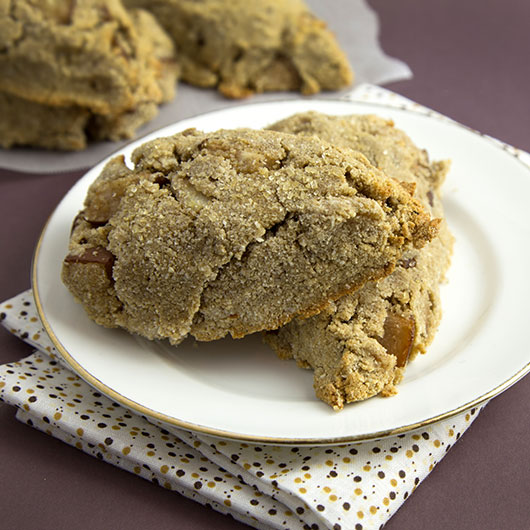 I heroically saved two pears from the compost by baking these scones (note: saved = forgot to eat for over a week after I bought them) but this recipe will also work perfectly with apple, your favourite berries or with some dark choc chunks/cacao nibs. Yum. Savour one of these grain-free scones with an afternoon (chai) tea or coffee, or alongside a morning smoothie, and try not to fall in love with those spices.
Make sure to let them cool completely on a wire rack before storing any leftovers, they're prone to go soggy if you let them cool on the baking rack you cooked them on.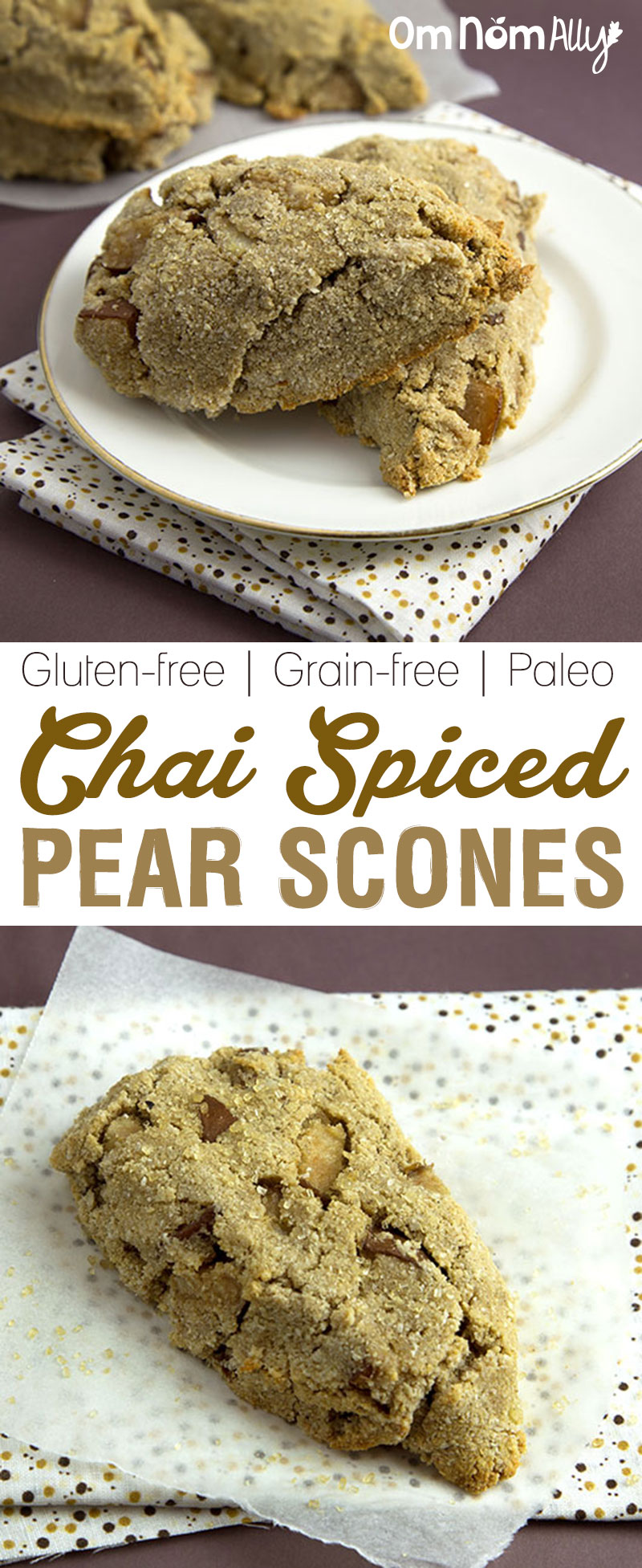 Grain-free Spiced Pear Scones
Author:
Alison Murray @ Om Nom Ally
Recipe type:
Baking, Scones, Breakfast
Cuisine:
Dairy-free, Gluten-free, Grain-free Soy-free, Vegetarian
Ingredients
2 cups almond meal
1 cup coconut flour
1 tbsp flax meal
½ tsp baking soda
2 teaspoon ground ginger
1 tsp ground cinnamon
½ teaspoon ground cloves
¼ teaspoon ground cardamom
½ cup coconut oil, melted
2 ripe pears, skin on, cored and chopped into 2cm cubes
2 eggs
1 tsp vanilla extract
2 tbsp maple syrup
demerara sugar, for sprinkling
Instructions
Preheat oven to 180C, line two baking trays with baking paper and set aside.
In a medium bowl, mix together flours, flax meal, baking soda and spices. Mix in melted coconut oil, rubbing it into the flour mixture with your fingers until it resembles fine crumbs. Gently mix through chopped pears.
In a small bowl, gently whisk eggs with vanilla extract and maple syrup. Pour over the scone batter and gently mix with a wooden spoon until dough comes together. Leave for five minutes for coconut flour to absorb excess moisture.
Seperate dough into six portions, shape into triangular scone shapes and place on prepared baking trays. Sprinkle a little demerara sugar over each scone and bake for 30 minutes or until lightly browned.
Remove from oven and cool for five minutes, then gently move to wire rack to cool completely.
 This post is shared at:
Healthy, Happy, Green & Natural Party Hop
.
Allergy free Wednesday
,
Healthy 2Day Wednesday
, Real Food Wednesdays,
TGIF Link Party
,
My Meatless Mondays
, Recipe Sharing Monday,