Orange & Clove Tapioca Pudding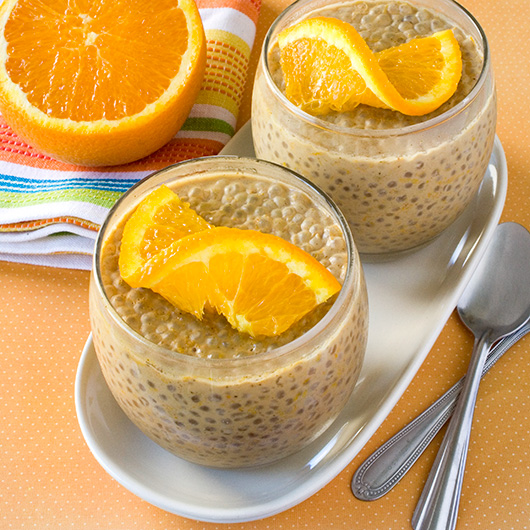 Author:
Alison Murray @ Om Nom Ally
½ cup small size tapioca or sago pearls
2 cups water
1 400ml can of coconut milk
¼ cup coconut sugar
Juice of 2 oranges
Zest of 2 oranges, finely grated
½ tsp vanilla extract
¼ tsp ground clove
Bring water to a boil in medium sauce pan over medium high heat. Add sago or tapioca pearls and cook for about 10 to 12 minutes, stirring frequently or until pearls become swollen and translucent.
Drain the sago pearls in a strainer and rinse under cold running water then set aside.
Wash out medium sauce pan in hot water and then place back on stove. Bring coconut milk and sugar to simmer and add pearls back to sauce pan. Cook until pudding becomes slightly thickened (about 3 minutes) and then take off the heat. Stir through orange juice, orange zest, vanilla and cloves and let cool for 15 minutes.
Spoon mixture into small bowls or glasses and chill for a few hours, or overnight.
Recipe by
@OmNomAlly
at https://omnomally.com/2013/06/11/orange-clove-tapioca-pudding/