(Make-And-Freeze) Low Carb Beef & Cauliflower 'Pasta' Bake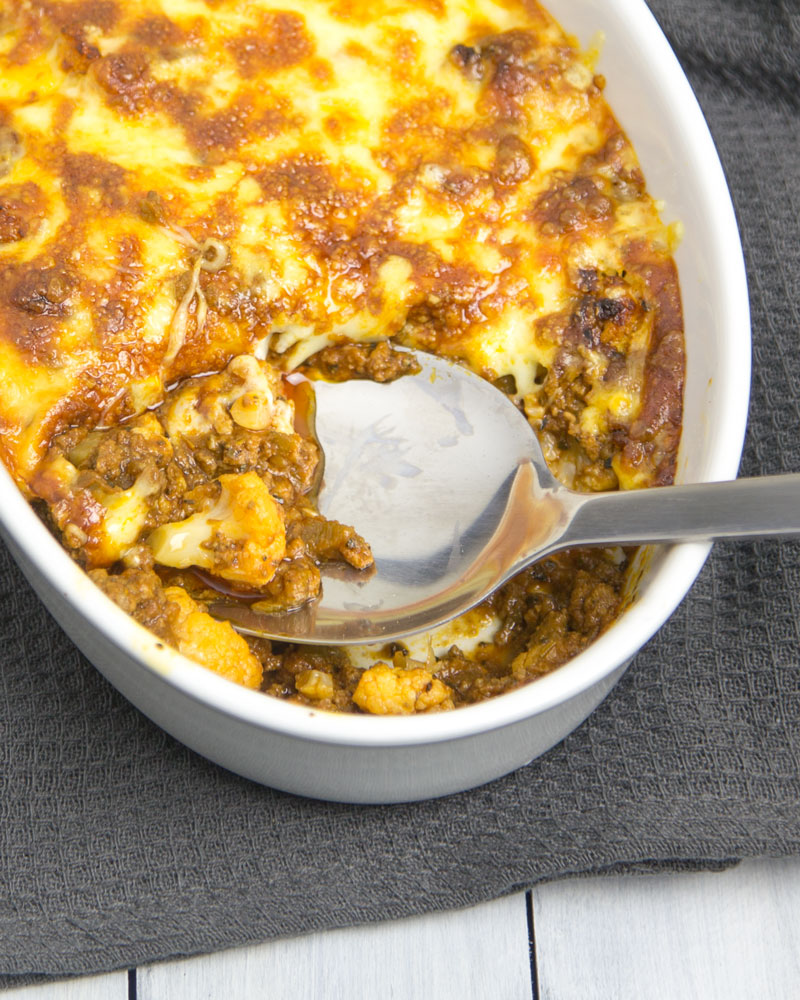 Author:
Alison Murray @ Om Nom Ally | www.omnomally.com
Cuisine:
Low Carb, High Protein
1 tbsp ghee or coconut oil
1 large onion, diced
4 cloves garlic, minced
3 green capsicum, roughly chopped
1kg beef mince
¼ cup dried oregano
3 tbsp smoked paprika
½ tbsp chilli powder
1 tsp ground black pepper
1 tsp salt
2 x 400g can organic diced tomatoes
1 cup beef or vegetable stock
¼ cup tomato paste
¼ cup apple cider vinegar
1 medium head of cauliflower, chopped into floretsFor final preparation (per 2 serve meal)
½ cup shredded tasty cheese
½ cup shredded mozzarella cheese
In a large stock pot, saute onion in ghee over medium-high heat for 5 minutes, or until softened and translucent. Add garlic and capsicum, sauteing for a further 2-4 minutes.
Add mince to pot and cook over medium-high until browned, breaking up large lumps of beef with a wooden spoon. Once cooked, add dry spices and stir through to distribute.
Pour contents of two 400g cans of tomato, stock, tomato paste and apple cider vinegar into a blender or food processor and puree. Pour over beef mixture and stir well to combine. Bring mixture to boil and then lower heat to a simmer. Cook, stirring occasionally for 1-2 hours or until sauce is reduced and thick. Add in cauliflower florets for the last 10 minutes of cooking time.
Once cooking time has finished, take pot of the heat and allow to cooly. Divide beef mixture into freezer-proof containers using approximately one heaped cup per serving needed.Label with name and date and freeze for up to 3 months
To serve: Preheat oven to 200C. Defrost desired portion and spoon into an oven-proof baking dish. Bake for 30 minutes, or until hot and bubbling.
Combine cheese in a small bowl and then sprinkle evenly over surface of beef mixture. Place under a broiler and cook until cheese is browned and bubbling. Serve immediately with salad greens or sides of choice.
Recipe by
@OmNomAlly
at https://omnomally.com/2016/02/02/make-and-freeze-low-carb-beef-cauliflower-pasta-bake/