Paleo & Raw Choc Strawberry Fudge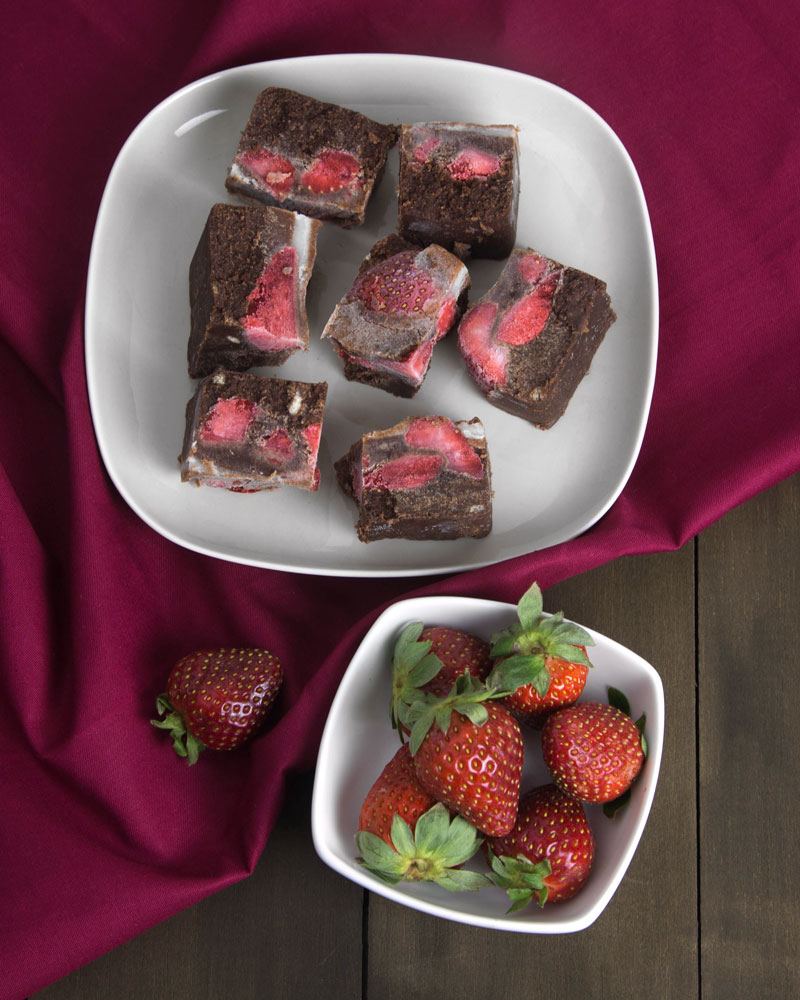 Author:
Alison Murray @ Om Nom Ally | www.omnomally.com (Adapted from Luke Hines)
Recipe type:
Dessert, Chocolate
1 cup fresh or frozen strawberries, tops removed and halved lengthways
1 cup extra virgin coconut oil
½ cup extra virgin coconut butter/manna
½ cup almond butter
½ cup cacao powder
½ cup coconut syrup
½ tbsp lacuma powder (optional)
½ tbsp maca powder (optional)
1 tsp vanilla extract
1 tsp ground cinnamon
Line a 8 x 16cm bar tin with baking paper, then place half of sliced strawberries in the base in a single layer. Put aside
Combine coconut oil, butter and almond butter in a small saucepan and warm gently over lowest heat until just melted. mix together and then add remaining ingredients (excluding extra strawberries), stirring well to combine.
Pour half of mixture into prepared bar tin over layer of strawberries, then add second layer of berries on top. Pour remaining chocolate mixture on top to cover.
Place bar tin in freezer for 30 minutes, or until set, then remove from tin (running a little warm water over base to loosen if necessary). Cut fudge into bars or cubes as desired. As fudge will melt at room temperature, store in sealed container in freezer for long term storage, or in fridge if consuming within 1-2 days.
Recipe by
@OmNomAlly
at https://omnomally.com/2015/09/08/paleo-raw-choc-strawberry-fudge/