Fresh Mint Cacao Brownies with Walnuts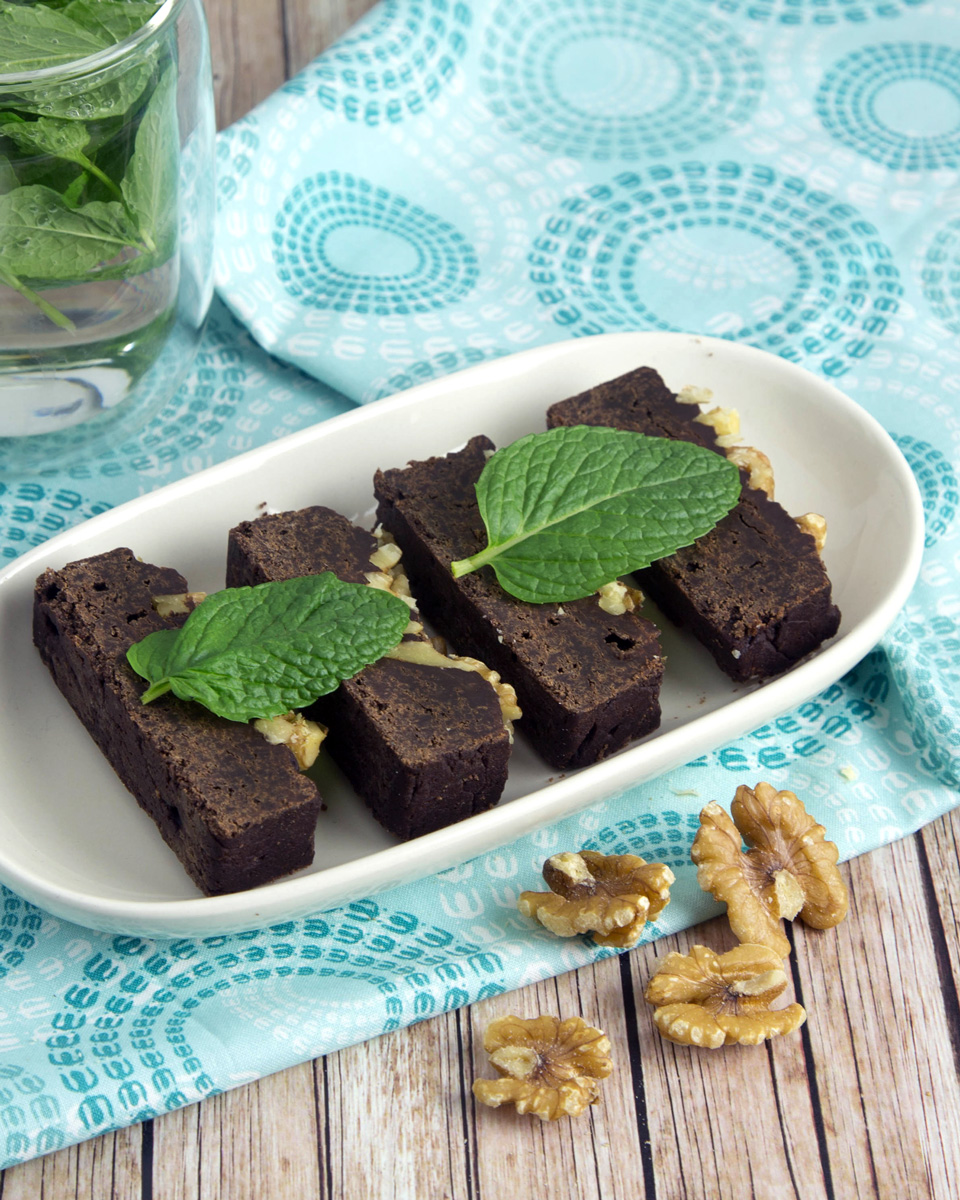 Author:
Alison Murray @ Om Nom Ally | www.omnomally.com
Recipe type:
Baking, Chocolate
½ cup mint butter, melted (see below)
1 cup coconut sugar
2 organic, biodynamic or free range eggs
½ cup cacao powder
1 tsp peppermint extract
⅔ cup whole spelt flour
⅓ cup walnuts, chopped
Mint Butter
½ cup organic butter
1 cup fresh mint leaves, chopped roughly and bruised to release oils
Preheat ovent to 180C. Grease and line a 25x7.5cm bar tin and put aside.
Make mint butter by warming in a small saucepan and adding mint leaves, stirring over low heat until leaves are wilted and butter is fragrant. Strain mint leaves and return mint butter to sauce pan, leaving to cool slightly.
Add sugar to saucepan and beat until mixture is paled and fluffy. Add cacao powder and peppermint extract and mix well to combine.
Add spelt flour to mixture and fold through gently. Pour brownie batter into prepared bar tin and sprinkle over walnuts liberally. Use fingertips to gently push down into brownie batter.
Bake for 30 minutes for moist and gooey-brownies, or 40 minutes for cakey brownies. Remove from oven and allow to cool in tin for 5 minutes, then transfer to wire tray to cool completely. Slice into 12 even slices before serving. WIll keep for up to one week in fridge, or can be frozen for up to 3 months.
Recipe by
@OmNomAlly
at https://omnomally.com/2016/03/16/fresh-mint-cacao-brownies-with-walnuts/