Squid & Chorizo Salad with Bitter Greens + Smoked Paprika Aioli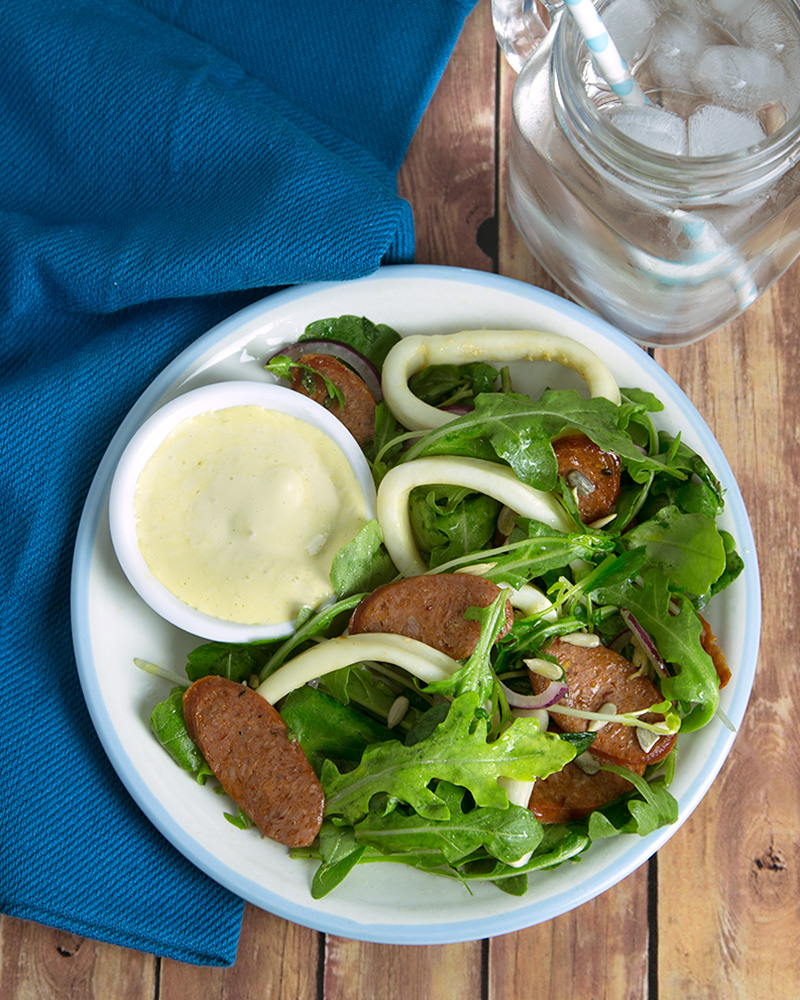 Author:
Alison Murray @ Om Nom Ally | www.omnomally.com
4 squid hoods, cleaned and cut into 1 inch rings
1 tbsp olive oil
Juice of one lemon
1 tsp smoked paprika
salt and pepper
1 tbsp ghee or coconut oil
2 chorizo, sliced
2 cups rocked leaves
2 cups watercress leaves
Handful of fresh sprouts or microgreens (I used snowpea and sunflower sprouts)
4 tbsp olive oil
2 tbsp apple cider vinegar
1 small clove of garlic, minced
1 tsp Dijon mustard
½ tsp raw organic honey
salt and pepper to taste
½ cup aioli
1 tsp smoked paprika
¼ cup sunflower seeds
In a bowl, combine the squid, olive oil, lemon juice, paprika, salt and pepper. Cover and marinate for 30 minutes.
Heat a frying pan, grill or BBQ and cook sliced chorizo for a few minutes until crispy and aromatic. Remove from pan and then add squid and marinade, cooking for 1-2 minutes each side. Remove from the pan and mix with the cooked chorizo.
In a large bowl, mix together the rocket, watercress, sprouts. In another bowl whisk together the olive oil, apple cider vineger, garlic, dijon mustard and honey.
To serve, add the squid and chorizo to the salad leaves, pour the dressing over the greens and toss gently to combine. Divide between 4 bowls or plates and serve with 2 tbsp of aioli on the side.
Recipe by
@OmNomAlly
at https://omnomally.com/2015/02/11/squid-chorizo-salad-with-bitter-greens-smoked-paprika-aioli/