Chicken Caesar Salad with Baked Chicken, Bacon & Garlic Croutons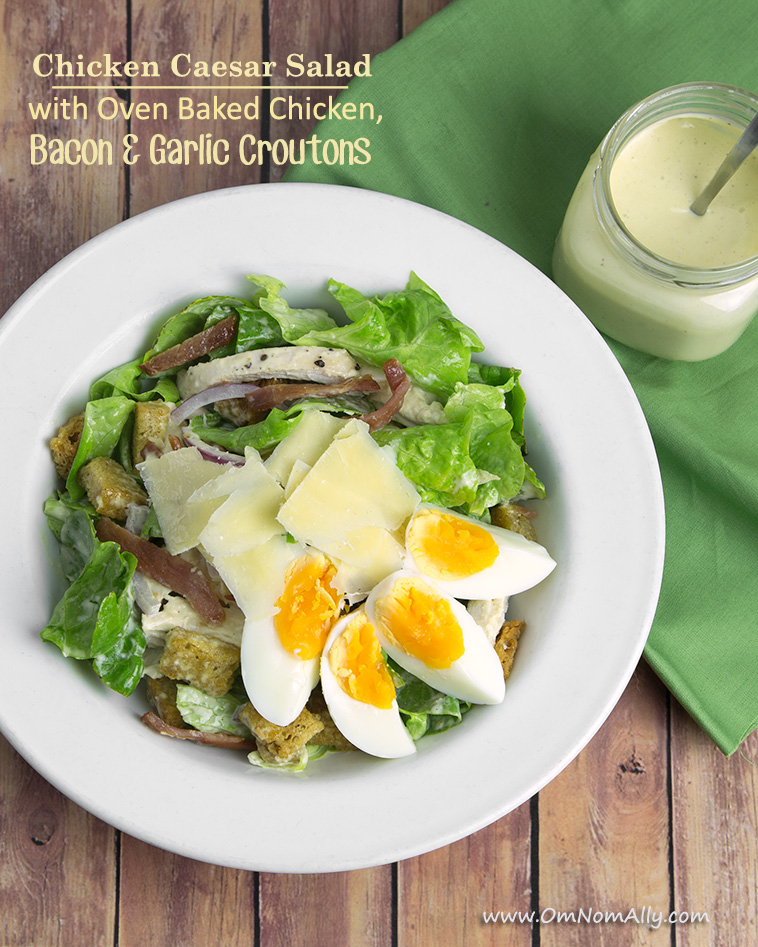 Author:
Alison Murray @ Om Nom Ally | www.omnomally.com
Cuisine:
Nut-free, soy-free. Gluten-free or wheat-free depending on ingredient choice.
Ingredients for baking
¼ cup olive oil
2 garlic cloves, minced
salt and pepper
4 slices day-old sourdough bread, torn or cut into bite size pieces (choose gluten/wheat free if necessary)
5 slices shortcut bacon
1 organic, biodynamic or freerange chicken breast
Salad Ingredients
4 organic, biodynamic or freerange eggs
4 cups roughly torn cos or butter lettuce
1 medium red onion, thinly sliced
¼ cup Caesar salad dressing
shaved parmesan, to serve
Baked Ingredients Preperation:
Preheat oven to 200C and line two large baking sheets with baking paper. Also place a large piece of aluminium foil in a rimmed baking tray and put aside. Ensure all three trays will fit in your oven at the same time.
Combine olive oil, minced garlic and a pinch of salt and pepper in a small bowl. whisk to combine. Add cubed sourdough bread to bowl and toss gently to coat with olive oil mixture. Pour onto large baking tray and spread out into one even layer, place in the oven.
Lay bacon in an even layer on another large baking sheet, without overlapping and place in oven.
Finally place chicken breast on aluminium lined baking tray and season with a drizzle of olive oil, salt and pepper. Pull sides of foil up and over chicken, encasing it. Add to oven and bake for all ingredients for 25 minutes, or until croutons are golden and firm and chicken is cooked.
Remove croutons and chicken breast from oven and allow to cool. Slice or shred chicken and put aside.
Turn over bacon and return to the oven for a further 10 minutes, or until crispy and shrunken in size. Remove from oven when cooking time has elapsed and thinly slice.
Prepare Eggs:While bacon is finishing cooking prepare boiled eggs. Place room temperature eggs in a saucepan and cover with water - at least 2cm water above eggs. Heat water to a rolling boil and then boil continuously for 4½ minutes for firm, soft-boiled eggs. Remove from water with a slotted spoon and crack gently before plunging into a bowl of ice water. Alternative add to a sieve and run under cool water for a few minutes. Once cooled, crack gently all over and carefully remove shells. Slice into quarters and put aside.
Putting It All Together:In a large bowl, combine lettuce, red onion, cooked chicken, sliced bacon and Caesar dressing. Toss gently. Divide between 4 bowls of plates and top with quartered eggs and shaved parmesan cheese.
Recipe by
@OmNomAlly
at https://omnomally.com/2014/12/14/chicken-caesar-salad/