Gut Healing Vegetable Stock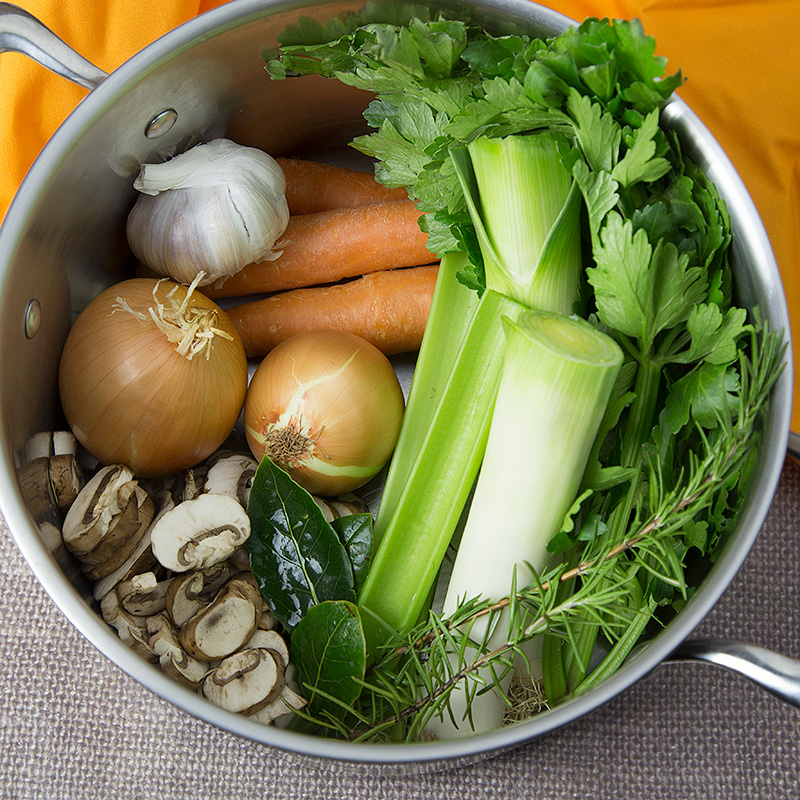 Author:
Alison Murray @ Om Nom Ally
1 tbsp coconut oil
2 large onions, chopped
2 medium leeks, white parts only, rinsed and sliced thinly
4 cloves garlic, peeled and minced
3 medium carrots, peeled
1 cup mushrooms (shiitake preferred), sliced
2 celery stalks with leaves, sliced
1 tbsp apple cider vinegar
2-3 bay leaves
Herbs: 1-2 springs of thyme or rosemary (optional)
3-4 L water (see notes)
Optional Step: Heat coconut oil in a large stock pot, and saute vegetables over medium high heat until softened, about 5 minutes.
Combine vegetables, apple cider vinegar, water bay leaves and herbs (if using) and bring to a boil. Lower heat to simmer and cook stock, uncovered, over a low heat for 40-50 minutes.
After cooking time has elapsed, take stock pot off the heat and use a slotted spoon to remove solids. Pour stock through a fine mesh sieve lined with cheesecloth into a large glass bowl or container, discarding remaining solids. Portion stock into containers of 250 or 500ml volume and allow to cool completely before storing in the fridge or freezer.
Stock may be refrigerated for up to one week, or frozen for up to three months. Ensure there is plenty of head room in storage containers for expansion when frozen.
Using less water gives you a more concentrated vegetable stock, while using more water makes a lighter-flavoured version.

If you currently experiencing symptoms of IBS or Fructose Malabsorption, it would be preferable to start with a lighter-flavoured stock (using the whole 4L of water) and experiment with using half stock and half water in your soups, stews or braised recipes.
Recipe by
@OmNomAlly
at https://omnomally.com/2014/10/19/gut-healing-vegetable-stock/