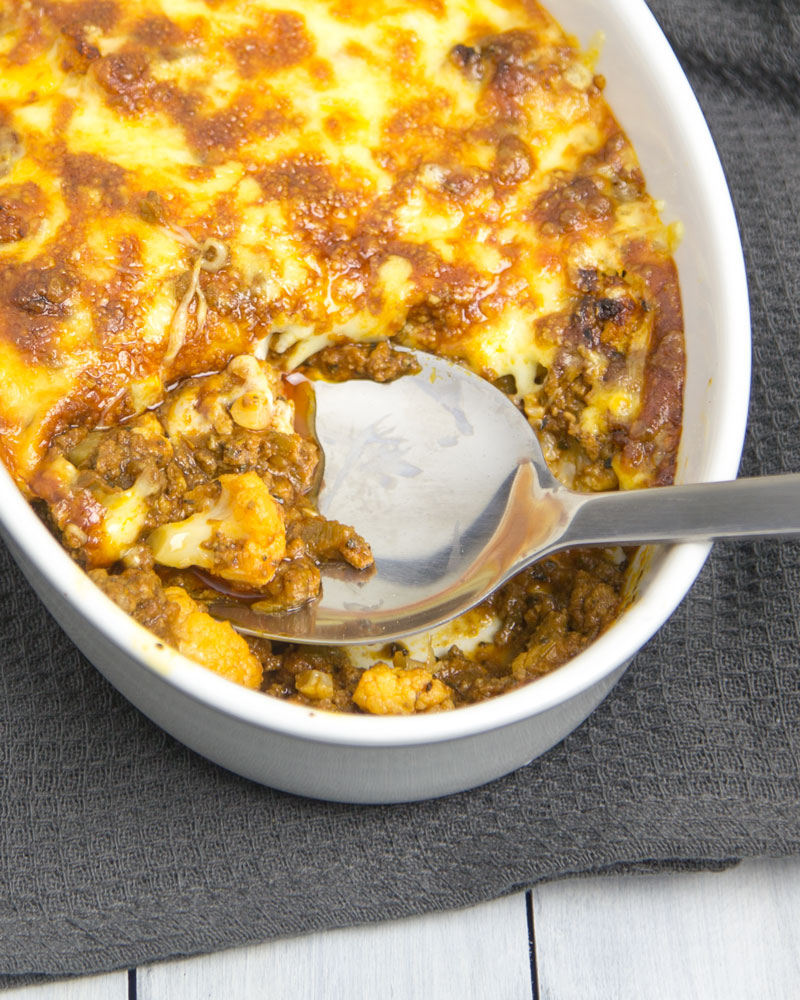 Do you have any favourite cauliflower recipes I should pin to my Pinterest board? Follow me on @omnomally and send me pins!
Cauliflower is such a marvelous vegetable – What other plant food can be subbed in for a paleo 'rice' alternative, a side of low carb 'mashed potatoes', flour-free tortillas or a dairy-free Alfredo sauce so easily? Inventive food bloggers across the world are coming up with amazing ways to use this cruciferous vegetable everyday and now it's my turn to share! Preheat your oven and get ready to make this cauliflower 'pasta' bake, as this low-carb comfort food is going to hit you right in the warm and fuzzies.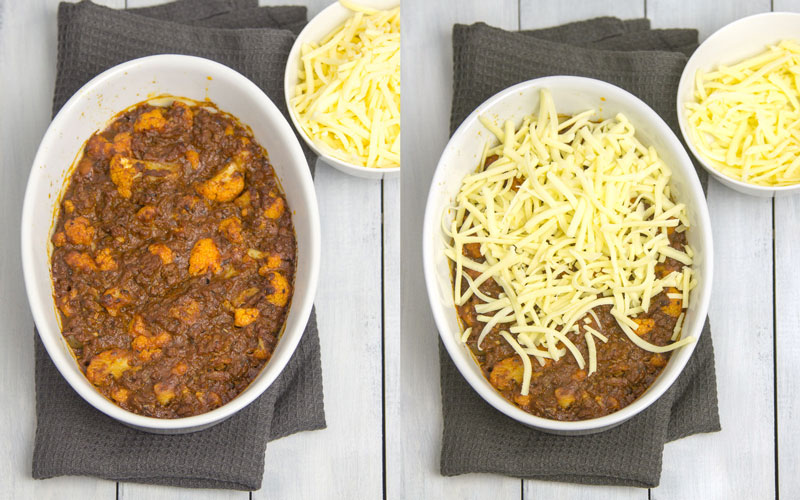 Have you ever come across Michael Ruhlman's blog before? I've added it to my Feedly account lately for more cooking inspiration and have been having a grand ol' time going through the recipe posts. You should also check out his books – I'm looking to buy Charcuterie: The Craft of Salting, Smoking, and Curing on my Kindle soon to learn about something completely new in the kitchen this year.
The reason I bring up Ruhlman's blog is that a long time ago I was experimenting with adding cauliflower florets to mac 'n' cheese, made with a dairy-free 'cheese' sauce (spoiler: it was delicious!). Those times have changed however and 'pasta' dishes here nowadays are always either spiralised vegies or cauliflower florets. Yum! Therefore when I saw a tantalising recipe for a Macaroni and Beef with Cheese bake on Michael Ruhlman's blog I knew exactly how was I going to adapt it (hint: it involved a very large head of cauliflower).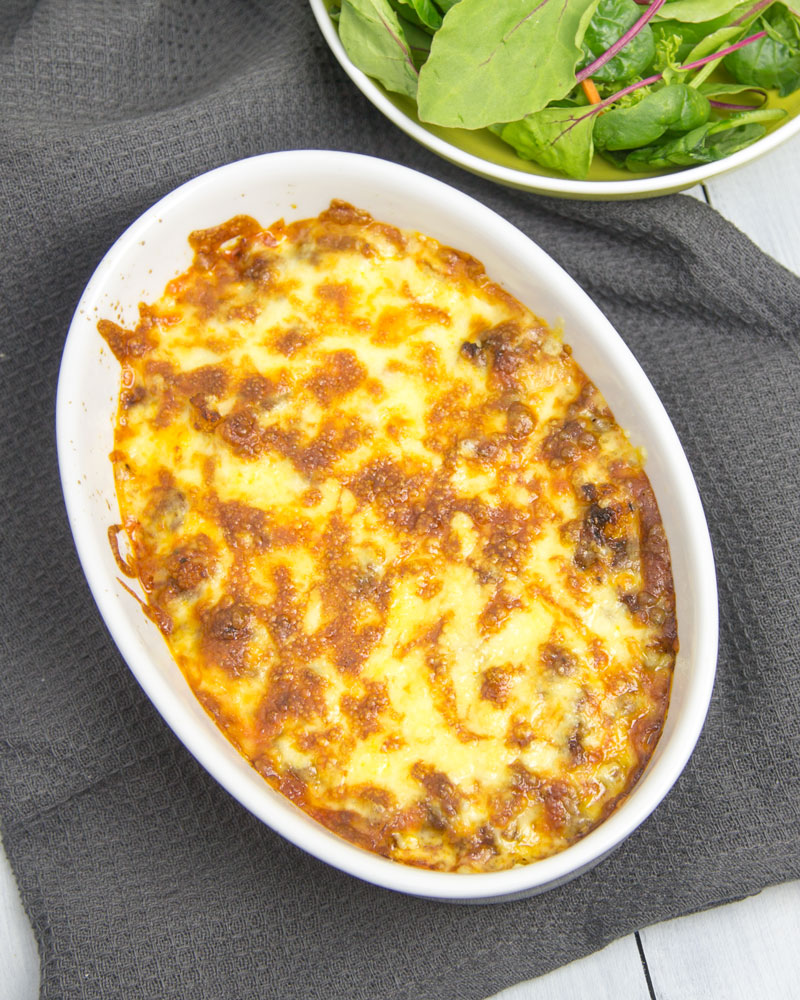 Ruhlman described this dish as "easy and delicious, would please everyone, one that also reheated well", i.e. what I look for in most dinner recipes that I make. Also, you can't go wrong with a main based on beef and cheese! I've used a few more ingredients that Ruhlman however (adding some garlic and capsicum, more spices and stock) and allowed my beef mixture to simmer down for a couple of hours to thicken and infuse with tang, tomato-y flavour. The result is a thick, saucy beef dish that gives the cauliflower florets lots of flavour to soak up and soften into. Who needs pasta when you have miracle-food cauliflower!
Now I know a recipe that takes a 'couple of hours' doesn't sound weeknight-friendly but stick with me here – if you make this recipe up until the baking stage you'll have 4-5 lots of 2 person serves that can be finished off in the oven in 30-40 minutes. That sounds a lot more manageable after work, right?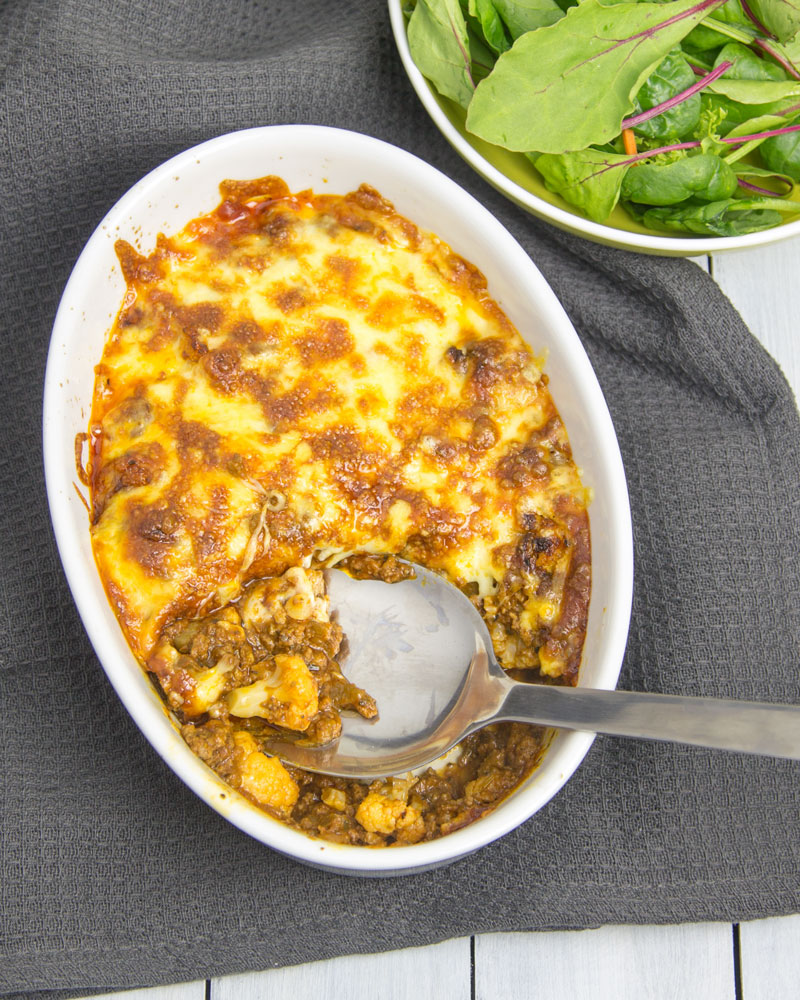 Utilising make-and-freeze meals has become my favourite way to meal plan in the past 12 months and I can promise that this low-carb recipe reheats perfectly in the oven. Take one out of the freezer to defrost in the morning, and at night you'll be ready to bake in your favourite baking dish! Simply top with a mix of melty tasty and mozzarella cheeses, then cook under the broiler to transform this dish into the most soothing and comforting low-carb meal you've had in ages 🙂
So there we go, a low-carb pasta bake! Is there anything that cauliflower can't do?
xx Ally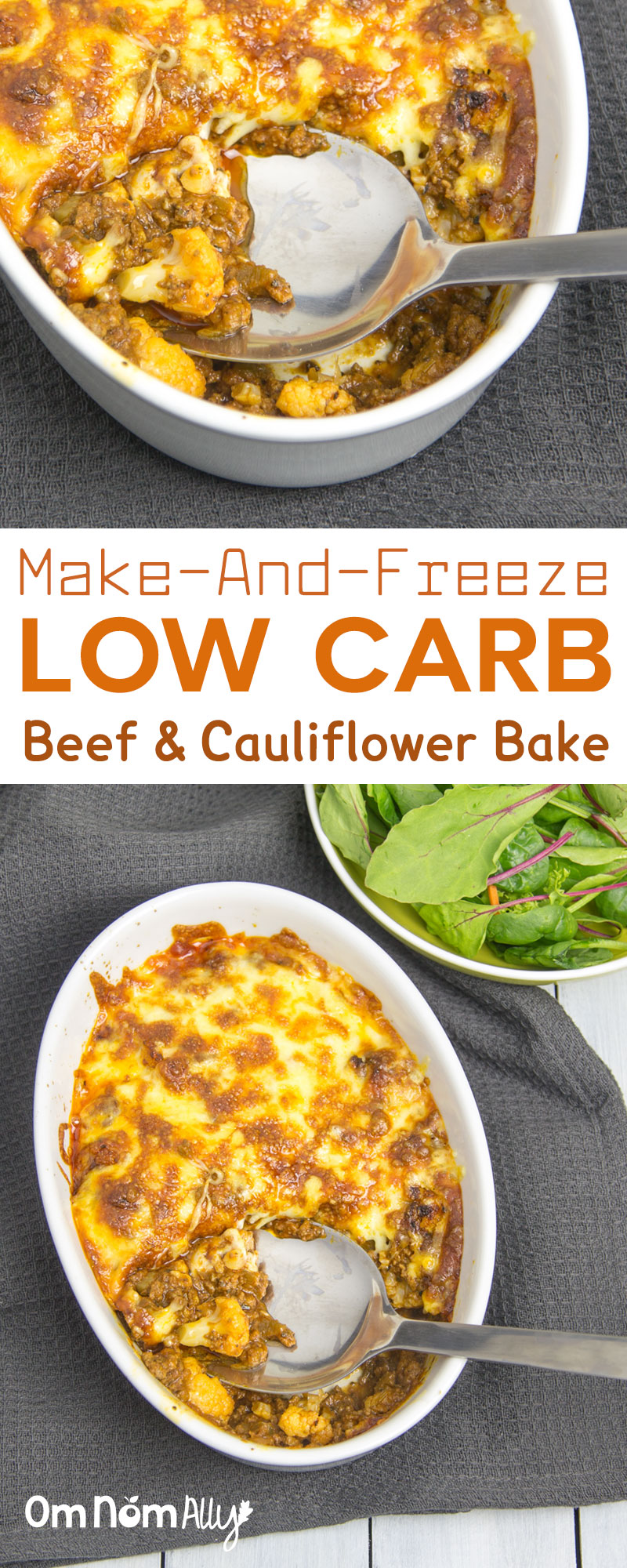 (Make-And-Freeze) Low Carb Beef & Cauliflower 'Pasta' Bake
Preheat your oven and get ready to make some Make-and-Freeze Beef and Cauliflower 'Pasta' Bake - this low-carb comfort food is going to hit you right in the warm and fuzzies!
Author:
Alison Murray @ Om Nom Ally | www.omnomally.com
Cuisine:
Low Carb, High Protein
Ingredients
1 tbsp ghee or coconut oil
1 large onion, diced
4 cloves garlic, minced
3 green capsicum, roughly chopped
1kg beef mince
¼ cup dried oregano
3 tbsp smoked paprika
½ tbsp chilli powder
1 tsp ground black pepper
1 tsp salt
2 x 400g can organic diced tomatoes
1 cup beef or vegetable stock
¼ cup tomato paste
¼ cup apple cider vinegar
1 medium head of cauliflower, chopped into florets
For final preparation (per 2 serve meal)
½ cup shredded tasty cheese
½ cup shredded mozzarella cheese
Instructions
In a large stock pot, saute onion in ghee over medium-high heat for 5 minutes, or until softened and translucent. Add garlic and capsicum, sauteing for a further 2-4 minutes.
Add mince to pot and cook over medium-high until browned, breaking up large lumps of beef with a wooden spoon. Once cooked, add dry spices and stir through to distribute.
Pour contents of two 400g cans of tomato, stock, tomato paste and apple cider vinegar into a blender or food processor and puree. Pour over beef mixture and stir well to combine. Bring mixture to boil and then lower heat to a simmer. Cook, stirring occasionally for 1-2 hours or until sauce is reduced and thick. Add in cauliflower florets for the last 10 minutes of cooking time.
Once cooking time has finished, take pot of the heat and allow to cooly. Divide beef mixture into freezer-proof containers using approximately one heaped cup per serving needed.Label with name and date and freeze for up to 3 months
To serve: Preheat oven to 200C. Defrost desired portion and spoon into an oven-proof baking dish. Bake for 30 minutes, or until hot and bubbling.
Combine cheese in a small bowl and then sprinkle evenly over surface of beef mixture. Place under a broiler and cook until cheese is browned and bubbling. Serve immediately with salad greens or sides of choice.