The puppy is testing our patience each morning lately. She knows exactly when I wake up in the morning (6.30 am) and we're continually torn between letting her whine until she learns it won't get her attention or running into her space to get her to calm down. The 'getting her to shush' has been winning (and setting us back days of training in the process) as we haven't wanted to disturb our next-door neighbours who we thought must cringe, bemoan and scowl at her every bark, whine and howl.
So I baked them a cake. A Chocolate Ricotta Bundt Cake… oh and I baked one for me too of course 😉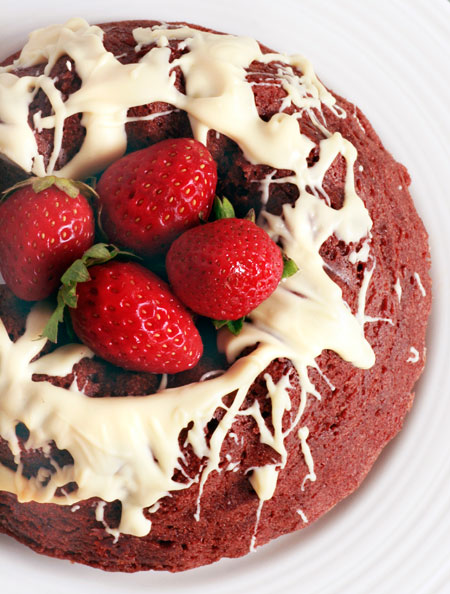 The smell wafting out of the oven was amazing. Once cooled and iced it was extremely difficult not to take a bite out of both of them. Even photographing one cake was giving me the shakes. It took a fair whack of willpower to keep the worrisome, noisy dog and our neighbourly relations in mind. I do loves me a chocolate cake.
Rich, dense, dark chocolate cake with a (messy) drizzle of white chocolate and a smattering of strawberries, surely this would gain us some forgiveness and some good favour?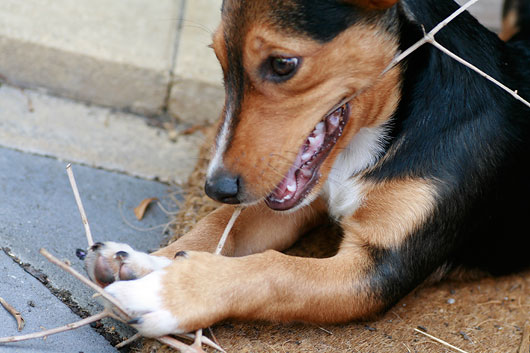 Whiskey's also at the 'mouthy' stage of her little puppy life – where everything she finds is fair game for those razor-sharp nippers. She's eaten a few edibles from the backyard (pout) and retrieves enormous bits of tree from the backyard to break into little twigs. We've puppy proofed the house to death and wonder how she stiff finds errant socks, plastic bags and Kam's t-shirts to amuse herself with. She 'helps' me with gardening, unfilling the pots of soil I've just lovingly sown some seeds in or pulling my seedlings out as I do weeding – "Just copying Mummy!" she seems to say to me when I'm exasperated at the destruction. She's definitely meant to be my little troublemaker though, as the only time I can get her attention for more than 5 minutes  is when I'm cooking.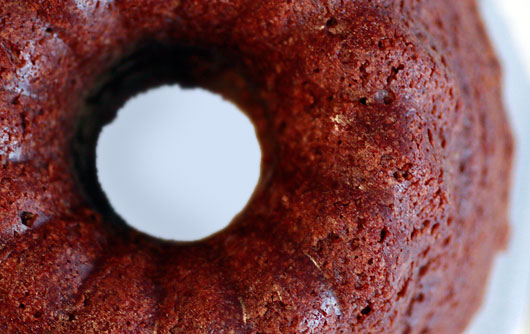 The smell wafting from the oven during baking was beyond description. Whiskey sat placidly, cocking her head at me as I measured, poured and mixed; getting a little too close to the oven for an inspection as the cakes went in and came out. She really seems to enjoy watching me in the kitchen, the puppy sighing and 'hmphing' she normally likes to carry on with stops and her ears flick around in interest as I bang drawers and rustle with spoons and containers.
We needn't have worried so much about the raucous though, our neighbours assuring us she doesn't bother them in the slightest while we chatted over coffee and the cake. Our Xmas addition to the house has also prompted them to get their own pet – a too-cute-too-small-to-be-real kitten – and assure us if we ever need a pet sitter they are only too happy to borrow Whiskey for a while. Seems we worried over nothing, but was a great excuse for cake.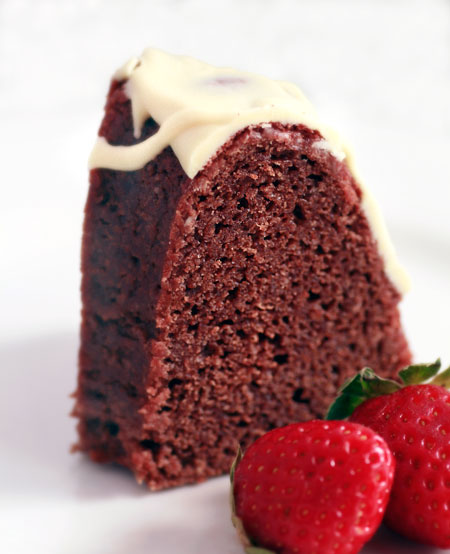 Chocolate Ricotta Bundt Cake
Chocolate Ricotta Bundt Cake - dense chocolate bundt to blast away those chocolate cravings.
Author:
Alison Murray @ Om Nom Ally.com
Recipe type:
Baking, Cakes
Cuisine:
Egg-free, gluten-free, nut-free, soy-free, wheat-free, vegetarian
Ingredients
1 cup coconut sugar (or any unrefined sugar)
½ cup coconut oil (or other oil preference) + extra for greasing
1 cup ricotta
¼ - ½ cup dairy or non-dairy milk
2 cup spelt flour (or gluten-free flour mix)
⅓ cup cacao powder
1 tsp baking powder
½ tsp baking soda
¼ tsp salt
1 tsp vanilla extract
Instructions
Preheat oven to 180C. Grease 2 medium 14cm diameter bundt pans (or 1 large bundt pan, or 1 round cake tin) with oil.
In a stand mixer, beat oil, sugar and vanilla extract together. Add ricotta and beat until smooth.
Sift flour, cacao, salt, baking power and soda in a medium bowl, then add to wet mixture. Mix on low for a few minutes then add milk by the ¼ cup until smooth and the consistency of chocolate mousse.
Fill bundt pan/s ¾ full and bake for 30-40 minutes (50min for large cake pan) or until a skewer comes out clean with few crumbs. Cool in pan/s for 10 minutes, then turn out onto cooling racks.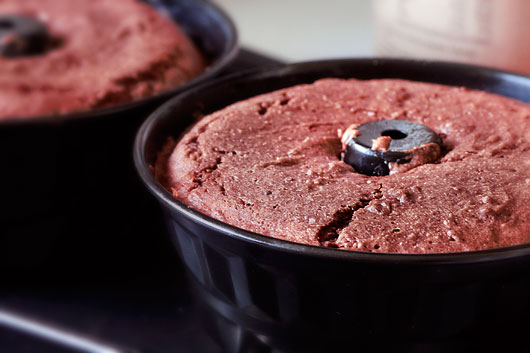 For the drizzle, I simply melted down some dairy-free white chocolate buttons and then not so simply made a nice, messy, dollopy drizzle over the top of the cakes. While not pretty, white chocolate plus dark chocolate is always a winning combination 😀