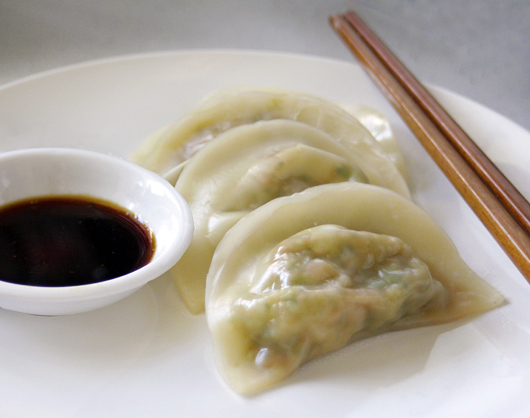 I have a great boyfriend. Only he would go out the day of a dinner party and buy me a bamboo steamer at the last minute to make dumplings. He's such a good sport putting up with my every food whim! I'm so appreciative that he did though, because my first attempt at steamed dumplings (and actually at dumplings in general) was a very yummy success 🙂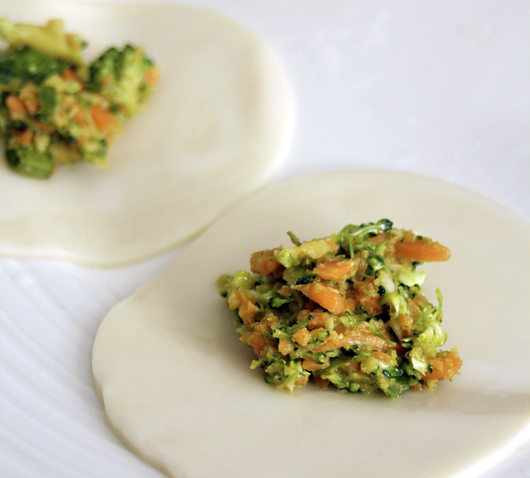 We had Kam's mother and her partner over for dinner on Sunday night. I came across this by chance while looking for a rockmelon recipe (mmmmm I love rockmelon!) and the menu started falling into place around it. I knew straight away I wanted to do a very light Thai Red Curry with Prawns and matchstick cut vegetables served on fabulous Coconut Lemongrass Rice. For the appetiser I toyed with the idea of a miso broth with noodles and vegetables. I also considered some cool and light rice paper rolls with shredded vegetables. However, neither idea made it to the table.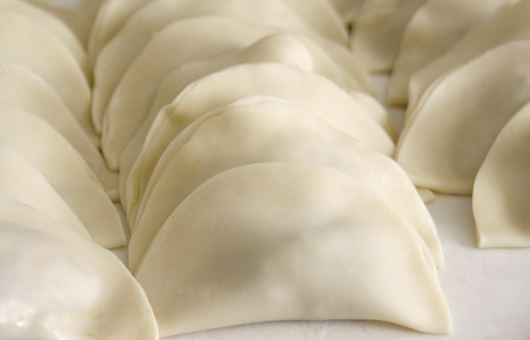 Using a packet of chilled wonton wrappers meant that these dumplings came together very quickly and were exceptionally easy to make. I chose a combination of broccoli, carrot, garlic and shallots with some tamari and miso – the results were incredibly yummy. 24 dumplings meant 4 people got 6 dumplings each – more than enough for an appetiser. Vegan and delectable, I would love to make these gluten-free if anyone out there has a great wonton dough recipe. Shoot me an comment if you know if a great one!

Steamed Vegetable Dumplings
These steamed vegetable dumplings couldn't be simpler - or more delicious! Quick, you're 20min away from the best vegan dumplings you've ever had.
Author:
Alison Murray @ Om Nom Ally
Cuisine:
Dairy-free, Egg-Free, Nut-free, Vegetarian, Vegan
Ingredients
2-3 cloves of garlic, finely minced
1 cup finely chopped brocolli florets
1 shredded, grated or finely sliced carrot
2 tbsp spring onions, finely chopped
1 tbsp miso paste (whichever variety you prefer)
2 tbsp tamari or coconut aminos
24 wonton wrapper, or enough home-made dough to make 24 pieces
Instructions
Combine all ingredients except for wrappers in a food processor and process until well mashed up, but pieces remaining (see image).
Lay wrappers on a flat surface or plate and brush with water so each is slightly wet. Place one heaped teaspoon of filling mixture onto each wrapper.
Fold in half, enclosing filling and press edges firmly to seal. Fill a wok ½ full with water and bring to a boil. Fit steamer into wok and line inside loosely with parchment paper if wanted.
Steam in batches until slightly translucent, making sure to separate each dumpling in the steamer so they don't stick together. Serve with extra tamari or your favourite dipping sauce.
Notes
You need a steamer basket and suitable wok or saucepan filled with water. The steamer tray of a rice cooker would also be suitable.