Would you have ever considered buying gifts from your local supermarket? I was forwarded this article from Sainsbury's the other day, and I really couldn't agree more with wanting to just skip the madness and chaos that is Christmas gift buying. Give me food gifts any day!
Last year I joked that I was becoming a grinch, a cheapskate or just plain jaded as I got older. This year I've noticed my distaste for the gift buying rush is a lot more about the frantic nature of the whole experience. Going to my local shopping center to buy anything is a nightmare lately, I keep getting knocked out of the way by people loaded up like pack-horses with gift bags.  I've also noticed there is nothing in the shops I don't have already, or anything I really want to gift to people.
My family's gifts have become a lot more simple this year – my brother and I swap online vouchers (Tshirts for him, Amazon vouchers for me), Mum & Dad are getting a from-the-heart gift following their amazing holiday in Asia and the dog is getting plenty of stuff to chew on (as she destroys everything). Easy!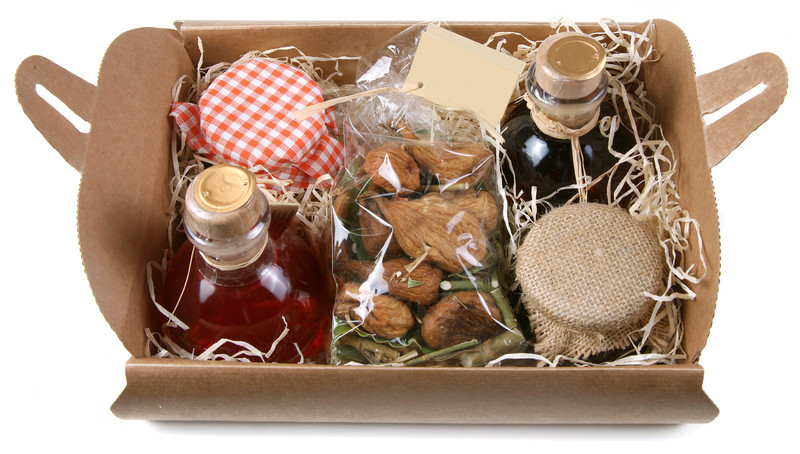 My main enjoyment at Christmas now has become the preparing and giving of food gifts. With Christmas spent with Kam's mum, her partner and his boys, there are certainly a lot of mouths to feed. I'm lucky that I don't have to be part of the main event of food preparation, my only requirement being to turn up hungry. I like to bring something to the table though, so I make food gift boxes. That desire is where the following article drew me in:
Christmas Gift Ideas from Unusual Places
Choosing Christmas presents really can be a tricky and daunting task. You want to make sure that you get the presents perfect and that they'll suit the person down to the ground. You want to know that the person knows that you care about them and that thought has gone into their present – even if they don't like it, it's the thought that counts after all.
Traipsing the high street looking for gifts can be the most unrewarding and stressful of experiences. The weather is cold and bitter and the high street is packed with like-minded Christmas shoppers all searching for the perfect gift. The Christmas music blasting out is too loud and it really can be too much.
The high street though, isn't the only option for you when you're looking to buy Christmas gifts. Surprisingly, the supermarket could now offer up the most perfect present for your treasured relative or friend, meaning you can get your Christmas food and your Christmas presents on one easy trip.
With supermarkets offering schemes to allow you to live well for less or offers on Christmas presents, this means you'll be able to purchase the most novel Christmas presents without having to break the bank. While you may think that buying your Christmas presents from the supermarket sounds odd, some of the gift ideas available can be surprisingly inventive, meaning you'll find more than your usual hum-drum presents.
With ideas suitable for men, women and children; you gift buying can be sorted quickly and easily. Vouchers can also be picked up for those who you're unsure what to get and provide a great, practical gift which gives them freedom to buy whatever they want or need.
Realistically, you could buy most of your Christmas presents from the supermarket without very much trouble – so while it may seem like an unusual place to do your festive shopping it really can be a great option.
After all, unusual presents are often the best and this means people can tell you've really put thought into their gift. It shows them that you really want to get them something out of the ordinary, something different and something that they don't already have. With the convenience of online shopping making it possible to cruise the supermarkets aisles from your own home, you don't have to worry about battling past abandoned trolleys and baskets on your quest for Christmas gift perfection either.
For more information on the Live Well for Less scheme and Christmas gift inspiration, take a look at http://www.sainsburys-live-well-for-less.co.uk/christmas/ on the Sainsbury's website.
I couldn't agree more with in this article. I love practicality. I love being inventive and I love giving people something useful, hand-made (or baked) and made with infinite amounts of love. In the weeks coming up to Christmas I'm continually popping in to my local supermarket and health food store to stock up on all my food gift goodies. For me, it has everything I need for the festive season.
Some Food Gift Idea Examples






While I've got a couple of posts up my sleeve for Christmas at the moment, I'm also pulling out some old recipes this Christmas for my gifts.  I'm spending this weekend making some panforte, my Steamed Banana Pudding and some mini Christmas cakes or Ultra Ginger Sticky Loaves. Next weekend I'm making some coconut milk fudge, Spelt Molasses Gingerbread, nut brittle, chocolate bark, flavoured popcorn and maybe some home-made fruity jube lollies. Then all it takes is some pretty boxes, cellophane, ribbons and a whole lot of love to wrap them all up in. It's all very satisfying and brings me a lot of joy. I love sharing food and there's no better time to do this than the holiday period when surrounded by family and friends.
What do you think about shopping at a supermarket for gift ideas?
Do you enjoying giving or receiving home-made food gifts?
Are you a mad shopper, or more laidback about present giving?
What inventive things do you do to enhance everyone's Christmas spirit?
I was compensated for this post by SearchNews Media. Please click
here
to view my disclosure policy. In presenting this material I was no influenced in any way by the advertiser's or the material source.
The following two tabs change content below.
Alison is a naturopath in training and food blogger extraordinaire! Passionate about creating real food recipes that are simple. delicious, and economical, Alison is also a
Wellness Coach and Spiritual Healer
. She lives in Melbourne, VIC, Australia and spends her free time cooking, baking and blending.
Latest posts by Alison Murray (see all)