How strange to name a fruit of Chinese origin after a New Zealand bird! I never quite understood the history of the kiwifruit, a change in moniker seemingly made to stir up business for farmers in the Southern Hemisphere. It's other name is just as misleading too, the "Chinese gooseberry" isn't related to gooseberries at all.
Looking a bit like a miniature melon when halved, kiwifruits taste a lot like a combination  apple, peach and strawberry. Luscious and tangy, I'm a bit partial to this furry little fruit. My favourite way to eat it this week? In a brilliantly green, dessert pie!
If you have an excess of fruit from the grocer, fruit pies are always a great dessert choice. With a pastry case made with coconut oil and apple cider vinegar for lots of flakiness, and a fresh, tangy filling, I like to make these pies single sized to avoid fighting for the biggest piece. It's a shame Kam is allergic to kiwifruit though…. I guess they're all mine?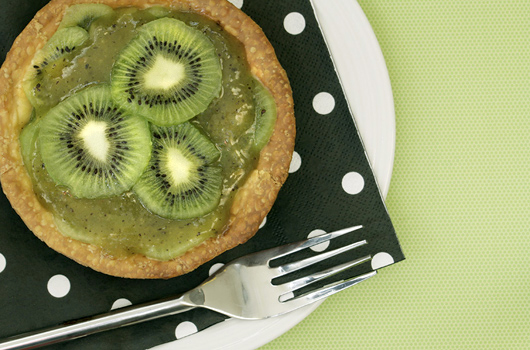 Individual Kiwi Fruit Pies
(dairy-free, egg-free, nut-free, soy-free, vegan; gluten-free with substitutions)
Author:
Alison Murray @ Om Nom Ally
Ingredients
1 cup spelt flour
1 tbsp rapadura sugar
½ tsp salt
½ tsp apple cider vinegar
¼ cup solid coconut oil (or Nuttelex see notes)
¼ cup cold water
10 kiwi fruit
2 cup water
2 tbsp arrowroot powder
2 cup rapudura sugar
1 pinch salt
2 tsp lime juice
2 tsp coconut butter (or Nuttelex - see notes)
Instructions
Preheat oven to 200C. In a large bowl combine the flour, sugar and salt. Add the coconut oil; cutting it in slowly until the dough is crumbly .
Combine the vinegar and cold water and add to the flour in three batches, gently mix in with a fork until the dough hold together – if not, add up to ¼ more water.
Form the dough into a ball and knead gently for a few minutes until it holds together. Gather up into a ball again and flatten into a disk to refrigerate for 30min.
After chilling, roll out between two pieces of baking paper. Lay pastry over 4 pie cases and mould into shape. Trim off any excess and refrigerate or discard.
Place a square of baking paper in each pie crust, fill ⅔ with ceramic pie weights. Blind bake for 10 minutes then carefully remove pie weights. Bake again, for a further another 10 minutes until crust is browned and crisp.
Peel all kiwifruit, slice 8 and reserve the other 2. Place the whole, peeled kiwifruit in blender with water and puree. Mix arrowroot, sugar and salt in a small saucepan; add blended kiwifruit mixture. Bring to a simmer and mix until sugar dissolved and mixture thickens.
Turn off the heat and add in the coconut oil and lime juice. Stir until coconut oil has completely dissolved. Allow filling to cool and start layering kiwifruit in pie crusts. Top with kiwi mixture and set aside to cool completely and set or put in the fridge for 30min prior to serving.
Notes
Quick Dessert: For convenience, use pre-prepared pastry sheets. Nuttelex: A dairy-free, vegan margarine. Margarines are high in trans-fats, so I personally recommend using coconut butter, or organic butter if you are able.
Gluten-free: Use 2 cups of gluten-free plain or pastry flour.
The following two tabs change content below.
Alison is a naturopath in training and food blogger extraordinaire! Passionate about creating real food recipes that are simple. delicious, and economical, Alison is also a
Wellness Coach and Spiritual Healer
. She lives in Melbourne, VIC, Australia and spends her free time cooking, baking and blending.
Latest posts by Alison Murray (see all)